With the departure of Mike Tolbert from the Carolina Panthers, a rather large void is left behind. The only fullback on the roster currently is Devon "Rockhead" Johnson, who is recovering from back injury. Johnson was not able to participate in training camp last season, let alone an actual game. I don't feel the Panthers are putting all of their fullback eggs in the Rockhead basket.
Enter Sam Rogers, the senior fullback from Virginia Tech.
If you took the time to write down everything the Carolina Panthers want in a fullback, you would end up with Roger's scouting report. The ideal fullback candidate for the Panthers would be able to play from the shotgun, have read option experience, can fill in at h-back, and catch out of the backfield.
At Virginia tech, Rogers spent most of the time in a shotgun formation where he averaged over 4 yards per carry. In run blocking, he would often be tasked with sealing the edge allowing the rusher to the outside. Although Rogers' frame (231lbs) could be a little larger, he makes up for it in aggression. The following play looks like it came directly from Mike Shula's playbook.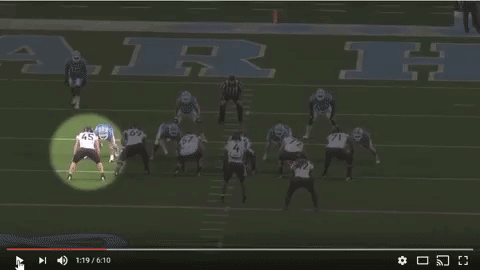 Rogers could conceivably fill both the traditional fullback roll left by Mike Tolbert and also the H-Back roll the Carolina Panthers have been unable to fill since releasing Richie Brockel. Rogers is able to motion as Brockel would do. This would allow the Carolina Panthers to "evolve" their offense a bit as they said they would like to do this season.
A Panthers fullback would also need to be able to catch out of the backfield. Sam Rogers also checks that box. Observe…
Notice the finish at the end, knocking the defensive back on his ear. I love that. He knew his yards were spent, so why not dish out a little punishment before stepping out of bounds? Rogers had 4 receiving touchdowns for Virginia Tech in 2016 and was a reliable piece of the offense on passing downs.
Currently Rogers is projected anywhere between the 5th and 7th rounds of the NFL draft. Fullbacks are not in high demand, which means he could be available for the Panthers in rounds 6 or 7 where I feel they could definitely bring him to Carolina.