When you think of Carolina Panthers wide receiver Kelvin Benjamin, the first thing that probably pops into your head is his size. In particular, his weight. It seems Kelvin's conditioning has dominated the conversation for weeks now. But what if in all the hysteria, we are missing a bigger story. A story that could benefit not only Kelvin Benjamin but all of the Carolina Panthers receivers.
I am starting to think this could be the case.
The Carolina Panthers hired wide receivers coach Lance Taylor back in February. Although he is a relatively new hire, it seems his presence is already being felt.
I have watched the Carolina Panthers practice for over a decade now. The position drills run are pretty standard and have for the most part stayed the same throughout coaching changes. However, at OTA's last week I did notice something quite new. Coach Taylor appears to be placing a much greater emphasis on the quickness and agility of his wide receivers. Take the following drill for example.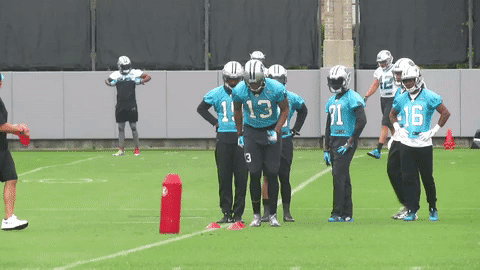 Kelvin Benjamin weaves in and out of cones, always on his toes, gliding along until he breaks off to catch the ball. This was the first time I have seen this drill at any Carolina Panthers practice. A minor detail, sure. But sometimes minor details can make a major impact.
So what can we take away from this? Well, if you reflect on the Carolina Panthers selections of Christian McCaffrey and Curtis Samuel, and then pair it with a heavier emphasis on agility and quickness, you end up with a strong indication of what the "evolved" offense of the Carolina Panthers may look like.
For years, Panthers GM Dave Gettleman has counted on large receivers. Now it appears the Panthers are moving into a more balanced attack of size and speed. Perhaps seeing the offenses of Atlanta and New Orleans has sparked inspiration. Whatever the cause, I think we can all agree this is a welcome change in philosophy.