Well, it did not take long for Carolina Panthers rookie receiver to make an impression at training camp. In fact, he grabbed the coveted "Play O' the Day" award before practice was even half over. It came in the form of a touchdown pass from Joe Webb.
Duke was able to shake free from corner Teddy Williams who bit on a stutter in the route. Once Williams had his hips turned inside, Duke took off for the end zone where the ball would soon be waiting. Safety Dezmond Southward was unable to close on the speedy Duke in time. Duke, who fell out of the draft partly due to his 40 time, is showing true football speed now when it matters most.
After the play, Duke found Cam Newton for a celebration jump. Newton often does this with players who have an outstanding performance. Indeed, Newton is the biggest cheerleader of the entire offense.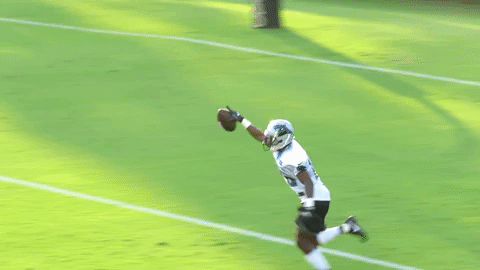 Newton may have been the biggest Austin Duke fan on the field Wednesday night. Newton frequently gave encouragement and advice to the rookie between plays. Apparently, Cam Newton is as excited about Duke's potential as many Carolina Panthers fans are.
Duke still has a ways to go if he plans on suiting up on Sundays. However, today's performance proves his outstanding OTA workouts were no fluke. Austin Duke may just be here to stay. Stay tuned for more on this developing story.
Agree? Disagree? You can
sound off right here
with thousands of Carolina Panthers fans.