Christian McCaffrey mania has officially hit Carolina Panthers fans as videos of his slick moves have gone viral across the interwebs. While the video clips are exciting, most are taken during one on one periods where the linebacker is at a serious disadvantage.
There was a moment at today's Carolina Panthers practice that I found even more impressive than McCaffrey's dazzling one on one play. During full 11 on 11 drills, McCaffrey showed where his fancy footwork are applicable in actual game situations.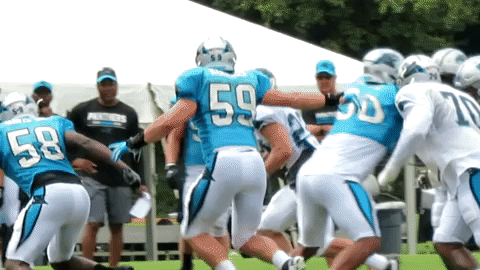 Notice McCaffrey heading to the sidelines where there would have been little to no gain, but in an instant heading up field once a small hole developed. In fact, this happened so quckly that CMC was already gaining yards before either Thomas Davis or Luke Kuechly could change direction.
So where did this ability come from? It seems McCaffrey has spent most of his life trying to create something out of nothing.
"I don't know, I think it just came naturally" McCaffrey told the media recently. "I think a lot of it had to do with playing in the backyard with my brothers all the time. We had a little grass patch. So there wasn't a lot of space to work with so I had to find different ways to make my older brother miss."
Now go back and rethink when this would have come in really handy last season. How many times would a 3 or 4 yard gain meant the difference between a sustained drive and a punt? If CMC can provide this type of play consistently for the Carolina Panthers, he really will be a game changer.