The Carolina Panthers held their last training camp practice at Wofford Sunday, ending a long stretch of grueling hard work. After plenty of competition, interceptions, and big plays, the Panthers look forward towards rest of the preseason, setting their eyes on the NFL season opener against the San Francisco 49ers.
With training camp comes players with hopes of making the team. Whether it be through their work ethic, skill, or improvement, players work to make a good impression upon the Panthers coaching staff. Many players rose up to the challenge, passing with flying colors. Others showed little to nothing, finding themselves cut before the 53-man deadline.
Once again, Ron Rivera declined to name an MVP for this year's training camp. The last time Rivera named a training camp MVP, that player went on to solidify his position as one of the Panthers' biggest busts in history. It's no wonder Ron Rivera grew weary of giving such titles out anymore.
However, one Panther has no problem letting who he thinks was the best performer of training camp. When Bill Voth of panthers.com asked wide receiver Russell Shepard who he thought "wowed," he gave an immediate reply.
"Bradberry," Russell Shepard replied confidently, "I've had the pleasure being around some great DBs and some future hall of famers … I think Bradberry's going to have an amazing year."
Not only did Shepard not hesitate when he replied, his words also came with credibility. Speaking from his experience with top tier defensive backs, Shepard knows when he sees a good corner. He has no doubt that Carolina Panthers second year corner James Bradberry is capable of putting up an amazing year.
James Bradberry enters the 2017 season already exceeding expectations. After an amazing 2016 campaign where he graded out as PFF's top performing rookie corner of 2016, there's no telling what the future holds for him. After all, he contributed to shutting down some of the NFL's best receivers in Amari Cooper, Julio Jones, and even Mike Evans. For instance, one area James Bradberry showed growth in was man coverage. On the play above, James Bradberry matches up against Julio Jones. The Falcons all-pro receiver gains inside leverage, putting Bradberry at a huge disadvantage. Even so, James Bradberry stays step by step with Julio Jones in trail coverage, not letting him win. As a result, Bradberry comes out with a fantastic PBU.
Unlike most rookie corners, James Bradberry found himself forced into action his rookie year. Even so, James Bradberry took the challenge head-on, and came out strong. As he entered training camp this year, Bradberry looked to only build upon his impressive rookie year.
On the first day of training camp, James Bradberry showed up ready. On the play above, watch James Bradberry staying two steps behind the receiver. He reads the play perfectly and breaks for the ball, catching it for a pick. Bradberry displays excellent vision, explosiveness, and naturally loose hips as he bursts out of his stance quickly for the ball.
To top that all off, he only has one arm available. His other arm has a cast on due to a wrist injury sustained six weeks prior. That's just impressive all around.
As training camp wore on, James Bradberry's intensity and play just kept getting better and better. Even with pads on, Bradberry showed relentless aggression as he often did everything possible to make a play on the ball.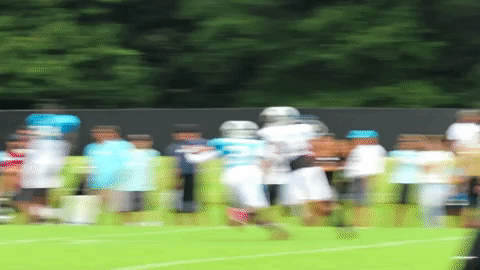 Finally, James Bradberry hit his climax in camp. In the play above, Bradberry leaps into the air, showing incredible burst and bounce as he reaches out to tip the football. Afterwards, James Bradberry quickly falls and attempts to dive for the football with hopes of completing an interception.
What stands out is the full effort Bradberry brings on this play. Rather than ending the play right after his PBU, Bradberry goes the extra mile and attempts the interception. Although the ball proves to be too far away, the effort level Bradberry shows more than makes up for it.
With this kind of play week after week, it's no wonder the large majority of Panthers Nation considers James Bradberry as training camp MVP. Just take a look at some of these tweets below:
Ron Rivera declined to name a camp MVP as he's done in years past. I will: James Bradberry.

— Joe Person (@josephperson) August 13, 2017
Seconded https://t.co/m2cDJ3464B

— Jourdan Rodrigue (@JourdanRodrigue) August 13, 2017
Panthers Camp MVP = Bradberry

Runner up = @PanthersMax

Top Rookie = @PanthersBill by default

— Jeremy Igo (@CarolinaHuddle) August 13, 2017
James Bradberry's performance in this year's training camp is night and day in comparison to last year's. Not only did Bradberry show more aggressiveness, composure, and swagger, he showed the most effort out of any player on the field. There's no telling how far Bradberry will go if he keeps up this level of play.
Agree? Disagree? You can
sound off right here
with thousands of Carolina Panthers fans.