The Carolina Panthers concluded their third NFL preseason game of 2017 against the Jacksonville Jaguars. Both the starting offense and defense looked phenomenal, showing off talent and skill as they rattled their opponent. For Panthers fans, there's plenty of reasons for excitement.
However, one player stands out. Not only did he consistently impact plays week after week, he did so in dominating fashion. This player was near unstoppable in his pursuit towards making plays.
His name is Star Lotulelei, and he is a key part of the Panthers defensive line.
During the NFL preseason, Star Lotulelei was unstoppable. Powering through offensive linemen with unbelievable strength, Star pushed back 300+ lb guys like they're mere tackling dummies. Although his impact may doesn't show as much on the stat sheet, it certainly showed on the field.
So, just how important is Star for the Panthers defensive line? Is he a player worth keeping when he becomes a free agent next year? Four clips from each Panthers preseason games speak for themselves.
Panthers VS  Texans
On the Panthers defense, Star's role isn't really to get the sacks. His role involves finding ways of using his massive body to "clog" up multiple blockers on the offense, allowing massive lanes to open up for the rest of the defense.
Against the Texans, Star plays this role very well.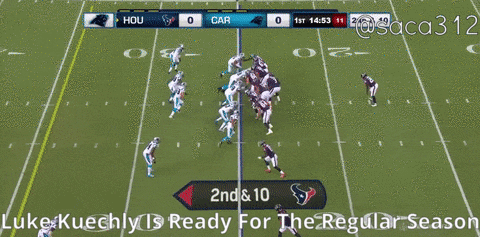 On the highlight above, Star pushes back on two Texans o-linemen on a run play as if there were skates on their shoes. He creates a massive lane for the linebackers, in hopes they would help with the cleanup effort. Immediately, Luke sees the wide open lane and launches himself at the runner.
Without Star's effort, this play would not have been possible. He allows his teammates around him to flourish with his high level play.
Panthers VS Titans
One thing that remains consistent throughout preseason is Star's ability to man-handle offensive lineman. His pure strength and power allows him to plow through multiple defenders and disrupt plays. Although his work rarely adds to his stat sheet, everyone on the field understands Star's impact is more than what's just on paper.
Against the Titans, Star helped dominate run plays.
As seen above, Star Lotulelei comes in on another run play against the Titans dominant O-line. He gets pressure on the Titans' center, pushing him back like a bobsled. He opens up another hole from the linebackers to see and go through, and allows Mayo to come in his lane for the loss.
This is a common theme in Star's film. He makes everyone on defense even better.
As far as technique is concerned, Star's got it down. He understands how to use a variety of moves to get his way with o-linemen and destroy plays. One big reason the Panthers run defense has been so dominant this preseason is thanks to Star's contributions.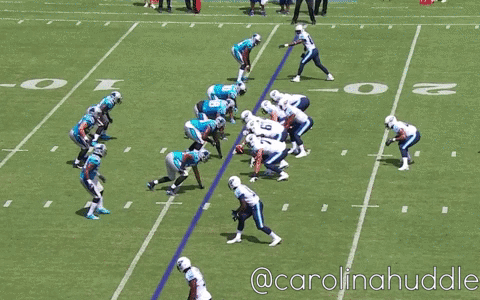 On the play above, Star Lotulelei utilizes a swim move against the o-lineman. He gets the advantage and comes running after the runningback. Right beside Star, Short helps clean the play up and stop Derrick Henry from gaining much yardage.
As seen, Star helps impact and change plays. The Titans RB realizes that Star beat his man, so he's forced to change direction right into Short's hands.
Panthers VS Jaguars 
Finally, Star helps add to his repertoire of amazing run stuffs when playing the Jaguars. Once again, he manages to showcase his abilities of utilizing strength and skill to beat offensive linemen and making plays.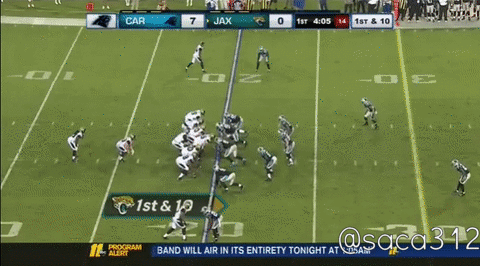 In the example above, Star lines up against the Jaguar's center on a run play. Star keeps pushing against the center the whole time, not letting him gain much leverage at all. By the time RB Chris Ivory gets near their vicinity, Star unleashes a move and slides past the center. Afterwards, he lands himself right on Ivory for the loss.
Not an easy process for any defensive tackle to go through, but Star Lotulelei makes it look easy. He's a big reason why this defensive line will be successful in 2017.
So, How Important Is Star Lotulelei?
Star Lotulelei may not be the kind of guy with double-digit sacks each season. He may not even register a sack on a QB over a stretch of multiple games. However, what he does on the field deserves recognition on its own.
For the defense, Star helps clog up double teams and triple teams, allowing for multiple lanes to open up and linebackers/pass rushers to flourish. He does the dirty work while the rest of the defense cleans up. With Star's immense size and strength, teams understand they have to be very weary of Star or else he will punish.
Without Star, guys such as  Kawann Short, Mario Addison, Thomas Davis, and even Luke Kuechly would not have the same amount of success they've had with him. Guys who do what Star does do not come everyday. If the Panthers want to continue having a dominant defensive line and linebackers, Star is a priority for next season.
So, how important is Star Lotulelei?
Very important.
Agree? Disagree? You can discuss this topic with me here.
Agree? Disagree? You can
sound off right here
with thousands of Carolina Panthers fans.