I'm gonna have fun with this..
Round 1
Joel Bitonio OT/G/C Nevada 6'4 304
Yep. This is the guy. He helps out the entire left side of the line (or really anywhere on the line) and will be a foundation alongside Kalil for years to come. Rivera supposedly flew to Reno to meet with him personally. Multiple visits from the team, first round consideration. The other plus...+board freaks out. I think he's an NFL LT. He's also fully capable at RT and G. Loved that he protected Kaepernick's blindside early on and played like a stud against FSU last season.
Round 2
Jordan Matthews WR Vanderbilt 6'3 205
I'd love to see Matthews in a Panthers uniform. Given the amount of talent, it's totally possible he's available right here. Take him and you get an instant starter ahead of Cotchery.
Round 3
Pierre Desir CB Lindenwood 6'1 198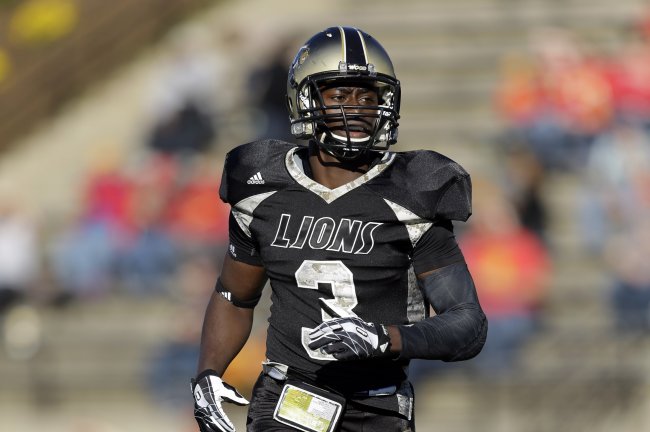 A strong corner that's projected in the 3rd round. Good size, good reports, why not.
Round 4
Kevin Norwood WR Alabama 6'2 194
A reliable, sure-handed catcher who would be a good 2nd grab at WR.
Round 5
Justin Britt LT Missouri 6'6 325
Looking for solid depth on the back end of the draft and he'd be a great add.
Round 6
Shaquille Richardson CB Arizona 6'0 194
A VERY overlooked CB prospect imo; damn fast/speed and size combo
Round 7
Zach Moore DE Concordia-St. Paul 6'6 269
Another sleeper and he could possibly go earlier (5-7). Really like what I've read.
well..there it is
Overview…
The offense
[QB]
Cam Newton | Anderson | Webb
[RB]
Williams | Stewart | Barner /Archer
[FB]
Tolbert | Brockel
[WR]
Matthews | Cotchery | Norwood | Avant "he has great hands" | Underwood/King/McNutt
[TE]
Olsen | Dickson | D.C. Jefferson
[Line Battles/Depth Chart]
Bell/JB/Chandler/Britt | JB/Amini/Kug | Kalil/JB/Folkerts | Chandler/Scott/Bond | Chandler/Bell/JB/Britt
The defense
[DE]
Johnson-Kraken | Addison-Alexander-Moore-Roh-Horton
[DT]
Star-Short-D'wan-Cole
[LBs]
Klein | Kuechly | Davis
Williams-Blackburn-Ben Jacobs
[CB]
Melvin White | Antoine Cason | Pierre Desir
Shaq Richardson-James Dockery-Josh Norman
[FS]
DeCoud | Jones
[SS]
Roman Harper | Robert Lester