http://tucsoncitizen...head-in-tucson/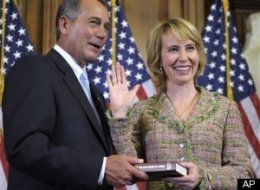 ----- from npr -----
The Democrat, who was re-elected to her third term in November, was hosting a "Congress on Your Corner" event at the Safeway in northwest Tucson when a gunman ran up and started shooting, according to Peter Michaels, news director of Arizona Public Media.
At least five other people, including members of her staff, were hurt. Giffords was transported to University Medical Center in Tucson. Her condition was not immediately known.
Giffords was talking to a couple when the suspect ran up firing indiscriminately and then ran off, Michaels said. According to other witnesses, he was tackled by a bystander and taken into custody.
Giffords was first elected to represent Arizona's 8th District in 2006. The "Congress on Your Corner" events allow constituents to present their concerns directly to her.
More details to come.
Edited by GaziVicious, 08 January 2011 - 02:27 PM.