First 6 picks, less description this time...
http://www.carolinah...=1&d=1302395287
-1st-
Marcell Dareus, DT, Alabama
This mamma jamma is an absolute monster that I want on this team for the next 10 years.
-3rd-
Ricky Stanzi, QB, Iowa
I really hate not taking Ellis, but Dareus effectively makes our DT situation a ton better. Additionally, I like Landri and we'll see what we can get in the FA when that rolls around. Now, I want Clausen to get a second shot, and possibly Moore, but if they don't, I'd be very comfortable with throwing a pro-style QB to the wolves mid-season. Look at Colt McCoy, The Golden Calf of Bristol, hell even Joe Webb. Let's give it a shot with Stanzi and see if it works out. He's a proven winner, a leader imo, has got a strong arm and I think he would overall fit well with our new system. If he pans out we're geniuses and have found a stud for years to come. If not, we won't be locked down with some #1 overall QB from this draft and next year we can possibly get Landry Jones, Matt Barkley, or Cousins.
-3rd-
Edmund Gates, WR, Abilene Christian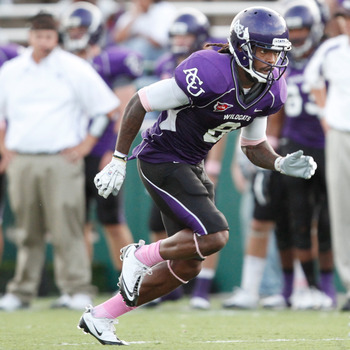 This guy is rising on boards and has been performing really well...apparently having a tremendous pro-day (per WalterFootball & NFL draft scout). I love Gettis and LaFell but with Smith getting old we need as many playmakers as we can on offense to help us out. Let's just stack it up and try to make Chud's squad a juggernaut.
-4th-
Shareece Wright, CB, USC
This is an interesting prospect for me. Prince, Smith, & of course Peterson are all great players going near the top of the draft no doubt. There's a great group below them including Curtis Brown, Aaron Williams, Harris, Davon House, etc. If one of them doesn't fall in position for our 3rd rounder, I would wait on a CB till here. Great value, gifted multi-positional type player. Was one of the best defensive players last year for USC and he apparently has a strong mental grasp of the game and has shown commitment to improve in the film room.
-5th-
Julius Thomas, TE, Portland State
Former Basketball player, has been garnering a large amount of praise for his athleticism and I see him as a perfect TE for Chud to groom. He could be awesome especially with our new staff.
-6th-
Darius Morris, OT/G, Temple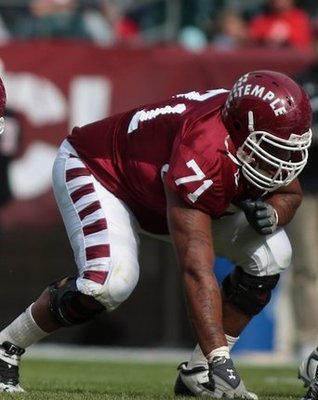 Its hard to know where Morris may fall, somewhere between rounds 5 and 6 is my guess and we're sitting ok at the top of the 6th. Lets go get a versatile backup for our line who adds great depth and can play tackle & guard rather well.
end note*
I would absolutely love to try to trade into the 2nd to target Curtis Brown and/or Jonathan Baldwin (if he falls)...but I'll save them for a trade-induced mock.
Edited by Beach, 22 April 2011 - 10:52 PM.