Guys, Just wanted to say I had a blast at the tailgate and at the game. I got to the tailgate early, around 3, and met up with Mush and Tweeder. A short time later Alex came with Steve (who was f*cking delicious). It was good to hangout with you fine folks and put a face to the names.
I told rino the following story and he suggested I post it, so here ya go.
So after the game and a case of beer later I exited out of the wrong side of the stadium. I didn't know where the hell I was and was trying to get back to 3rd and Poplar. I went through some sort of security checkpoint (a Sheriffs Deputy waved me through. I found myself standing around a bunch of TV trailers, which were hugging the stadium pretty tight. I was standing outside the MNF trailer and took a pic (all pics were taken with my cell, sorry bout the quality).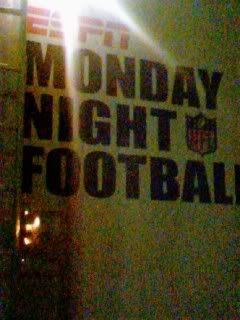 So after thinking pretty hard about it and if it would be worth me getting locked up over, I opened the door to the trailer and walked in. There were a few guys in there working. They had all parts of the game on screens. Nobody said one word to me. So I asked one dude what exactly they do in there. He said they were in charge of the graphics overlay that we see on tv during the broadcast. He tried to tell me how they did the first down yellow line but I really wasn't paying much attention. So, I took some pictures.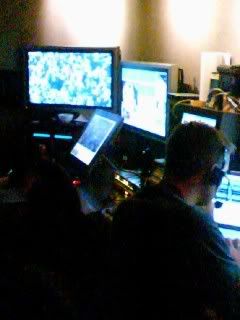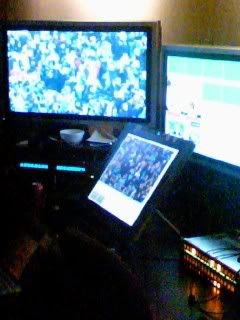 So after that, I walked out and started wondering around. I made my way to some tunnel and just followed some ESPN guys down it. When I came out the other end I about sh*t myself. I was standing on the field. The grass smelled awesome, and I'm just standing there in the endzone. People were all over place, but nobody paid much attention to me.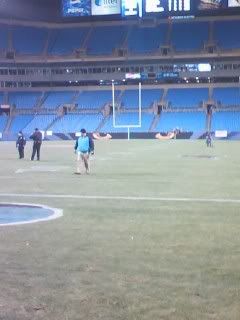 So I walked over to the goalpost and licked it. Just felt like it was the right thing to do. I couldn't believe some Joe Blow like me managed to wonder onto the freaking field.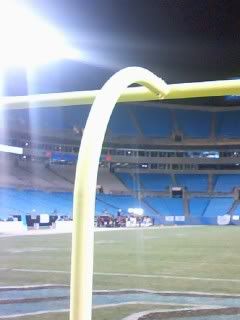 So I made my way down the Panthers sideline and walked out to the 50. I just stood there, taking it all in.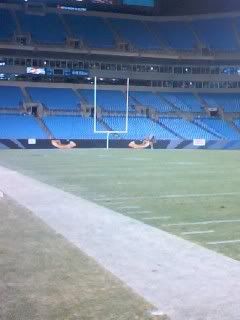 Near the oppisite corner of the endzone, ESPN was doing a broadcast. I saw Emmit Smith's huge head and decided to walk that way. BIG MISTAKE.
When I got about 30 feet from them, I encountered these guys.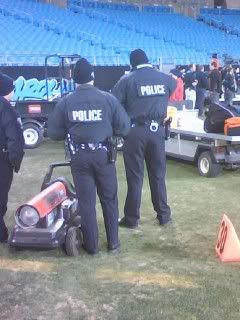 The PD guys just looked at me and then walked away. But some BOA security dude walked up to me and asked if I was working. I said no. He said what do you mean no. I told him I'm just hanging out. He was like youre just hanging out? I was like yeah, I got lost. He then asked if I was the asshole that jumped the fence. I told him no but I don't think he believed me.
He called the cops over and they started talking about locking me up for trespassing. One PD guy was like I hope you like bologna sandwiches. I was like are you really gonna lock me up? He said yeah. I told him it was worth it and I would never had been able to come down here. So we starting walking off the field and back into a different tunnel. When we got outside they just told me not to come back. SWEET.
Looking back on it, good thing I had a case of beer in me or otherwise there is no way that would have happened. I seriously weighed the chances of me going to jail and if I thought it would be worth it. It was. I know, I'm a bleeping idiot. But it was AWESOME!
So thanks huddle tailgate. You gave me memories that I will never forget
Edited by CatofWar, 09 December 2008 - 11:34 PM.