Even if good old nose tackle Ron Edwards comes back from injury, Fua (especially) & McClain haven't shown me enough this year at all. I just haven't seen the development, but I do agree that DTs take a little while to grow into their position.
So in light of this, here's my take on my top DTs and CBs (OLBs upcoming). Feel free to add on and propose who you think would fit our type of defense best:
--DTs--
Brandon Thompson
(DT - Clemson) 6-2 / 310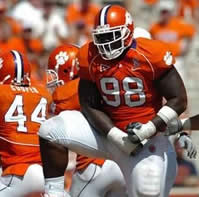 The thing I like most about Thompson is that he finishes strong. Gets going towards the vital points in games and knows how to finish a season. He's worked with some great supporting talent but he's shown this year he was a big part in why that Clemson line has been so good. Best aspect of Thompson's game is his ability to stop the run which makes him a great option imo.
Devon Still
(DT-DE Penn State) 6-5 / 311
He's been mentioned a few times in here recently and its totally warranted. His ability to simply shove linemen out of the way is great and he's having a stellar season so far. Another solid solid prospect and one that I think makes sense especially given his flexibility and our style defense.
Alameda Ta'amu
(NT - Washington) 6-3 / 330
This kid has a motor but needs to work on his movement and proper containment. Since Ron is a NT along with one of our new 3rd rounders, he may not get many looks but if he finishes the season strong and can show a lot in draft prep, he could be a solid trade down prospect.
& Keep an eye on...
Derek Wolfe
(DT - Cincinnati) 6-5 / 302
A big reason Cinci has become a consistent squad in recent years even though he plays in the lackluster Big East. My favorite mid-round DT prospect so far.
--CBs--
Morris Claiborne
(CB - LSU) 6-0 185
My top pick for us in this draft so far. I've mentioned before, this kid reminds me a lot of Eric Davis. We need a guy who has top speed and is tight in coverage. We need more reliable guys when we step outside of our zone defense and better tacklers for our zone. he fits both and is an absolute stud.
Dre Kirkpatrick
(CB - Alabama) 6-3 190
Considered the top CB on most boards and has great size for the wideouts in our division but I simply think Claiborne fits us better. Both are game changer types though. He hits harder than most cornerbacks but at the same time has good on field discipline and doesn't seem to over pursue much.
Jayron Hosley
(CB - Virginia Tech) 5-10 175
http://www2.nelsonco.../jayron-hosley/
Fiery, unreal leaping ability, and probably the quickest reflexes in the draft. Can return punts and is very solid overall when he plays on ST.
& Keep an eye on...
Janoris Jenkins
(CB - North Alabama) 5-10 188
We have a good thread on him so I'll just refer to that and this:
Edited by Beach, 21 November 2011 - 12:50 PM.