I'm going to take a break from a bunch of the write-ups I've been doing for the draft forum in recent weeks and give my first seven round mock for our Panthers. In this scenario, the Carolina Panthers have traded down and acquired their third rounder back. Trading down would likely yield more than just a third, but I wanted to start out with a simple seven round mock and did not get too technical.
1st Round:
Devon Still, DT, Penn St.
The best underneath DT prospect in this year's class, Still has performed at a high level all season, and has compiled the numbers to show it. with 47 tackles-including 14 TFL-and 4 sacks, Still has dominated opposing offensive lines all year. While Terrell Mclain has been more promising than fellow 3rd round draft pick, NT Sione Fua, neither has shown enough to give the coaching staff great comfort in dedicating the future of the DL to them and them alone. With no viable DT prospects set to hit Free Agency, and Ron Edwards as a question mark, the Panthers look to bolster the talent on the DL and hope to have the same success drafting a first round defensive tackle as the Lions, Bucs, and Bills have had in recent years.
2nd Round: Robert Lester, FS, Alabama
The best coverage Safety in this year's class, Lester is the true ballhawk in the Secondary the Panthers have desperately spent years searching for. Head Coach Ron Rivera did not sound too pleased with the play of Sherrod Martin in Monday's press conference, and Safety becomes an ever more increasing need with each week. Sticking a player like Lester across from Godfrey would make a formidable Safety tandem, OR force Martin to step his play up. Win-win. Robert Lester has been an anchor in Alabama's very strong Secondary for some time, and would be a huge upgrade for the Panthers.
3rd Round:
Danny Trevathan, LB, Kentucky
http://cmsimg.clario...ate-vs-Kentucky
An absolute tackling machine, Trevathan hasn't drawn much attention playing for a small time program in the Kentucky Wildcats-Danny doesn't care-he just makes plays. With 135 tackles, 3 sacks, and 4 interceptions
this year alone
, Trevathan's stock could skyrocket if he has a strong performance at the Senior Bowl, of which he is certain to get an invite. Trevthan is all over the field and has knack for finding the ball carrier. If the Panthers do bring Thomas Davis back at a reduced rate, Trevathan could not only step in if something were to happen to him-he could perform. One thing is for sure, the Panthers will look to find the future at the OLB position, even if Davis is brough back. They can't bank the success of their Linebacking corp next season on TD's health-and they'd be lucky if Trevathan was the man they got their hands on.
4th Round: Casey Hayward, CB, Vanderbilt
One of the more underrated CB's in this year's class, the Panthers look to improve their Secondary even more. at 5'11" and 190 lbs, Hayward has good size and great coverage skills. With 5 interceptions on the season, Hayward is a cover corner who excels at making plays on the ball. Normally a player of Hayward's caliber would be sought much higher, but in a year loaded with CB talent, the Panther's could get a steal in the fourth and add a playmaker who could push the other young corners on the roster. With Captain Munnerlyn being picked on this season, Hayward could step in and push for a starting role.
5th Round: Kendall Wright, WR, Baylor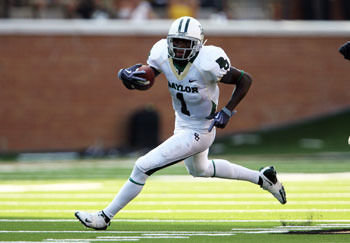 Wright's stock could rise or fall from this point in time depending on his pro-day and combine performances. Right now though, the fifth round is a solid projection for Wright in a year cluttered with good WR prospects. It's not Wright's abilities as a receiver though that should tempt the Panthers, it's his blazing speed which could finally give the Panthers a dynamic kick returner. In spite of Pilares' long and exciting TD return, he quickly showed after why the fanbase has been so frustrated with him this year. Armanti has showed great ability as a PR, being shifty and hitting holes hard when they do open up-however seldom that may be-but doesn't quite have the straight line speed to be a kick returner. Wright has it. His fast speed also could make him a viable threat in our long-ball oriented receiving game.
6th Round: Josh Oglesby, OT, Wisconsin
The Wisconsin offensive tackle's stock could very well rise between now and draft time, especially as a lock for the Senior Bowl, but right now this is a fitting slot for him. At 6'7" and 335 lbs, Oglesby is a massive force who would be a force in the run game, but has also shown great speed in getting to the second level. Oglesby would make great depth on a line that could see the departure of Jeff Otah at the end of the year, and could possibly challenge for a starting job once Gross departs in a few years (or longer). As said, this is a low spot for Oglesby, whose stock is likely to rise between now and draft time as he is finishing a very good season with the Badgers.
7th Round: Caleb Sturgis, K, Florida
Ah, yes. A Kicker, but a pretty big position of need for the Panthers. It should have come as a surprise to noone when Mare's reputation of collapsing in big moments followed him to Carolina. Underperforming for the large contract he was given, it should also come as a surprise to no one when the Panthers part ways with Mare at season's end. The new kickoff rules have made Mare expendable, but don't let that fool you, Sturgis has quite the strong leg himself. Even more importantly, however, he is accurate. Converting on 21 for 25 field goals this year, along with going 19 for 19 on XP's, Sturgis could hopefully become the last remaining original Panther from the Cam Newton era twenty years from now.
So there you have it. As said before, this will change dramatically between now and draft day. Another possibility could be one of the top corners in the first, along with a Brandon Thompson in the second, which would have course open up our fourth round pick. Lots of change coming these next few months, but one thing is for sure, it will be chaotic and downright
defensive
.
Edited by Cat'sGrowl, 22 November 2011 - 01:02 PM.