I've made a couple of adjustments to my mock draft after seeing a couple on different sites. In most of the mocks I've seen, some really good players fell to the second round. (I don't think this will happen come draft day).
1st round (2nd overall)
Matt Kalil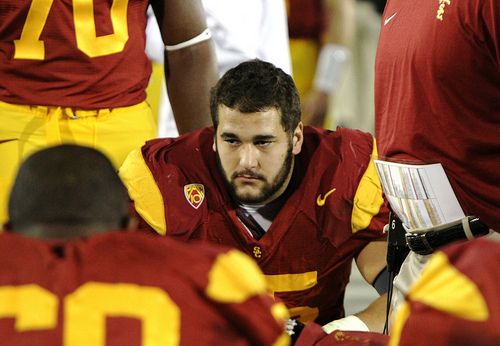 What more can I say. Right now he is the best tackle in the country, a much better prospect on the O-line then his brother coming out of college. He's done a great job in keeping his QB (Matt Barkley) upright, and would be a great addition to the Panthers' line. Next year our line should be one of the best with Kalil-Wharton-Kalil-Bell-Gross. (Mr. Scot, go ahead and update your sig right now)
2nd Round (34th overall)
Manti Te'o
This is one of the players who most current mock drafts don't have going in the first round. If this is the case, we should nab him. He shows to have good speed, and can rush the passer. He's a sure tackler, and has size as well. His coverage skills aren't that great, but he more than makes up for it with his speed. Te'o also has a knack for the ball. Not easily fooled by play fakes, and that is deadly to QBs if he is rushing them.
2nd round (Via trade)
Jared Crick
Again, another guy that has fallen in most current mock drafts. The main reason he has fallen is because of his injury, which didn't allow him to play up to par this year and sidelined him halfway through the season. If he does well in the combine process, he will be a sure fired first round pick. If he doesn't, I think he will be the steal of the draft for us. In all the videos I've saw him in, he was constantly in the back field, making the QB move out of the pocket. Entering this season, he was the top prospect at DT in college. It baffles me how people seem to forgotten he even exist. With Ron Edwards coming back next year, if we brought this guy in, we will finally have a run stopper and a disruptive force in the middle of our D-line.
3rd Round (Via Trade)
Joe Adams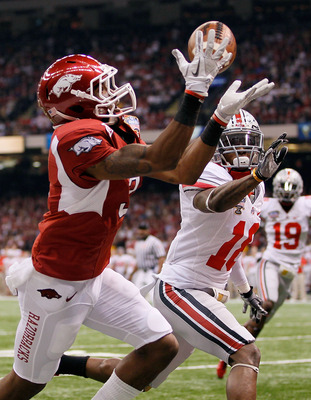 As someone else said before, Joe Adams is a Steve Smith clone. The Armanti Edwards experiment is pretty much officially done, so Joe Adams will give us a legitimate threat on punt returns. I don't expect Naanee to be here next year, giving Adams the opportunity to be either the third or fourth guy in the receiver line-up. (battling with Lafell to be the third guy)
4th Round
Robert Blanton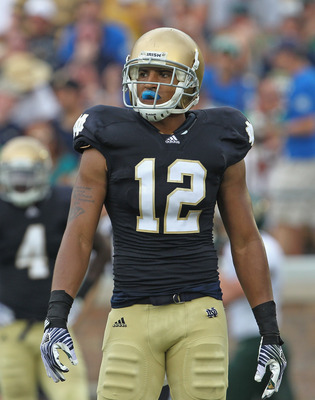 A local talent who I believe will be star at the corner position in this league. Not only does he have size and long arms to bat away passes, he also has Asomugha-like technique in man coverage schemes. Having him and Gamble gaurding their guys will allow our safeties to roam free. (This year, all I see is Godrey and Martin hauling tail to cover Munnerlyn's or Butler's mis-tackles, not to mention the mis-tackles of pretty much the whole team.) All of the guys I mentioned so far in my mock are quality starters, but I am the most excited about getting this guy!
5th round
Robert Golden
Lately I've watch a whole lot of sorry special team play, and quite frankly, I'm sick of it. For once can we get some cats in there that can tackle the opposing punt returner or kick returner! With Robert Golden, I believe I'm getting that guy. He is a hard hitter, and has the speed to close in on guys. He's also a true defensive back. By that I mean he can play safety and corner. I'm still holding out on Sherrod Martin, because as many of you know, he's dropped a bit in tackling guys and still hasn't lived up to any ball hawking potential. So instead of having guys like Jordan Pugh sitting behind him, Robert Golden will give Martin a real run for his money.
6th round
Danny Trevathan
I'm stealing one from Cat'sGrowl's mock haha. According to nfldraftscout's website, they have Danny going in the 6th round. As CG stated, he's a tackling machine, and that is exactly what we need right now on special teams. Having both Golden and Trevathan on special team coverage, between the two of them, we shouldn't see another run back for a score next year.
7th Round
Kellen Moore
Projected starters for next year. (Along with FA acquisitions and not including traded players.)
Offense
QB: Cam Newton, Derek Anderson?, Kellen Moore ®
RB: DeAngelo Williams, Jonathan Stewart, Josh Vaughn?
FB: Jerome Felton, Richie Brockel
TE: Greg Olsen, Gary Barnidge, Ben Hartsock
WR: David Gettis, Brandon Lafell, Early Doucet (FA)
WR: ?, Joe Adams ®, Kealoha Pilares
LT: Matt Kalil ®, Garry Williams
LG: Travelle Wharton, Mackenzy Bernadeau
C: Ryan Kalil, Geoff Hangartner
RG: Byron Bell, Geoff Schwartz
RT: Jordan Gross, Lee Ziemba?
Defense
DE: Mario Williams (FA), Thomas Keiser
DT: Antonio Garay (FA), Ron Edwards, Sione Fua
DT: Jared Crick ®, Terrell McClain
DE: Charles Johnson, Antwaan Applewhite
OLB: James Anderson, Danny Trevathan ®
MLB: Jon Beason, Manti Te'o ®, Dan Connor, Thomas Williams
OLB: Manti Te'o ® or Thomas Davis
CB: Robert Blanton ®, Capt. Munnerlyn, Robert Golden ®
FS: Sherrod Martin, Myron Rolle (FA)
SS: Charles Godfrey, Robert Golden ®
CB: Chris Gamble, Brandon Hogan, Robert Golden ®
Special Teams
K: ?
P: ?
KR: Kealoha Pilares
PR: Joe Adams ®
Edited by Matthias, 23 November 2011 - 03:43 PM.