Todd McShay's 1st NFL Mock Draft 2012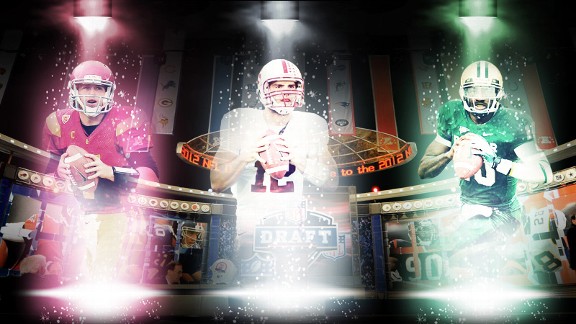 Trio of quarterbacks makes the top 10; plenty of surprises throughout Round 1
Indianapolis Colts
Record: 1-13
Andrew Luck*, QB, Stanford
Luck is a once-in-a-generation quarterback prospect, and Colts legend Peyton Manning will be 36 next season and is coming off multiple neck surgeries. Given the financial implications, it looks like the smart decision is to draft Luck and part ways with Manning.
St. Louis Rams
Record: 2-12
Matt Kalil*, OT, USC
The Rams need to better protect the investment they made in 2010 No. 1 overall pick QB Sam Bradford, and current LOT Jason Smith has not lived up to expectations as the No. 2 overall pick in 2009. Given Kalil's size and athleticism, he is ready to step in right now and take over at left tackle.
Minnesota Vikings
Record: 2-12
Morris Claiborne*, CB, LSU
Claiborne is the premier cover corner in the 2012 class, and the Vikings rank 30th in the NFL in pass defense (260 ypg). He has size, fluid hips, good top-end speed and outstanding body control, and he excels at locating and attacking the ball over his shoulder.
Cleveland Browns
Record: 4-10
Trent Richardson*, RB, Alabama
Richardson is a more complete back than former Crimson Tide teammate Mark Ingram, the No. 28 pick to New Orleans in 2011. Richardson has a rare combination of size, speed, power, agility, burst and versatility, and is the rare exception to the don't-take-an-RB-in-the-top-10 rule.
Jacksonville Jaguars
Record: 4-10
Quinton Coples, DE, North Carolina
The Jaguars have a pressing need at defensive end, and while Coples is not a speed rusher, his blend of size, power and quickness allows him to be a productive pass-rusher (17.5 sacks the last two seasons) and disruptive against the run.
Tampa Bay Buccaneers
Record: 4-10
Dre Kirkpatrick*, CB, Alabama
Ronde Barber is aging and Aqib Talib's future is up in the air, so Kirkpatrick makes sense. He flashes good instincts in off-man coverage, is physical in run support and has great size. Kirkpatrick is not elite in man-to-man coverage, but he's made huge strides in the last two seasons.
Washington Redskins
Record: 5-9
Robert Griffin III*, QB, Baylor
Finding a quarterback is a must for the Redskins, and this will be an interesting call if Griffin and USC's Matt Barkley are still on the board. Barkley would make sense, but it might be hard for Washington coach Mike Shanahan to pass on a dynamic athlete like Griffin.
Miami Dolphins
Record: 5-9
Matt Barkley*, QB, USC
Another team with an obvious need at quarterback, the Dolphins would be wise to take a young talent they can build their offense around for years to come.
Carolina Panthers
Record: 5-9
Justin Blackmon*, WR, Oklahoma State
I'm not a fan of taking wideouts in the top 10 unless they are in the elite category -- think Calvin Johnson and A.J. Green -- and Blackmon is not in that class. However, the Panthers will be searching for weapons to put around QB Cam Newton, and Blackmon is clearly the top receiver on the board. He has outstanding body control to make all kinds of catches, and it will be interesting to see whether the Panthers make the move.
Buffalo Bills
Record: 5-9
Riley Reiff*, OT, Iowa
The Bills have had a pressing need at left tackle for years, and haven't drafted one since they missed on Mike Williams at No. 4 overall in 2002. Reiff isn't a finished product but has good natural feet for his size, and he projects as a very good starting left tackle if developed properly. And despite the money Buffalo recently committed to Ryan Fitzpatrick, I think a quarterback would have to be in play here, as well. But the Bills wouldn't be likely to take Oklahoma's Landry Jones at this point.
I kind of agree with our pick actually.
http://insider.espn....ound-projection
Edited by nctarheel0619, 21 December 2011 - 10:40 PM.