Hello Huddlites. In this thread I shall grace you with a Daily Report from Senior Bowl practices in Mobile, AL, giving updates and player evaluations on the daily goings-on's and such. I will do my best to try and make it to as many practices as possible, and will try to catch it on the NFLN for the one's I am unable to go to.
Over the course of the week, I may also be able to provide some small "insider" info. Usually just small things, for instance, when Dan Connor was at the Senior Bowl a few years back, he left the practice field one day with a questionnaire with a Carolina Panthers logo at the top of it, which signaled to me we were interested, which we obviously were.
I may nab something big, if you've ever attended the Senior Bowl, you'd know it's a very relaxed environment. One where the big faces of the NFL world will sit amongst fans, from scouts, to coaches, to even owners. A few years ago, I was standing right next to Drew Rosenhaus when he called the Saints and told them Dan Morgan was possibly interested in playing for their team, before any other rumor source or espn reporter even knew-I knew. (You can tell I'm proud of that, can you not?)
Anyways, let's get on with it. I'll be doing reports after each practice on which players performed well, which ones did not, and so on, so I hope you enjoy.
Official Senior Bowl website:
http://www.seniorbowl.com/index.asp
North Roster, being coached by the Minnesota Vikings:
http://www.seniorbow...northroster.asp
South Roster, being coached by the Washington Redskins:
http://www.seniorbow...southroster.asp
Notable Players Playing For The North:
Alfonzo Dennard, CB, Nebraska
Doug Martin, RB, Boise St.
Kellen Moore, QB, Boise St.
Russell Wilson, QB, Wisconsin
LaVonte David, LB, Nebraska
Kirk Cousins, QB, Michigan St.
Alameda Ta'amu, DT, Washington
Mike Brewster, OL, Ohio St.
Demario Davis, LB, Arkansas St.
Marvin McNutt, WR, Iowa
Chris Polk, RB, Washington
Gerell Robinson, WR, Arizona St
Derek Wolfe, Dl, Cincinatti
Kenall Reyes, Dl, UConn
Vinny Curry, DL, Marshall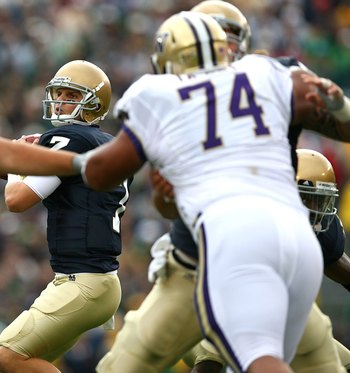 Notable Players Playing For The South:
Joe Adams, WR, Arkansas
Antonio Allen, S, South Carolina
Will Blackwell, OL, LSU
Brandon Boykin, S, UGA
Nigel Bradham, LB, FSU
Andre Branch, DE, Clemson
Zach Brown, LB, UNC
Quintin Coples, DE, UNC
Juron Criner, WR, Arizona
Glenn Cordy, OL, Georgia
Casey Hayward, CB, Vanderbilt
Melvin Ingram, DE, South Carolina
Janoris Jenkins, CB, North Alabama
Markelle Martin, S, OSU
Marquis Maze, WR, Alabama
Chris Rainey, RB, Florida
Kheeston Randall, DL, Texas
Sean Spence, LB, Miami
Brandon Thompson, DT, Clemson
Courtney Upshaw, LB, Alabama
Brandon Taylor, DB, LSU
Brandon Weeden, QB, OSU
Plenty of players in that line up relevant to the Panthers-I'm sure I don't have to tell you which ones to keep a close eye on.
Monday, January 23 Senior Bowl Report-
The South practiced across the bay today, which is about an hour away, so I was only able to catch the North today. This is the only day they practice away from Ladd Peebles, so it won't be a problem the rest of the week.
Kellen Moore is the skinniest QB I have ever seen. I'd say he looks like a JV QB out there, but I've truly seen bigger JV QB's. That isn't hyperbole, sadly. Boise had him listed at 6'1", but the official weigh in pegged him at 5'11".
Speaking of small QB's. Russell Wilson, is the
shortest
QB I have ever seen. Now listed at 5'10" I truly can't get you to understand how small he looked out there. He's dwarfed by little almost everyone on the field.
Marquis Maze is the smallest player in this year's game lised at 5'7", two inches shorter than Alabama said he was.
LaVonte David is thin. Very thin. Looks more like a CB than a LB. He has good natural ability, and did well in another nice prospect, Mizzou TE Michael Egnew, but he will have to bulk up if he wants to be a viable player at the NFL level. Good talent, poor measurable and made some mental errors at time.
I was going to make a joke about Dennard making it though practice without hitting anyone, but he couldn't even do that. He was lined up in the slot in one play, got man handled by a bigger receiver, and got mad and slapped his facemask. He's obviously giving a nice impression of being a punk who struggles with bigger receievers, and really didn't have a good practive overall. He's got a good NFL body, but just wasn't impressive out there.
George Iloka is huge, and certainly too big to play CB. He lined up at Safety most of the day where he did nice, but even moved to LB on a couple of occasions when the North did some odd 4-4 alignments. Worth looking at.
Devier Posey is an odd specimen. He'll make great catches, but make a stupid drop or a dumb mistake. He has nice ability really, and overheard one scout praising him. There was a moment however where he dropped a ball, ignored it, let it roll, and angrily went back to his spot. Brian Quick, who was playing CB in the drill, came running in, got the ball and took it to the coach, and then encouraged Posey. I suppose if I see emotion our of a player, it'd obviously rather be frustration than apathy, but still. Had to be careful if I said anything bad about him though, as I'm pretty sure his mother was standing next to me.
Speaking of Brian Quick, I've taken a liking to him. Not elite speed, but great size and just steals the ball out of the air, you can hear his hands hit the ball as he snatches it from it's flight path and secures it. It's impressive.
Doug Martin had a nice day, though he is pretty short and there isn't a way in the world I'd believe he's bigger than 5'9", but the real story of the day at the RB position was Isaiah Pead. He caught my attention and the attention of a few scouts. He's fast, shifty, can catch the ball out of the backfield, and return punts. You should be watching him closely the next few months.
Mitchell Schwartz, a Guard from Cal, whom yes, I do believe is Geoff's brother (so did the panthers.com cameraman next to me) is an absolute mauler in the run game, Multiple times I saw him drive the defender back into the second level and cause havoc for attacking LB's. Watch him closely.
Alemeda Ta'amu. I will not shut up about this guy the next few months. He was the most dominant player on the field today. He destroyed Ohio St. C Mike Brewster, who is 6'5" and 310 lbs, literally every single play, along with every other OLmen placed across from him. He is fast. He is strong. And he was in the backfield almost instantly on every play. He caused chaos and it was beautiful. He will need some bulk if he wants to play NT at our level, but he was just vicious, spectacular, gifted, a monster, and many other creative adjectives. His stock will soar this week.
Some other random notes I took:
TJ Graham returned punts ( i had hoped NC St guys might be able to give some insight)
Derek Wolfe was playing end, and was very impressive. Very strong bullrush, along with a good set of moves. Very nice prospect.
Shea McLellin of Boise is relentless. Does. Not. Stop. Ever.
Senio Kelemente of Washington is a big guy who played well.
Unfortunately, with it being rainy today, and the South being across the bay, along with most of the day being kind of fly-by orientation and versus air in drills, there wasn't too much to report.There will be more in the coming days, I promise, but I hope I gave you guys some stuff to chew on.
I had an entire segment written out detailing some of the cool experiences I had today, but my computer has deleted my post before it could be submitted twice now, so I'm going to go ahead and post this before it happens again, and I'll fill you guys in in a little bit.
Edited by Cat'sGrowl, 23 January 2012 - 08:08 PM.