This is my first official mock draft and, yes, it will probably seem similar to some others. However, this is all my own work and reasoning through extensive research.
Also, there are two possibilities of this draft. After doing a lot of research, it seems to me to be very possible that the Bucs will take Trent Richardson with there pick and that could very likely lead to Morris Claiborne dropping to the 9th pick. However, if the Bucs were to take Claiborne, it is very likely that Richardson will fall to 9 and we could potentially trade out of the 9 spot into the Bengals' 17th slot. This mock trade would also net us the Bengals' 2012 3rd round pick and some 2013 pick. Without further ado, I present the GS4 mock.
Round 1 pick 9- Morris Claiborne CB
This is assuming that the Bucs take Trent Richardson. Everyone already knows the deal with Claiborne so there is no need to be repetitive.
*Round 1 pick 17- David DeCastro OG
This is the potential pick if the Bucs take Claiborne and a reasonable price allows us to take the 17 pick off of Cincy's hands. DeCastro is a guy with a lot of potential and could really solidify the offensive line. He could likely come in and start early. This is obviously not a sexy pick but is efficient and has positive value (moreso than taking any other position at 9 if Claiborne is off the board, IMO)
Round 2 pick 8- Vinny Curry DE
This guy just seems to have it. I've fell in love with this pick since I began doing research. He needs to work a little bit on defending the run as well as keeping leverage on the pass rush but he has a load of potential. Plus he seems to have a never-ending motor. I believe he could be a long time starter at DE opposite CJ and allow Greg Hardy to bring in quality depth.
*Round 3 pick 21- Casey Hayward CB
http://cmsimg.tennes...plan-NFL-future
This pick also comes from the Cincy trade. Hayward has a good bit of potential here. He needs to work on his man coverage skills but has shown flashes throughout his career. He is a playmaker and has a nose for the ball. One particular game that comes into mind was this past season's Vandy-Arkansas game. Hayward had 6 pass deflections while at least 5 could have very easily been interceptions. This pick would add more CB depth and allow competition between Hayward and Hogan (and Captain by default) with the best winning the #2 job, and the other two battling for the nickel spot.
Round 4 pick 8- Brandon Taylor S
Safety out of LSU was possibly the most underrated player on that defense. He really has a nose for the ball and can light some guys up. There is a lot of potential here with health being a minor concern. Best case scenario would have Taylor and Godfrey sharing the FS and SS positions (both are interchangeable) and worst case scenario is Taylor adding quality depth at both safety spots (although he probably fits SS better than FS).
Round 5 pick 9- Antonio Allen OLB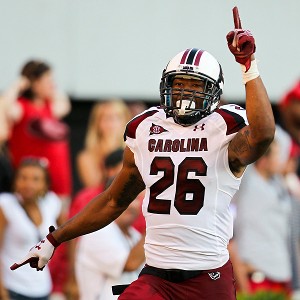 Call me a homer all you want but this guy is the real deal. He is a big guy who is trying to make it in the NFL as a safety. However, he fits OLB perfectly and that's what I have him slotted as. These would not be issues at all if he were playing closer to the line similar to what he played in Columbia (hybrid S-OLB "Spur"). His major concerns are about speed and coverage ability (as a safety). However, he is terrific in run support and is known for shutting down safeties (Orson Charles and Dwayne Allen for example). Not to mention that he is a straight playmaker. Anytime that a big play occurred on defense it was either Allen or Ingram. Not to mention that he had 3 straight regular season games with a defensive TD between 2010 and 2011. According to him, he has never missed a tackle in his career and he takes pride in his sure tackling.
Round 6 pick 8- Josh Oglesby OT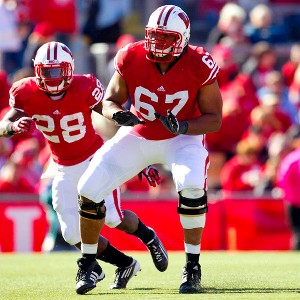 An offensive lineman from Wisconsin. That right there says a lot. Oglesby can be dominant at times but also be sloppy at times. He has a lot of potential but is a major project. However, being 6'7" 338 pounds helps. Lot to work with here and worst case scenario you miss on a 6th round pick. Best case scenario you find a guy who could potentially take over one of the tackle spots.
Round 7 pick 9- Shaun Powell/Drew Butler P
Punters. Preferably Powell but if for some reason he is gone, then Butler. Good punters. Not much more you can say.
Recap
If Tampa takes Richardson and Claiborne is available at pick 9:
1) Morris Claiborne
2) Vinny Curry
4) Brandon Taylor
5) Antonio Allen
6) Josh Oglesby
7) Shaun Powell/Drew Bulter
If Tampa takes Claiborne, Richardson is available at pick 9 and a reasonable offer is taken by Cincy:
1) David DeCastro
2) Vinny Curry
3) Casey Hayward
4) Brandon Taylor
5) Antonio Allen
6) Josh Oglesby
7) Drew Butler
It's inevitable that people are going to bring up the lack of DTs in my mock. My argument for this is that we have one guy who is coming off an injury and could potentially fill one hole. We also could potentially sign Garay from SD (who I admittedly know little about). On top of that we have two guys who were rookies in Fua and McClain who will be getting their first offseason workouts and training this year. While you can expect them to get better even after the 2012 season, this season should be a good measuring stick for their potential.
Edited by GamecockSmitty4, 03 March 2012 - 01:34 AM.