This is probably my last mock draft for this draft. I will include two different scenarios where we stay at nine then a trade down. This is what I think will happen, not what i think SHOULD happen or what I want to happen.

First scenario: Staying with the ninth pick.


With the ninth pick in the 2012 NFL Draft, the Carolina Panthers select...




Dontari Poe, DT, Memphis
6'4 - 346 - 4.87
Dontari Poe will be considered a reach this high by most. His upside however is immense and with coaching from defensive minded head coach Ron Rivera, Poe could very well become Carolina's own version of Haloti Ngata. No man that is 6'4, 346 lbs should be able to move like Poe. If I were making this pick, I would take one of three players. Quinton Coples, Fletcher Cox or Nick Perry assuming that Morris Claiborne and Justin Blackmon are gone. Dontari Poe's size would create massive gaps for our linebackers to shoot through to stop the run. Poe also offers an unexpectedly good pass rush which is better than most of the other Defensive tackles in this draft.
2nd Round
Brandon Boykin, CB, Georgia
5'9 - 182 lbs - 4.44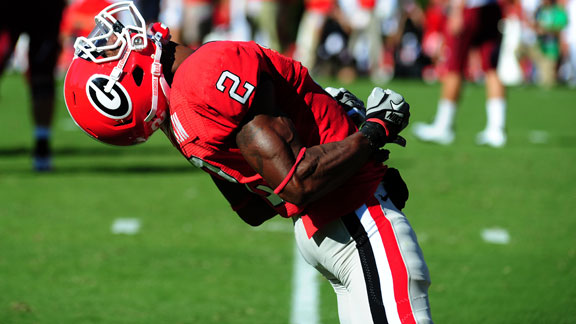 If Brandon Boykin were 6'0, he would be a top 15 pick. Boykin plays the game with more passion than any other corner in this draft. He has outstanding return ability to go along with great ball skills. The only downside to selecting Brandon Boykin, if there is one, is that he primarily played in a two deep zonetype defense at Georgia. I see Boykin becoming a Brandon Flowers caliber cornerback in the NFL.
4th Round
Keshawn Martin, WR, Michigan State
6'0 - 188 lbs - 4.45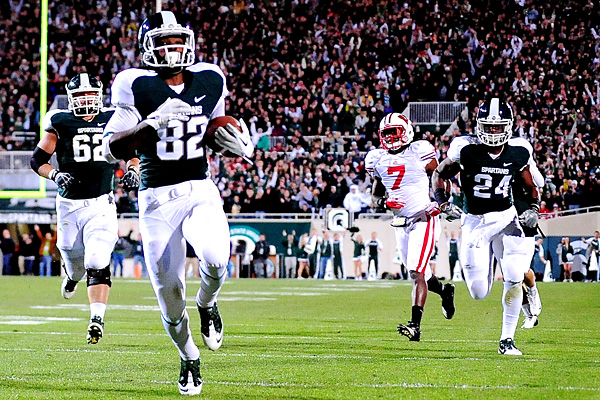 I love Keshawn Martin as a mid round sleeper. He has good hands and very good speed to create seperation from corners. He doesn't always fight for the ball like you would like to see in a receiver, but with a little position coaching help from Steve Smith I don't see that being too much of a problem. Martin has reportedly drawn interest from teams in the second round. I beleive they see what I see, which is quite possibly the next Mike Wallace.
5th Round
Ryan Miller, G/T, Colorado
6'7 - 321 lbs - 5.27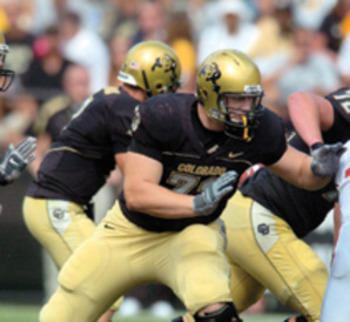 Ryan Miller was once considered a second round pick. After having a poor senior bowl and average combine, Miller's stock took a huge hit. At the Senior Bowl, Miller displayed poor footwork which may cause him to make the move to guard in the NFL. The upside is still there at Tackle however and if Jeff Otah stinks it up again, Miller would battle with Byron Bell for the starting job at right tackle.
6th Round
Bryan Anger, P, California
6'3 - 208 - 4.75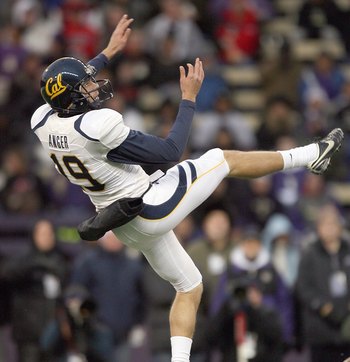 Anger is the best punter in the draft and could be selected as high as the fifth round. Jason Baker was released which was expected. That leaves a hole at punter and Bryan Anger will be one of the best at his position in the NFL.
7th Round
Adrien Robinson, TE, Cincinnati
6'4 - 264 - 4.55
Adrien Robinson was not invited to the combine but blew up his pro day running a 4.55 forty yard dash. Robinson is similar in size to Antonio Gates who Rob Chudzinski coached in San Diego and has similar athleticism. Robinson should be drafted late by a team looking for some sort of project.
second scenario: trade down
just quickly throwing it out there. we trade down to a team looking to move up for Richardson, Tannehill, or whoever and acquire a 2nd round pick.
1-Michael Brockers, DT, LSU
2a-Boykin
2b-Harrison Smith, S, Notre Dame
4-Martin
5-Miller
6-Anger
7-Robinson