1. Fletcher Cox DT Miss St.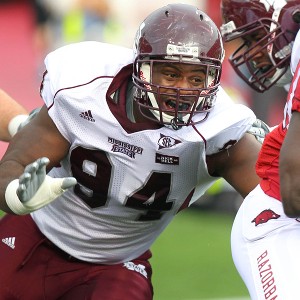 In my last attempt to even think about who we land from this crop of Floyd, Ingram, Coples, Cox, Kuechly it simply came down to the combination of filling a major hole and getting a top talent. This guy has shown he has the ability and I think fits our defense better than any of these prospects. Athleticism matched with his motor and versatility makes him ideal to pair with that phat ass Edwards. My final 3: Cox, Ingram, Floyd
We'd have to shuffle around our LBs if we go Luke, Coples and Hardy would be splitting time, meanwhile...this guy we put in as a package with Ron while we still try to develop our late rounders from last year into something as rotationals. With DT this year you either take the risk this high or don't take one. I don't see why we'd want to try again at this position past the 2nd. This is a CB heavy draft.
2. Kevin Zeitler OG Wisconsin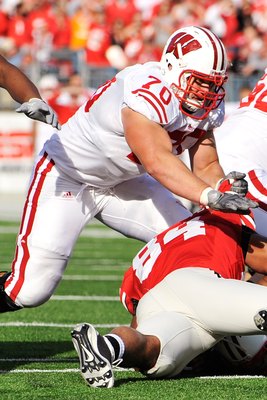 The game is won in the trenches and we still need more linemen. I'll be honest and say I don't really know about this Pollack guy we picked up and Wisconsin is a linemen factory like Virginia Tech produces runners. This shores up guard for us with a smart and mauling type.
4. Jamell Fleming CB Oklahoma
Here's a CB we can get to compete with Hogan for the starting spot. He's a ballhawk and knows how to make the big play. Improved every year of college and has honestly looked good this whole pre-draft season. Solid pick...in a CB heavy draft you never who may be there in the fourth.
5. Ryan Broyles WR Oklahoma
He falls because of his injury but he's still got it. Broyles would be an ideal slot-type to have groomed behind Smitty if we're looking later in the draft. He's gonna want to prove what he's capable of after not really being able to show off his skills during the offseason. I'd definitely take a gamble here.
6. Danny Trevathan OLB Kentucky
He makes plays and after some review, I honestly don't know why he's projected so low. He may end up going higher but I'd love to take this guy late in the draft.
6. (Comp) Jerry Franklin ILB Arkansas
Much needed LB depth to groom behind Beason and compete with Senn
7. Shaun Powell P Florida St.
Punter!!
that's it that's all, now can this damn thing get herrreee already