After taking Luke Kuechly yesterday in the first, many have said the Panthers combine the idea of the safest pick in the draft with BPA (best player available).
I decided to look at who might be the safest player available at our pick in the second round as well as the best player available.
Here is what I came up with.
Janoris Jenkins
- He has tremendous skill and if he fell to the Panthers, he would be one of the best players available but due to his off the field issues; Jenkins doesn't fit the Panthers safe approach to the draft.
Devon Still
- Still has a great skill set and pretty good potential in my opinion. However, he also had a minor off the field instance and though his incidents don't compare to Jenkins's, his talent doesn't scream best player available.
Jerel Worthy
- To my knowledge, Jerel Worthy does not have any off the field incidents, however he is certainly not the best player available in my opinion as he is great at nothing and decent at a few things. He is a solid player but he reminds me so much of the guys that we picked last year that I don't see the need to take him.
VINNY CURRY
- After doing some background checks and research on Vinny Curry, the defensive end from Marshall; I believe he is the safest pick and the best available player based on skill, need, and potential for the Carolina Panthers.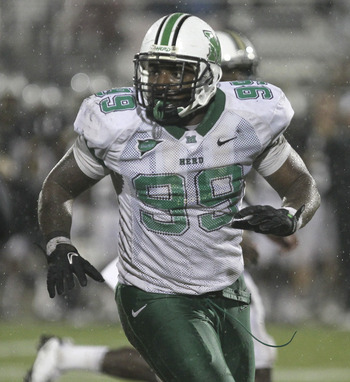 Best Measurable's
Height: 6'3 (One inch below average height of an NFL defensive end)
Weight: 266 (Even with the average weight of an NFL defensive end)
Arm Length: 32.75 in.
Hand Length: 9.25 in.
40 Time: 4.69
20 Time: 2.72
10 Time: 1.58
225 Lb Bench: 28 reps
Vertical: 35 in.
Broad Jump: 9'3
20 Yard Shuttle: 4.40
3 Cone Drill: 6.90
2011-2012 Background
- Curry finished 2nd in the NCAA in forced fumbles with 7.0
- Curry finished 3rd in the NCAA in forced fumbles per game with an average of 0.54
- Curry finished 3rd in the NCAA in tackles for a loss with 22.0
- Curry finished 4th in the NCAA in tackles for a loss per game with an average of 1.69
- Curry finished 6th in the NCAA in kicks/punts blocked with 3.0
- Curry finished 6th in the NCAA in kicks/punts blocker per game with an average of 0.23
- Curry finished 6th in the NCAA in sacks with 11.0
- Curry finished 7th in the NCAA in sacks per game with an 0.85 average
- 2011 Conference- USA Defensive Player of the Year
Analysis
Pass rush: Relentless and strong off the edge as a pass rusher when fresh. Gets under the pads of tackles to bull rush them into the backfield. Gives second and third effort to reach the passer. Uses his hands to swim past linemen. Struggles to beat cut blocks with his hands. Inconsistent get-off, stands straight up into his blocker and does not shed later in games. Plays a bit out of control, loses his balance when trying to shake tackles. Challenge interior linemen with quickness and strong hands when lined up inside.




Run defense: Chase defender outside, has good closing speed and hustle to get to ball-carriers running to or away from him. Works through multiple blockers to get to the ball, or at least force plays to other defenders. May take a false step inside on zone reads, but generally stays at home to keep containment.




Explosion: Usually comes off the snap in a hurry and very strong from either side of the formation. May not beat NFL tackles as a pure speed rusher, but will challenge their up-field shoulder. Quick enough to take inside lane if tackle guesses on speed rush. His initial quickness lets up later in games. Strength: Plays with intensity and a nice anchor even when giving up 40-50 pounds against most blockers. Shows pop as a bull rusher. Stands up well against the run when lined up at five-technique, but must prove he has the bulk and strength to handle NFL linemen one-on-one or double-teams before moving inside.




Tackling: Possesses NFL-caliber length and strength as a tackler. Makes backside plays with regularity when zone schemes leave him unblocked. Gives great effort, following the ball to either sideline no matter where he is lined up. Adds himself to piles as the third or fourth defender. Spins off piles inside and finds the ball-carrier to drag him down.




Intangibles: Team leader, younger players look up to him. Positive attitude in the locker room, works well with the media. Hustle on the field reflects work ethic off the field. No major off-field incidents. Could have entered the draft in 2011 as a potential top 100 pick, chose to return to "win a championship".
Highlight Video
Scouting Video