As the season rings near so does another equally important event. The sacred ritual known as tail gating. I wanted to re tell one of the most epic days I've ever had. I posted this immediately after it happened but through all the crashes and upgrades it is no longer with us.
It as a Monday night game against the bucs in December. The winner took the division. I arrived to the huddle tailgate spot bright and early, around 7:30 or so. When I got there it was just Mush some other dude who I can't remember his name. As soon as I arrived I commenced to drinking. It was a long day.
The tailgate itself was no less then awesome. Great food and got to meet a bunch of posters. Come game time that evening I was having a bit of trouble walking but made it to the stadium none the less. The game was balls. We won, rolled into the playoffs and know what happened against Arizona.
After the game is where it gets interesting. I'm still smashed at the end of the 4th quarter and cant figure out how to get out of the stadium. I'm walking in circles like I got off my leash. I file in behind some others and am waved through a security check point manned by a sheriffs deputy. I walk on by like a boss and I find myself standing outside a Monday night football production trailer.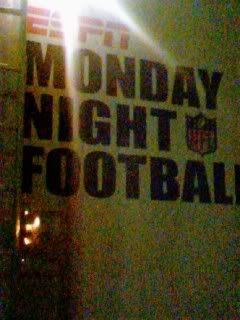 I decide to go on in and see what the fug is going on in there. I do and there's a few guys goofing off. I ask em what exactly they do in here and they proceed to tell me they put the graphics on screen that are shown on the network broadcast. They were cool and at no time asked who I was or why I was there.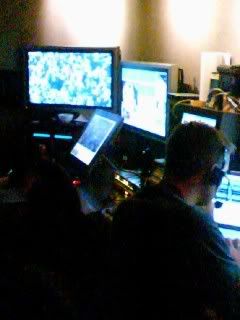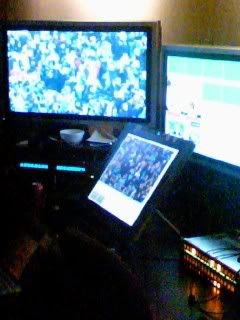 After 10 minutes or so a bail from the trailer and follow another group of folks walking. We head into a tunnel and when I walk out of the other end of it I am stunned. In my drunken stupor I have made it onto the field. I knew no one would believe it. I wouldn't have either. So I took pictures.
The grass smelled like sweet honey. I crouched down and ran my fingers through like as if I were seducing a woman, gently stroking her licks of hair.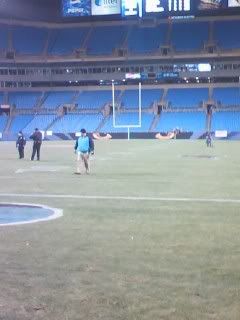 I was standing in the end zone. In front of me what one of the field goal posts. I didn't know what to do.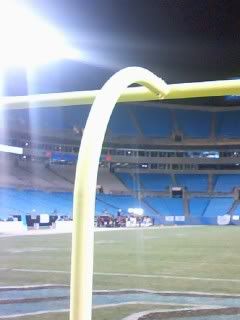 I slowly walked up to it. I licked it. If felt right. I'll never forget that smooth, metal taste. Also a hint of rubber. At the other end of the end zone the MFN crew were doing a live broadcast after the game. I started walking down the side line towards them, thinking now I should try to get on tv. Why not right? I've made it this far and people are walking by me like Im suppose to be here. So off I go, determined to slap emmit smiths fat ass head.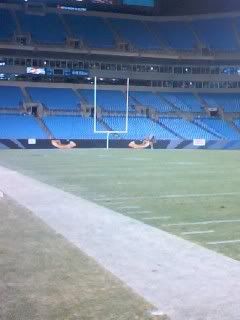 Just strolling down the sideline, not a care in the world. At this point my mind starts to wonder and I'm looking for beer. I didn't find any but did find these ass holes: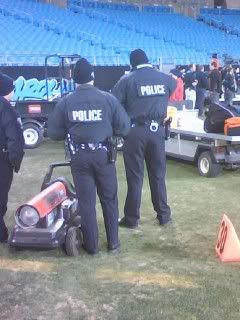 Like the great white ninja, they had no idea I was behind them, silently mocking them. Then, they turned around. I knew for sure I was going to posting a "got locked up at a tailgate" thread at this moment.
Cops- what are you doing here?
Me- just hanging out.
Cops- what do you mean you're just hanging out?
Me- I'm lost.
Cops- what do you mean you're lost.
Yes, this when on for some time, them repeating everything I said. After a while of posturing and nut flexing from both sides I was told I could leave.
That's all I got. I left a huddle tailgate with the memories I just shared with you all. So I guess the moral of the story is, go to a huddle tailgate. Anything can happen.