Okay, so I know KT started this, but I wanted to add my first choice since there hasn't been a player posted yet.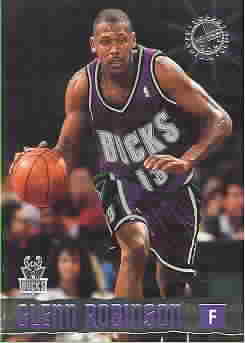 #13, 31, 3 Glenn "Big Dog" RobinsonPosition:
Forward
- Height: 6-7 - Weight:
240 lbs
Born:
January 10, 1973 (Age 39) in Gary, Indiana
High School: Gary Roosevelt in Gary, Indiana
College:
Purdue University
Draft: Milwaukee Bucks, 1st Round (1st Pick, 1st Overall), 1994 NBA Draft
Font changes notwithstanding, Glenn was a polarizing figure for me. First and foremost, I loved his game. He played the position as reliably as possible. He was always good for 20 ppg and 5 rpg. He gave me my first 'coveted' rookie card when I opened up a pack of Topps Basketball cards as a youngster to find a gem!
He was also a part of the '01 Bucks (a Big Three at the time) that tore my heart to shreds in the '01 playoffs (I had to watch Ray Allen make his first heartbreaking basket against a Charlotte team in the Coliseum; true Bobcats fans know the 2nd -- also had to witness in arena).
http://sportsillustr...cks_hornets_ap/
Personal vendettas aside, Big Dog was always reliable when healthy. Glenn, Sam Cassell and a young Ray Allen were a force. Not to mention Vin Baker and Darvin Ham always coming up in the clutch.
I take a sip to you Mr. Robinson.