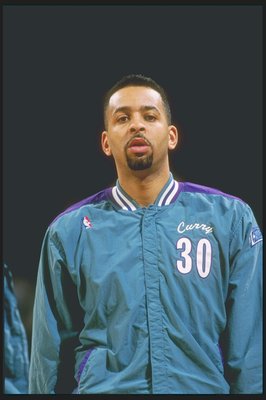 #30 Dell CurryPosition:
Guard ▪
Height:
6-4 ▪
Weight:
190 lbs.
Born:
June 25, 1964 (Age 48) in Harrisonburg, Virginia
High School:
Fort Defiance in Fort Defiance, Virginia
College:
Virginia Polytechnic Institute and State University
Draft:
Utah Jazz, 1st round (15th pick, 15th overall), 1986 NBA Draft
NBA Debut:
October 31, 1986
Drafted in 1985 and 1986: first by baseball's Baltimore Orioles, then by the NBA's Utah Jazz., Dell chose to pursue basketball rather than baseball. Dell Played limited minutes his rookie year, logging 636 in 67 games. He scored in double figures 12 times, averaging 4.9 ppg on .426 field-goal shooting.

Curry, still in gridlock behind Darrell Griffith and Bobby Hansen in Utah, was traded to the Cleveland Cavaliers on October 8, 1987. The trade brought Darryl Dawkins and Mel Turpin to Utah and also sent Kent Benson to Cleveland. Curry made an immediate impact in Cleveland, scoring 20 points in his debut with the Cavs. He played a key reserve role, coming off the bench in 79 games and scoring 10.0 points per game. Curry also improved his field-goal shooting to .458, hitting 28-of-81 (.346) from three-point range. Curry scored the first four-point play in Cleveland history, against Chicago on March 25. He scored a season-high 27 points on December 12 against Golden State, hitting 11 of 16 field-goal attempts. Over a five-game stretch from December 4 to December 11, he averaged 18.0 points on .535 shooting.

Cleveland left Curry unprotected in the 1988 NBA Expansion Draft, and the Charlotte Hornets quickly snatched him up. He began the season on the injured list, missing the first 19 games after suffering a broken wrist in training camp. When he returned, he provided instant offense off the bench for Charlotte, averaging 11.9 points in only 16.9 minutes per game. Curry appeared in only 48 games for the season, sitting out 14 games because of the coach's decision. Still, he was fast developing a reputation as one of the league's best pure shooters. In his final 20 games, Curry averaged 17.3 points while shooting .520 from the floor. He scored a season-high 31 points on April 18 against New Jersey.

In his third season, Curry averaged 16.0 points over 67 games. He finished third on the team in scoring, and his 98 steals ranked second on the club to Muggsy Bogues's 166. Curry tied a Hornets all-time record with 7 steals against Houston on December 30. He made a franchise-record 32 straight free throws from January 15 to March 14. Curry registered a team-high .923 free-throw percentage, hitting 57 of his final 58 attempts, including 25 straight to end the year. He led the team in scoring 16 times and had 17 games with 20 or more points. He scored a season-high 30 points on January 15 at Phoenix and scored in double figures 59 times. Curry missed the season's final five games because of an ankle injury

In 1990-91, Curry played in 76 games, averaging 10.6 points, as a rookie named Kendall Gill arrived in Charlotte. Curry averaged only 19.9 minutes per game after having played 27.8 minutes the previous year. He started 14 games for injured starter Rex Chapman, averaging 14.9 points during that span. Curry accounted for 199 rebounds and 166 assists-both career bests at the time. Curry led the Hornets in scoring six times and scored in double figures 38 times, including a season-high 26 points at Indiana on January 30.

Curry ended the '92 season averaging 15.7 points on .486 shooting from the field in a career-high 26.2 minutes per game. He exploded from three-point range, hitting 74-of-183 for a .404 percentage-ninth best in the NBA. His prowess from long range earned him a trip to the 1992 NBA All-Star Weekend in Orlando, where he participated in the Long Distance Shootout (and finished fifth).He averaged 19.6 points in his first six games and finished November averaging 17.2 points on .521 shooting from the field. He notched his first double-double with 18 points and 10 assists against Golden State on February 6.

In 1993, Dell posted 15.3 points in a career-high 80 appearances. His scoring average was the best among NBA reserves, and he finished fourth in voting for the NBA Sixth Man Award. Curry also ranked among the NBA's top five in free-throw percentage for most of the year before finishing 11th at .866. Curry led Charlotte in three-point field goals made (95) and attempted (237), both career highs. He ranked 11th in the league in three-point field-goal percentage, at .401. He averaged 20.3 points when playing 30 or more minutes. He led the team in scoring seven times and had 62 double-figure games. He scored a season-high 33 points at Washington on January 30, the highest-scoring performance off the bench in club history.

Using one of the quickest and purest releases in the league, Curry broke his own club mark for three-pointers made (152) and attempted (378) the following season. He ranked third in the NBA in three-pointers made and fourth in treys attempted. Curry's average of 16.3 points per game, achieved in a reserve role, placed third on the team behind Alonzo Mourning and Larry Johnson and earned him the NBA Sixth Man Award for 1993-94. Curry connected on a club-record 6 three-pointers against the Minnesota Timberwolves on December 14. He then duplicated the feat against the New York Knicks on January 8, a game in which he posted a season-high 30 points.

He continued to be one of the league's most electrifying players off the bench in 1994-95, once again leading all NBA reserves in scoring at 13.6 points per game, which placed him fourth on the Hornets. He poured in 20 or more points on 11 occasions, fourth most on the club, and recorded a season high of 30 points in a game against the Milwaukee Bucks on November 11. He set a club record by sinking 43 consecutive free-throw attempts from November 5 to December 16. After coming off the bench in all 69 of his regular-season appearances, he ran his string of consecutive appearances as a reserve to 326. Curry took advantage of the closer three-point line adopted in 1994-95 to set or tie a number of club records. He finished the season with 154 three-pointers, breaking the record he had set the previous season. He tossed up 13 three-pointers against the Indiana Pacers on February 7 to establish a club single-game mark for attempts, and he tied the team's single-game record of 6 makes three times during the season. His percentage of .427 from three-point land was second-best on the club and ranked 11th in the NBA. Curry was sidelined with an ankle injury for 10 games from March 23 to April 12. He returned in time for the Hornets' playoff run. Seeded fourth in the Eastern Conference after posting 50 wins, the club faced the Chicago Bulls but fell in four games. Curry was third on the team in scoring in the postseason, averaging 12.8 points. He hit 9 of 21 shots from long range for a .429 percentage.

The veteran saw action at forward as well as guard for the Hornets in the 95-96 season and set career highs in minutes played (2,371, 28.9 per game), three-point field goals made (164) and attempted (406) and steals (108). He ranked fourth on the Hornets in scoring at 14.5 points per game and was the only Charlotte player to appear in all 82 games. Curry's .404 mark from three-point range ranked 27th in the NBA and his free throw percentage of .854 ranked 14th in the league. He set a Charlotte franchise record by sinking seven three-pointers at Portland on Dec. 14. When Curry started the game against Atlanta on Jan. 6, it marked his first start after 357 consecutive appearances off the bench. His last previous start had been on March 15, 1991 against Chicago, and in the interim he had become one of the league's most productive bench performers, winning the Sixth Man Award in 1994. Curry went on to start 27 consecutive games, averaging 17.6 points in 36.3 minutes and shooting .464 from the field during that period, up from his season mark of .453. He also started the final two games of the season for a total of 29 starts on the year. Curry scored 20 or more points 25 times and led the team in scoring 11 times, tallying a season-high 27 points three different times. He also got a career-high 11 rebounds against Philadelphia on April 14.

Curry had another solid season for the Hornets in 96-97, starting 20 games in addition to filling his accustomed sixth man role in 48 others. He missed a total of 14 games, his most since 1989-90, because of a strained right calf, a broken nose and the flu. The calf injury also limited his playing time and effectiveness in the playoffs. Curry finished fifth in the balloting for the Sixth Man Award after averaging 14.8 ppg and shooting .426 from three-point range on 126-for-296. He ranked third on the team in scoring and second in three-pointers made, and his .426 mark from behind the arc was sixth-best in the NBA. Curry, who became the 202nd player in NBA history to score 10,000 points on Jan. 18 at New Jersey, scored a career-high 38 points on opening night in a 109-98 win over Toronto. He scored 20 points or more 18 times and led the Hornets in scoring on eight occasions. He went nearly two months without missing a free throw, tying his own team record by sinking 43 consecutive attempts from Jan. 29 to March 26. Curry started one of the three playoff games against New York and came off the bench in the other two. But he averaged just 4.7 points in 16.7 minutes per game, shooting .294 from the field and just 1-for-4 from three-point range.

Curry also played one season for the Milwaukee Bucks in 1998-99 and his final three seasons for the Toronto Raptors (2000-2002). He holds career averages of 11.7 points per game and 40.2 percent from three-point range. He is the all-time leading scorer for the Charlotte Hornets with 9839 points, games played, three-point field goals made and attempted, and three-point field goal percentage.. In addition, he was the last remaining original member of the team first fielded in the 1988-89 NBA season.