Hey bros. I'm posting this now because I am going to the heels game tomorrow in the dash and won't be able to get my huddle fix. I've been working at the DNC the past three days and have a well earned day off. Ready to talk about my favorite team in the world baby!!!!!
First, yes we needed another thread on this.
I am a die hard Panther fan just like many of you on here. I'm in my mid twenties and have grown up with the Panthers. I've noticed a lot people jumping on the Panthers bandwagon since the addition of a certain QB which bothers me, but there is nothing I can do about it so welcome aboard. These people are usually easy to spot when you engage them in Panther conversation. There are no fans like this in my circle.
I will still be a Panther fan after Cam Newton and my children will grow up Panther fans or will be sent on an unlucky hunting trip.
With that being said, it's fun to come out the gate clamoring about a 68-3 ass whooping of the hated Bucs. I would love to see that, and it's easy to think that way after the games LY. However, I still try to be objective and think realistically what I think is going to happen.
I'll get off the soapbox here and cut to the chase:
I compared the TB team this year since the 9 months we last played them. I don't have the exact number, but there are around 12 new starters for them TY. They made some awesome additions in FA. Losing Joseph for the season was a huge loss for them and WE need to blitz. I keep hearing about this fuging Jim Johnson blitz scheme from the ginger but have yet to see it. Attack that side of the line. Send Davis in there every now and then FFS.
It's early. The game is going to be sloppy from both clubs.
The officials are a wild card. I thought they did a damn good job on Wednesday night, but I've been reading online that the lowest rated officials are going to be assigned to the games with the least amount of expectations/least amount of expected ratings. The game is blacked out in Tampa Bay. Not a good sign for which officiating crew we're going to have. This MAY be a huge factor in our favor if the secondary can get away with a few more things.
I truly believe that the game is going to come down to which defense can stop the big play. I feel almost 100% better than I did about the DL compared to a week ago, and I got a great feeling about the Edwards move. If our defense improves he could be the reason for it.
Just read that Captain is starting. Gamble will lock down VJ. Look for a lot of weird zone coverage schemes and look for TB to exploit Captain by running those fuging slants. I think Captain has a football player's heart, but not his body. If we lose the game because of him I am going to officially be off the Captain apologist list.
Most importantly, we gotta get this season off to a good start. We will probably be underdogs in the next 2 games and a win here is huge. Man, when you get older the Summer's get shorter, but the good thing about that is the Panthers get here quicker!!!
FOOTBALL IS BACK, BABY!!!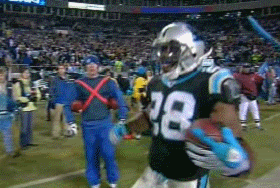 TL;DR: Panthers win a very, very close game. 24-21. Cue the huddle schizophrenics on Monday calling for DeAngelo to be released, McDermott fired, and the throw the ball to Barnidge threads.