No,
I don't ever get tired of creating a mock draft almost every other week. By the way we're playing this year, I have no problem keeping this up too. We'll my last one people complained that it wasn't realistic, so this one I'll make it more realistic.
Here we go. Its looking more and more like we'll end up drafting in the Top 10, if not Top 7.
FA(s) Addition:Antoine Cason CB, 6'1" 195lbs
We need cornerback help no matter whos the coach next year. If Rivera is still coaching next year, he loves to bring in his Chargers guy so that make Cason an easy choice here.
NFL 2013 MOCK Draft:(1) Star Lotulelei DT Utah, 6'3" 320lbs
I think we'll be lucky enough to still land Star in the Top7/Top10. Most people are thinking that both Star and Hankins will both go early top 5, but most teams picking high are not DT needy other than us and Tampa. There are also a lot of great pass rushers (Mingo, Jones, Montgomery) and QB (Geno, Barkley, Wilson, Thomas) that should go before a Star or Hankins. At this time one of them will fall out the top 5 and I believe that is Star. Its pretty much a blind fold pick between Hankins and Star. Me personally, I like Hankins a lil more due to his ability to play almost every position on the line. Hankin's stock has also looked to move above Star atm with his strong performance against Cal. This is why I see Hankins being the first DT to go in next year draft. But Star also had an outstanding performance vs. a stout USC oline.
Star has been compared to Haloti Ngata and I think we would be very fortunate to land a prospect of this caliber next year. We have lacked a DT since the min Jenkins left and this position has to be solved next year. We cant be settling on mediocre play from average DTs every year. Star would impact and upgrade our line instantly. He has a great combination of quickness and power to disrupt the opponents. Star is also blessed with long arms, quick feet and a high motor to help give CJ more one on one situation on the outside. Adding Star will be Kuechly's Bday wish. Kuechly is our future Mike and Star would create amazing space for Kuechly to make easy tackles. How much fun would it be to see Star and Kuechly together every Sunday.
(2) Robert Lester S Alabama, 6'2" 212lbs
We all know about our situation in the backfield. I don't need to explain any further, but that Naka and even Martin shouldn't be brought back next year. Rivera seems to know that there was a problem there that's why he had Barron ranked ahead of Kuechly on his draft board.
Rivera wanted Barron, why not take his teammate at Alabama a year later? When we talk about Lester, we talk about "BALL HAWK"! Reid and McDonald should both be gone in the first. That leaves Lester, Vaccaro, and Jefferson that could end up in the 2nd. Even though Lester is a strong safety at Alabama, I see him as the more athletic one out of those three to play FS imo. Lester should definitely solve our problem at FS like we never had a problem there before. Coached by Saban in a pro style Defense in the SEC, Lester should adjust to the speed of the game in the NFL quickly.
(3) Pick to SF for Frank Alexander(4) Johnny Adams CB Michingan State, 5'11" 178lbs
Norman has played well for us as a rookie 5th rounder, but we need depth in a Division with White, Jones, Vjax, Colston. Gamble is getting older and every year he seemed to be hurt. Capt may end up leaving after his rookie contract is up bc of his big ego and I cant see Hogan being on this team next year.
Adams would be a very valuable pick here in the 4th if he falls this far. He would be a great nickle corner for us. Adams is a an aggressive hitter in run support, very physical, athletic, and plays good tight physical coverage. Adams is also a very discipline player on the field.
(5) Phiip Lutzenkirchen TE Auburn, 6'4" 250lbs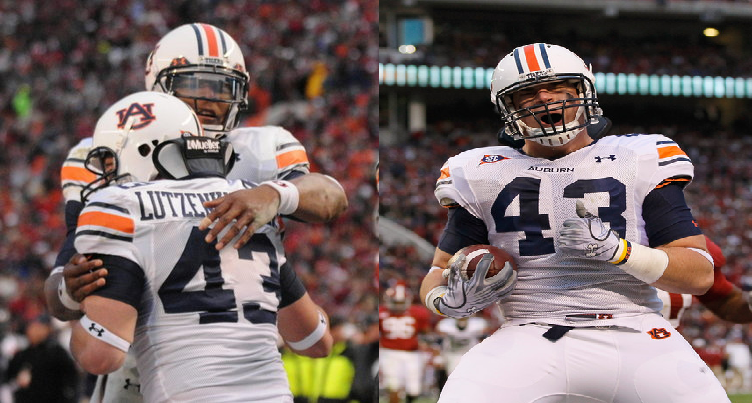 We missed Shockey very much this season. Olsen has shown that he cant take over a game and Barnidge has proven that hes nothing but a bust. Lutzenkirchen would be a good no.2 TE. He has great size, good speed, soft hands, and is a good route runner that can create separation. Lutzenkirchen is more of a H-back in the form of a Cooley and should be another fun weapon for Cam to have. Lutz is also a pretty good blocker. I believed that our running game has dropped down significantly due to not having a true fullback. Tolbert is not your ordinary true blocking fullback like a Lutzenkirchen.
(6) Pick to Oakland for Louis Murphy
I believe that our no.6 will go to Oakland. Murphy has played so poor that I cant see why we should send our 5th to them. I wouldnt doubt that it may even end up being our 7th instead of our 6th, but for now I'll just say its a 6th.
(7) An offensive lineman (OG/OT)
Wide Receiver???? What happened?
We'll wait for Sammy Watkins to come out in 2014. =)