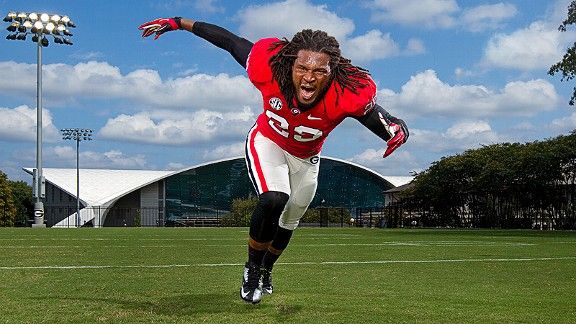 I believe
Jarvis Jones OLB, UGA
deserves his own thread on here. I have talked to 1-2 person on here this week and it seems like I'm not that crazy about the possibility of us drafting this kid next year. I have thought about this kid for a couple months now, but like many many of the huddlers on here it just sounded crazy to even think about drafting another lb after how we just took Kuechly at no.9 this year. The thing is a lot of us saw that our LB position was our strongest strength on the team. Well that was before the season started. Funny how things can change so quick now going into week 7.
Many of us hasn't even care about wondering who Jarvis Jones is bc we think that we have a log jam a lb. We should care. Why? Heres why:
(1)
Beason hasnt been the same ol' Beason we used to know. Missing a lot of tackles and getting beat in coverage.
(2)
Anderson has been a productive lb for us for a couple of years now, but hes not special. He lacks the ability to drop back in coverage and rushing the qb. He makes a lot of tackles but he doesnt make enough plays down hill (TFL).
(3)
Thomas Davis is playing from his 3rd ACL in three years and every Sunday I'm just crossing my fingers and toes that he doesnt pop his 4th. And TD is looking more like a liability now.
(4)
I have been strict on Kuechly's plays from the OLB spot, but the kid is a beast in the middle. We have our Mike for the next 8 years. Kuechly is the only secure player at the LB position.
(5)
We dont wanna see Phillips or Senn getting any possible playing time at any lb spot but on ST. Anyone who thinks any of those two guys can step in and make plays for us, I wanna know what you're smoking bc I need some too.
I brought up Jarvis Jones' name bc like I have mentioned it to other people, somehow if we land a
top 5 pick
and Jones is still on that board, man all of a sudden the plan going into the draft dramatically changes. OLB is not a need, but
"pass rusher"
is, and that's exactly who Jones is; a pass rusher and a real good one. Even if one of the two DTs (Star or Hankins; people think DTs is a harder position to groom) is still on the board, I cant see why we could pass up on Jones. Jones is possibly and imo the best pure pass rusher in this draft. Hes in the same mold as Von Miller and many scouts believe he can be a legit 43 OLB. "Far from just a pass rusher, Jones proved capable of playing the run as well as dropping back into coverage, demonstrating the combination of instincts, passion and physicality to catch the attention of scouts despite the fact that 2011 was his first season as a starter." (CBS) He already have an amazing 5.5 sacks in 5 games and 13.5 sacks a season ago.
I know its a lot of stuffs, but here's how I think drafting Jones can come in play:
We can go after a
DT
(Alan Branch, Sopoaga, Henry Melton, Randy Starks, Glen Dorsey, Jason Jones) and possibly a
CB
(Cason or Sean Smith;
affordable
) in Free Agency which leaves us with FS and WR as our other biggest needs through the draft. Maybe we can find someone to take either Beason or Anderson off our hands (Cap) and with moving Wharton's cap to next year I really think we should have enough money to spend on both a DT and CB in FA to where taking a BPA in Jones is a huge possiblity in the first round next year.
A lot of BLAH BLAH BLAH but something to think about.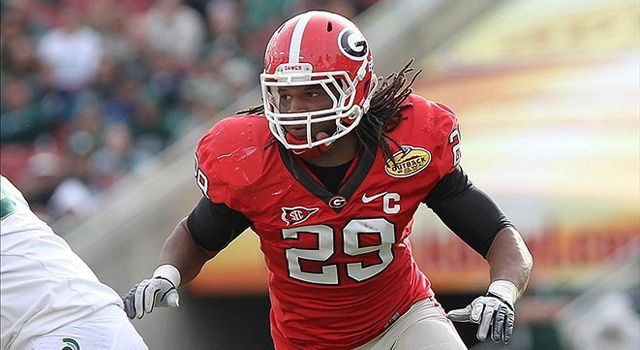 Jarvis Jones vs Missouri 2012 (MUST WATCH!)
http://www.youtube.com/watch?v=BocaJIeccGc
Jarvis Jones vs Vandy 2012

Jarvis Jones vs Florida 2011
http://www.youtube.com/watch?v=weoTTVD3yBY
Jarvis Jones vs Bosie State 2011
http://www.youtube.com/watch?v=a7sDF05dtg8
(His negative plays are really not that bad)