Alright so this morning the Hurndog was let go, but that doesn't mean much when I'm essentially just making poo up as I go. I will say however, that my decisions will still be based off Rivera being the HC, McDerp the DC, and Chud circa 2011. At our current rate, we'll probably end up top 6~ pick, I'll just assume we're 5, because I like 5. I'll mock the first 5 rounds, add the last 2 in some later versions. We have a lot of holes on this team, mainly OL, Secondary, and some serious lack of WR talent.
With that in mind, lets jump in
Round 1:
With the recent play of our defense, mainly keeping our last 2 opponents under 100 yards total rushing (seriously what the fug, the week prior the Cowboys rushed for 227 on the Ravens!), DT may not seem as important, but I'd still like to bolster the group, especially get someone to collapse the pocket for CJ, Hardy, and Alexander and give us some potential 3-4 looks as well. So I'm going, in my mind, BPA
Jonathan HankinsDT, Ohio State6' 4" 325 lbs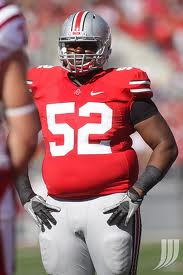 Very versatile DLineman that actively engages and sheds OLineman, rushes the passer, not as athletic as someone as Star, but I'm assuming Oakland takes him before us. A guy that can come in and make an immediate impact rotating with the Edwards Wall.
Other Possibles
Justin Hunter, WR Tennessee
DeMarcus Milliner, CB Alabama
Keenan Allen, WR Cal
Round 2:
Here I'm going to add some secondary help, namely a FS, and I'll start that with
TJ McDonald
FS, USC
6' 3" 205 lbs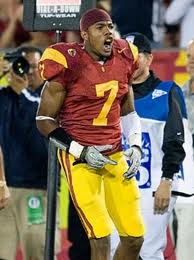 Very athletic safety that can turn and run on a dime in coverage, could definitely help make up some deficiencies in this secondary, will occasionally get caught peeking but the guy is very fluid, tall, and is willing to tackle. Plus if we can get Norman to develop at all, having this guy behind him could lead to some jumped routes and a few turnovers :winkwink:
Other Possibilities
Dallas Thomas OT/G Tennessee
Desmond Trufant CB Washington
Round 3:
lol no 3rd rounder
Round 4:
Honestly, I wanted to use this pick on someone like Phillip Lutzenkirchen, but following his season ending injury he'll likely return to Auburn for 1 more season. Instead I'll go with a WR, the new regime likely won't keep everyone we have now, and theres a pretty good shot the only WRs we end up keeping are Smitty and LaFell anyway.
Enter
Markus Wheaton:

WR, Oregon State6' 181 lbs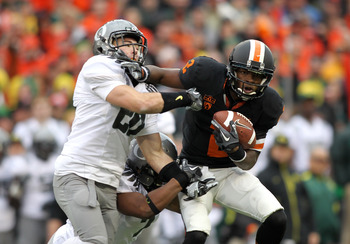 Not a real known commodity, but he has really hit the scene lately with the Beavers. A 4 year starter, has solid hands, decent speed and body control, can work the short to intermediate routes but has ability to stretch the field.
Round 5:
Try to add some CB depth here by going with
Rod Sweeting
CB, Georgia Tech
6' 184 lbs
Nice sized corner who has done pretty well this season, more depth than anything. Hopefully doesn't need to be pressed into starting duty, but with this team, who knows.
Questions, Concerns, Gripes, or anything else is welcome. Really did this to get my mind off of today.