Many of the mocks I've read on here lately have been pretty similar so I decided to switch it up a bit and take a different approach for entertainment's sake. Since drafting #2 or even #1 looks realistic or even somewhat likely at this point, lets assume a team in desperate need of Geno Smith or Matt Barkley is willing to sacrifice both their second and third round picks as well as swap their first with us to draft either of the prospects mentioned above. Admittedly, I am no expert on draft day trades or what is realistic and what may not be but this seems reasonable to me and could really help us to improve in each of our positions of need. I'm hoping the new GM seeks out a young and talented DT via Free Agency and uses whatever means necessary to make him a Panther. We need good DT play week 1 and a proven free agent who has experience can give us just that. The days of Hurney singing a role player at minimum cost are over. We need to invest in play-makers and if we have the ability we must pay them as such. Thinking that we push to acquire a difference making DT in free agency... this mock is as is.
So without further ado, your 2013 Carolina Panther's Draft:
With their first pick in the 2013 NFL Draft, the Carolina Panthers select...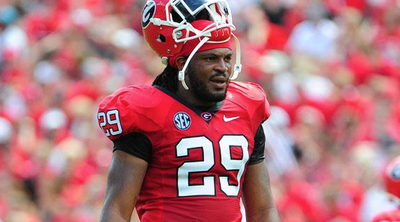 DE/OLB Jarvis Jones (Georgia)
Is he an immediate need? No; but Jones is arguably the best prospect in this entire draft class and is Von Miller 2.0. I think Jones, though other defensive prospects in this draft could step in and make an instant impact for us, would in fact make the BIGGEST impact of all prospects. We have struggled to get constant pressure on opposing signal callers and Jones thrown in the mix with CJ/Hardy/Alexander sounds like a difference-making core that could give any QB fits. Furthermore, the tandem of Luke Kuechly and Jarvis Jones (think Ray Lewis and Terrell Suggs) would give us a dominant core of linebackers and allow the Panthers to cut ties with Beason and even Thomas Davis if our new GM saw it fitting for monetary reasons. Davis is playing well but I still am not optimistic about his health and the next half of this season will be telling about his future here in Carolina. A Von Miller clone in Charlotte would instantly improve every level of our defense and take pressure off of CJ and our Secondary when he rushes on passing downs and Jones would likely immediately be one of the best pass rushers in the NFC South.
With their second pick in the 2013 NFL Draft, the Carolina Panthers select...
OT Eric Fisher (Central Michigan)
Eric Fisher could be gone by this point in the draft but I have a feeling he will still be on the board at the top of the second. Jordan Gross is aging and I believe would be better suited for the RT position at this point in his career. Currently Fisher is listed at 6'7 305lbs. That's light for an NFL left tackle so that's why we would put him at right tackle for a year while moving Bell back to his natural position at guard. After next season, Fisher should be beefed up another 20lbs with the help of an NFL nutritionist and weight training program and able to play left tackle while Gross finishes out his tenure here as a stout and experienced right tackle. This moving and shifting of Fisher, Gross, and Bell makes the weak link Hangartner expendable and provides the Panthers with a great front 5 of Fisher, Amini, Kalil, Bell, and Gross.
With their OTHER second rounder (trade) in the 2013 NFL Draft, the Carolina Panthers select...
Safety TJ McDonald (USC)
At this point we all know Haruki Nakamura is far from the answer at free safety. McDonald possesses good length (6'2), athleticism, and the ball skills that we need to force turnovers. Most drafts have this kid pegged as the first or second best free safety in the draft and coupled with Godfrey out back, Carolina would see a night and day difference when compared to our safety play this season. Jarvis Jones rushing the passer makes everyone's life easier in coverage.
With their third rounder (trade) in the 2013 NFL Draft, the Carolina Panthers select...
WR Marquess Wilson (WSU)
Cam needs a deep-ball home run threat and Steve Smith isn't getting any younger. Steve at this point in his career is best suited for the slot and Wilson has the elite size (6'4) and speed at the position to stretch the field. The kid has great hands and uses his body to shield defenders from the ball. The knock on Marquess is that he doesn't do well breaking tackles in the open field, but early on in his career I think he will be going deep more than anything while LaFell and 89 run the shorter and intermediate routes.
Round Four: Best CB Available
(Travis Howard/Leon McFadden/Rod Sweeting/Prentiss Waggner/Sanders Commings)
Captain Munnerlyn is a free agent after this season and his production can be easily replaced with a fourth round corner. The drafted CB and Norman battle it out in camp with Hogan and the best wins the second corner position while Gamble retains his starting roll. The other two not starting fight for the nickel roll in camp.
Round 5: Best TE Available
I think it's fairly clear Cam and this offense benefitted greatly from two pass-catching TEs. Newton can never have too many weapons and I think we could get a valuable catching threat at this spot in the draft. Preferably I'd like an athletic freak who is still raw that can learn under Olsen and hopefully emerge into a star one day. This lies solely on our talent evaluators.
Round 6: Kicker
Not that he has or hasn't shown me anything this season, but I just have a feeling Medlock isn't the long term solution and a new GM is going to want his own kicker going forward. There is a reason Medlock hasn't spent much time in the NFL and is the age he is. At the top of the sixth round, we should be able to get one of the top kickers in the country. I have no idea if there is even such a thing as a good kicker draft class...but I'm hoping there are a couple that look like good prospects that will be available this year.
Round 7: Offensive or Defensive Line Depth
Because a team can never have enough.