RUFF'S MIDSEASON MOCK
Before I got into this mock, I'd like to explain it. This isn't a mock that's going to be flashy, have all the nice picks, or the exciting picks. This is a draft that is going to be built with the future in mind. Instead of picking the "what would make us win now" players, this is going to be a "what will make us win three years from now" draft. One that will give us star players in the future at positions that are becoming increasingly important to the NFL. So when you don't see the Keenan Allens or the Justin Hunters, know that this isn't because I don't think those players are good. It's because they don't fit into the absolute rebuilding process that this draft aims for.
1st Round – Star Lotulelei, DT – Utah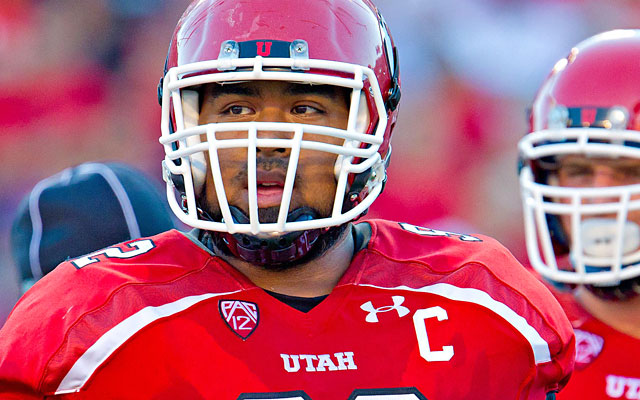 Star isn't a sexy pick. He isn't going to come in and score TDs. He isn't going to do fancy dances. He probably isn't even going to sell tickets. What he is going to do though, is help our pass rush. He is also going to help us win
a lot
of football games.
Star is drawing comparisons to Haloti Ngata. They play(ed) in the same conference, against similar competition, and they both were sort of unpolished during their tenure in college. However, they both do the same things incredibly well. Lotulelei is disruptive, quick, and can tackle with the best of them. His numbers are lower than you would expect, because he is constantly facing double and triple teams.
Another great thing about Star is that he has the athleticism to play the pass rushing DT position in a 43, while also being able to play a large, disruptive DE in a 34. So, if we ever do plan to move to a 34 look (depending on the next head coach), we will have a piece that fits in either position.
Another great thing about Star is, he won't have to play all downs. With the re-signing of Dwan Edwards, we would have someone who could rotate in whenever Star was tiring, so that the rookie doesn't have to play all of those snaps early in his career. Or, simply, we could let Dwan start the first half of the season, slowly work in Star, and then let him loose the second half of the season. We have options here.
Here are some highlights of Star:
2nd Round – Dallas Thomas, OT/OG – Tennessee

[img]http://l.yimg.com/iu/api/res/1.2/unsdWOY2OJjk44BS8nz4gg--/YXBwaWQ9eXZpZGVvO2NoPTUxMjtjcj0xO2N3PTM0MztkeD0xO2R5PTE7Zmk9dWxjcm9wO2g9NTEyO3E9MTAwO3c9MzQz/http://media.zenfs.com/en_us/Sports/ap/201208312310834485879-p2.jpeg[/img]
What makes Dallas Thomas so awesome is this, he started out originally playing Left Tackle, and did very well there. Then, the Vols moved him inside to LG, and he's playing well there as well. Dallas Thomas is a versatile, heads up, smart football player, which is what we need on our offensive line right now.
This is another pick that isn't going to jump off the screen, but it's going to be a solid, long-term draft pick. Thomas gives us the flexibility to move him to right guard if that's the position that we feel like we need, while also giving us the ability to sit him behind Jordan Gross and let him learn from one of the best. Then, in another year or so when Gross retires, go ahead and move Thomas out there. Hell, if Gross retires at the end of this season, Thomas could come in and immediately give us a player at the left tackle position that would grow with our team.
Here are some Dallas Thomas highlights:
3rd Round – n/a


4th Round - Desmond Trufant, CB – Washington

[img] http://www.huskyherald.com/wp-content/uploads/2009/12/Trufant.jpg [/img]
Along the same lines as DeAngelo being gone, I think that Chris Gamble may have also played his last season as a member of the Carolina Panthers. Chris Gamble has always been one of my favorite Panthers. He's not your typical CB. He's not very big, he's not a hard hitter, and he doesn't always play the ball. But he's smart.
That's why I think we need to go with Desmond Trufant. Trufant is of a similar mold as Gamble. He's not known as the best tackler, but he's fast and he knows how to out-smart, and out-play, the offense. Trufant has grown up around football, with both of his brothers playing in the NFL currently.
With Josh Norman's intensity, we need an option at the corner position who is the opposite. We need a guy who is cool, calm, and collected. We need a guy who plays smart zone defense as opposed to Norman who was known as being an "in-your-face" man player. Desmond Trufant is going to be awesome.
5th Round – DJ Swearinger – University of South Carolina
[center][img] http://cbssports.com/images/visual/rapidreports/DJ_Swearinger_08232012.jpg [/img]
We all know how bad our secondary has been, especially our safeties. With Charles Godfrey being more of a hard-hitting, run stopping strong safety, we need a guy who is athletic enough to play coverage deep and not give up the big plays. We basically need a guy that can play a single-high safety. We need a guy who can help us stop offenses.
DJ Swearinger has always been out of the spotlight at South Carolina. First, there was Stephon Gilmore who got the spotlight, now there is Clowney. But, Swearinger is a fantastic player in his own right. I don't think that Swearinger would start right away, we would need maybe Martin to fill that position while we slowly ease Swearinger into the position, because let's be honest, starting two rookies in the secondary would not be good for our defense in the short-term.
Here are some DJ Swearinger highlights:
[center]
6th Round – Kenjon Barner, RB
–
Oregon
[img]http://l1.yimg.com/bt/api/res/1.2/J5SvHS850zRq7aux3nUnRw--/YXBwaWQ9eW5ld3M7Y2g9MjQ3Mjtjcj0xO2N3PTM0NTM7ZHg9MDtkeT0wO2ZpPXVsY3JvcDtoPTQ1MjtxPTg1O3c9NjMw/http://media.zenfs.com/en_us/News/ap_webfeeds/9a6dba8a4b05351e1f0f6a706700505e.jpg[/img]
I believe that DeAngelo will not be a Carolina Panther next year, which means Stewart will be the featured back. In that scenario, along with having Tolbert back there, we really need a change of pace back. One that can make guys miss in the open field, who can stretch the defense, and who can also play special teams (whether it be returning kicks, punts, or playing coverage). That guy is Kenjon Barner.
Barner has a very similar approach and style in the game to Darren Sproles. He's quick, he's a special teams beast, and he can catch the ball extremely well in the field. He has the vision to turn upfield and make a two yard catch turn into a fifty yard TD.
The one concern for Barner is his workload. He has never been the "featured" back in Oregon, mainly because of the style of offense they run. Since he's small, you have to worry about the number of touches he can get in a game or during the week. But, with Jonathon Stewart as our premiere rusher, this shouldn't be a concern. Barner will see playing time on specific situations until he is NFL ready.
Here are some Kenjon Barner highlights: