Here's my latest mock:
Carolina-Chuck NFL Mock Draft v4.0Team biggest needs:
FS, WR, DT, CB, OL
FA(s):
Antoine Cason (SD), CB (6'1" 195lbs)
I want either Cason or Sean Smith and I really think that these are two very affordable CB in FA. Munnerlyn may or may not be brought back. Norman has played very well so far and should only improve. Gamble has been solid but has been injury prone in the recent years. Cason will be a huge signing and will dramatically upgrade the secondary.
-My early prediction is that I see the Panthers being a legitmate Top 5 pick in the Draft, if not earlier with a
record
of
"3-13"
. I have the new GM making a huge Draft Day trade in the 2nd day by trading a future draft pick to move us back in the early to middle of the 2nd round of the draft.
Mock Draft:
(1) Star Lotuelei DT, Utah (6'3" 320lbs)
Star will probably be the guy I'm going to keep as the first pick from here through next year for us if things consistently goes the same for us and him. Said it multiple times already, the DT spot needs to be address and this is the year to do so with a new GM in place. Ron Edwards is an old man and I can see the possibility of the team not bringing him back for one more season even though hes having an average solid year. Dwan has been great penetrating the rush from the middle. Great teams win
"upfront"
on both sides of the ball. Star will help Kuechly, CJ, and Hardy instantly.
(2) Robert Lester FS, Alabama (6'2" 212lbs)
Fs is our biggest need on the team. Lester is a solid tackler, has great cover skills, and is a real
ball-hawker
. He'll be a plug and play from day one and will make a huge impact like Harrison Smith and Mark Barron this year.
(2) Da'Rick Rogers WR, Tennessee Tech (6'3" 206lbs)
With the trade back into the 2nd round, we look toward the future by taking an offensive weapon in Da'Rick Rogers. Smith is still performing strong but he is definitely aging. Lafell is often too
"inconsistent"
and its time to replace 89. Rogers is a big receiver whom some scouts sees as this year version clone of
"Julio Jones"
due to his size, strength and explosiveness. Smith can be use more in the slot and Rogers will help Cam to be more efficient as a QB.
(I like Cordarrelle Patterson here, but I see him going late in the 1st to a team like Seattle)
(3) Pick to SF(4) Travis Bond OG, UNC (6'6" 340lbs)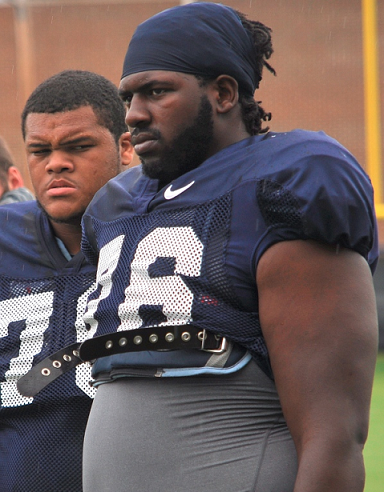 We need Oline help, especially at Right Guard due to poor production from Hangman. I like Alvin Bailey here, but no doubt in my mind will he be gone before out pick here. Bond can be groom slowly into a starter role in the future.
(5) Philip Lutzenkirchen TE/FB, Auburn (6'4" 250lbs)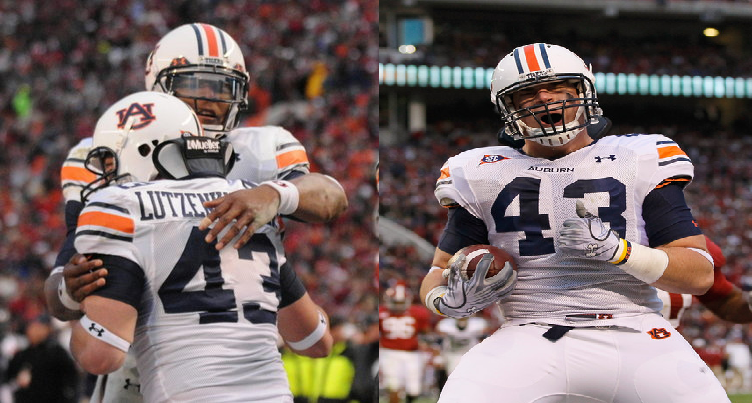 We missed Shockey in that two TE set this year. Barnidge is close to a bust at this point of time. Lutz is close to being a halfback, Chris Cooley type of player. I believes that our run game has dropped production since the departure of
"HOOOOOVER"
. If anyone who saw the Tampa game vs Minnesota last Thursday night, they knew that the huge reason to why Dough Martin had a field day that night was bc of their amazing blocking Fullback.
(6) Pick to Oakland(7) Ray Ray Armstrong SS, Faulkner (6'3" 213lbs)
Armstrong is a very talented Strong Safety that can be an impact player on the field. Godfrey is a mediocre player who has better himself as a tackler but still very poor in coverage. Godfrey could definetely be upgraded if possible. Only flaw on him is his off the field issue, but I wouldnt mind taking a chance on him in the 7th and see what he'll give. A knucklehead, but ver very talented. We'll see if the FO has the balls to take a player with this kind of off field issue (Brandon Hogan).