Post your final predictions for Tuesday night. Who wins and what states go which way? The map calculator is available at
http://www.270towin.com
and allows you to post a direct link to your scenario.
I predict an Obama win in the electoral college, but a much closer popular vote total. Romney could possibly win the popular vote, especially with the possibility of so many people in NYC unable to vote.
I'm still a little iffy on Virginia and Colorado, but the last poll I saw has Obama with very slim leads so I'll go with those. Romney's ahead in North Carolina and Florida pretty solidly - or at least enough that he should win out in those states.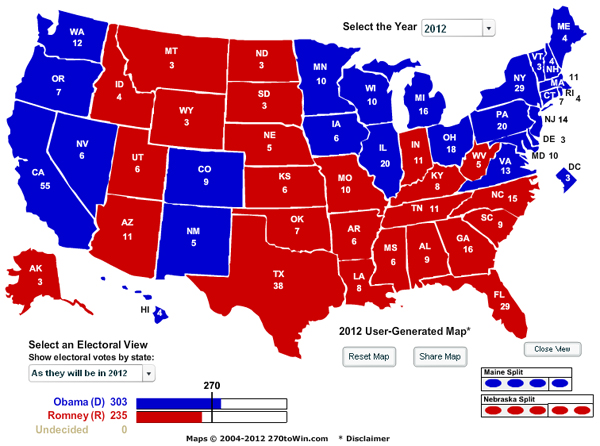 In the House of Representatives, the GOP should keep control despite a few democratic gains.
In the Senate, the democrats should come out with a 53-47 majority assuming independent Angus King of Maine winds up caucusing with them.
I also predict Pat McCrory is going to win the N.C. Governor's race in a relative landslide.