Time for Version 2, now with higher draft picks!
This may be affected by what I saw today, but whatever I'll let emotion take over.
Its not a great draft to have a top pick. Lots of good talent, but nothing that really separates itself from the rest of the class. Its pretty troubling, we need help in the secondary, on the Oline, DT could use some youth, and a #1 wide receiver. After some info digging, we will be in prime position to pick the best pass protector in this draft. Which leads me to-
Round 1:
Luke Joeckel
,
OT, Texas A&M
6' 6" 310 lbs
Very light on his feet, you don't see him overextend often, very fluid, but not the greatest run blocker. Started at LT since he was a true freshman, making 26 starts, was named Big 12 All Freshman, and First Team All Big 12 by AP last year, with 2nd Team Big 12 by Coaches.
Round 2:
Its a deep draft for OLineman and Receivers. Right now though, we need help in the trenches. So I'm mocking
Barrett Jones, OG, Alabama
6' 4" 302 lbs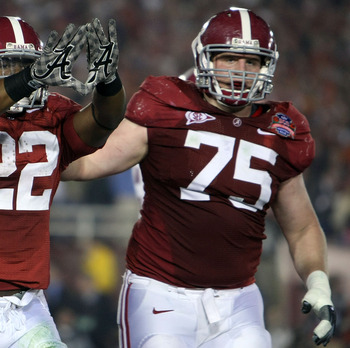 He could end up being selected in the first round, but given where we will be picking its not out of the realm of possibility for him to be there in the 2nd. Very technically sound lineman with starting experience at several positions on the line, most of them being RG with 25 starts. Good in pass protection and can move to the 2nd level with ease. Earned First Team All SEC and Third Team All America honors during 2010 when he played RG, and was the Outland Award winner and Consensus All American as a LT.
3rd Round:
Still no 3rd rounder
4th Round:
Figured I'd add some receiver help for no reason, guy thats been impressing scouts lately and might not even be there in the 4th round.
Ryan Swope, WR, Texas A&M
6' 1" 206 lbs
Underrated speed, good quickness, comes back to the ball, and is overall a polished receiver.
5th Round:
I'm going to add some more DL depth with a guy who could easily shoot up draft boards later on
Datone Jones, DE, UCLA
6' 4" 275 lbs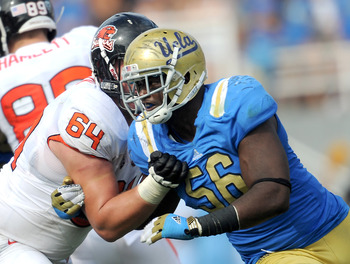 Has had good production in the Pac 12. Only 3 sacks so far but he does have 10 tackles for loss. Someone we could gamble on in the later rounds. Is a DE in the 3-4 defense, so could help give us looks there too.
As always, welcome to questions, complaints, name calling, anything else.