So after extensive study of the huddle, I've decided to put together a 2013 draft that would both inflame and satisfy our masochistic desires. This also caters to those among you who wish to tank the season just to get a better draft pick. Also, we switch to a 3-4 defense.
HC: Bill Cowher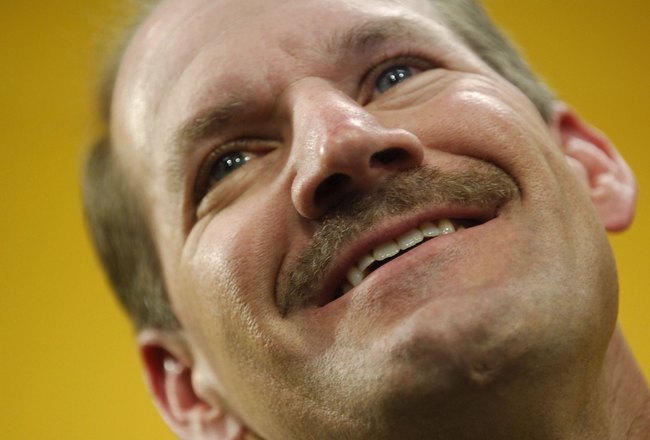 OC: Rob Chudzinski
DC: Rex Ryan
GM:Rob London
Uniforms: Every home game
Trades, Signings & Releases:
1) Release Deangelo Williams
2) Trade Jon Beason for 4th rounder
3) Jordan Gross restructures contract
4) Steve Smith retires
5) Panthers acquire Maurice Jones-Drew in free agency
6) Panthers receive a 7th round compensatory pick.
Draft:
1st round: Manti Te'o LB/ Notre Dame
Best prospect in the draft and we don't have enough linebackers already.
2nd round: Giovani Bernard RB/ UNC
With the loss of Deangelo Williams the Panthers need to maintain a five headed monster.
4th round: Daniel McCullers DT/ Tennessee
The huddle will cream their pants when we draft the 6'6" 377 lbs. product of the University of Tennessee.
4th round (acquired from trade): Joseph Fauria TE/ UCLA
Everyone knows the only good Tight Ends in the NFL are 6'7" or above.
5th rounder: Rodney Smith WR/ Florida State
This 6'6" product gives us the only important trait in a WR, SIZE.
6th rounder: Jerrell Gavins CB/ Boise State
This 5'7" product of Boise State perfectly fits the Panthers plans of using underwhelming size at CB to force interceptions and play man defense.
7th rounder (compensatory): Edmund Kugbila OG/ Valdosta State
This 6'4" 365 lbs. offensive guard wont let anyone near Cam.
2013 Season: Panthers then proceed to go 19-0 with a Super Bowl victory.