I know its interesting to discuss these college dudes in Shaw and Kelly but let's step back beyond college.
Let's discuss the offensive minds in play that are actually in the NFL to be our HC if/once Rivera is sh*tcanned:
Greg Roman
(49ers)
Worked under Capers on both sides of the ball here in Carolina and has been successful with Harbaugh and I'm sure has got some of that HC juice flowing in there somewhere. Been talked about round these parts from time to time.
http://www.gostanfor...man_greg00.html
Tom Clements
(GB OC)
I understand McCarthy is basically the primo offensive mind there but Tom has been in the NFL for quite some time. Coached with Ditka, Cowher, and Holtz. He worked with Kordell Stewart and they say was the hands on guy in developing Aaron Rodgers in Green Bay.
Full bio:
http://www.packers.c...af-00f437249c9f
Look here...study time on the sidelines!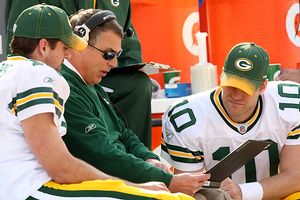 Jay Gruden
(Bengals OC)
http://www.youtube.com/watch?v=afuWbzXi0u4
Impressed with what he's done in Cincinnati albiet they tend to sputter occasionally
Rick Dennison
(Texans)
My favorite choice. Hard nosed, has been hugely successful from developing offensive lines for Elway and Schaub that have turned up some strong RB performances from over the years. He's as big of a reason if not more for Shanahan's constant run game success in Denver. Great leader and can tend to light a fire in people's asses on the sidelines from time to time. And not to mention I absolutely love how the Texans' offense is built.
http://www.houstonte...36-c892f704d5ba
Mike McCoy (skip)
Bruce Arians
(Colts OC/Interim HC)
Strong history in Pittsburgh and has definitely shown his capabilities in the HC position this year on the sidelines and in more ways than I can mention. Has worked in nearly every facet of offensive assistant-ship from Virginia Tech to Bama to Pittsburgh.
Bio:
http://www.colts.com...df-2c8e2effdf6b
Also, feel free to add