Ok, so basically everyone should know the basics. There was a shooting at the school that involved a lot of children dying. Absolutely tragic, and I'm not going to argue that. As a parent of a young girl, this hits close to home. What it doesn't mean is that I'm going to completely lose my critical thinking and logical analysis ability. So with that said - lets begin.
So first, lets start with this second suspect/shooter that's being blacked out of the media since it was first reported.
Here's a video of them searching the woods, this was "leaked" from a police helicopter. If you look closely you can see that they have the guy on the ground under that tree that the helicopter circles while zoomed in.
Then there's this police scanner you can here at 54 seconds "a teacher said she saw two shooters run past the gym..."
of course, this was reported initially by many news outlets, including.
and
A witness at the Sandy Hook Elementary School shooting scene in Newtown, CT, told reporters from CBS that police had one man handcuffed and in custody on Friday, Dec. 14, 2012.
The witness states that the man is being held in the front of a police cruiser at the site where 28 fatalities have been reported, and 30 of the deaths are said to be children from the K through 4th grade public school.
The suspect, who was dressed in "camo pants with a dark jacket' and told parents outside the school that he "didn't do it," as he passed by them with police, according to the unnamed witness.
Police have confirmed they have a man in custody, but they have not named him as a shooting suspect at this time.

http://www.examiner....ffs-per-witness
and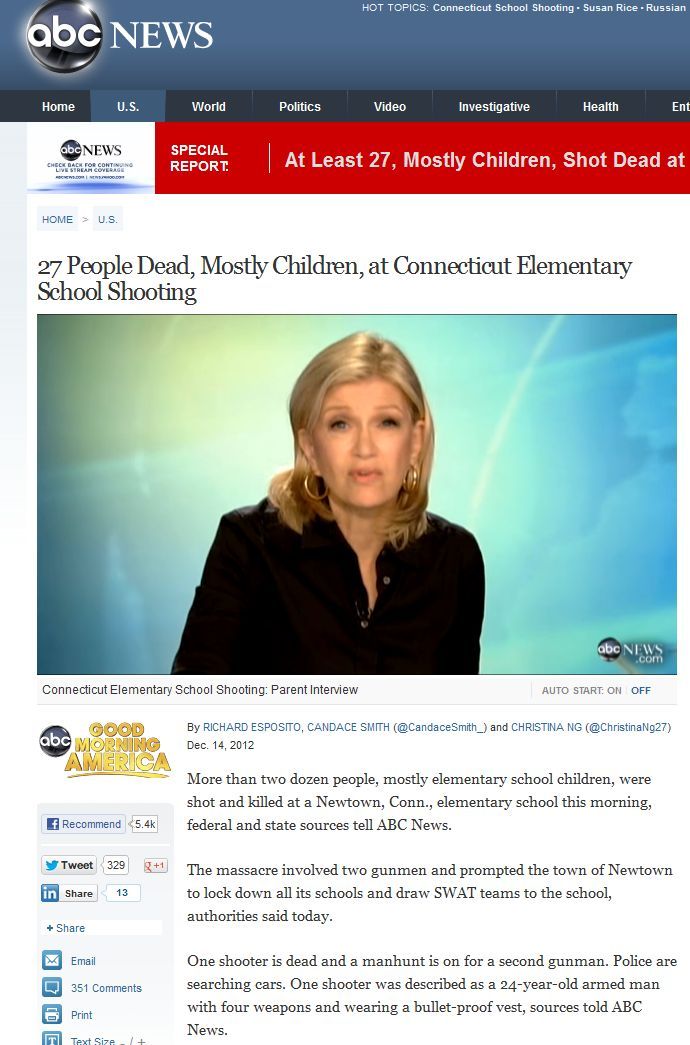 Then police announce that they are looking for a red or maroon van with a busted black window? WTF?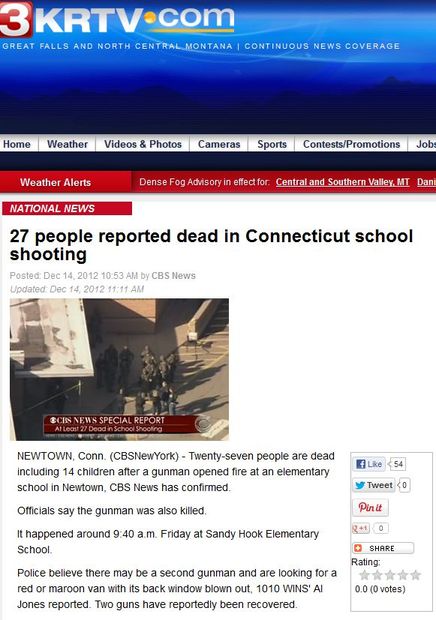 The actual shooting appears to have been over and done with very quickly. It began at 9.40am EST, the police received an emergency call one minute later and by the time they arrived at the school, the shooting had stopped and the alleged lone gunman lay dead with two handguns next to him. A third gun, a .233 calibre rifle, presumably the alleged lone shooter's most powerful weapon, was "
found in the back of a car.
"
Which obviously makes no sense at all, so today the lone gunman's armory was increased to seven guns.
The average southern Connecticut police response time is
two to three minutes
, so we're being asked to believe that during that brief time interval an "autistic" 20-year-old fired off "
at least 100 rounds
" with two handguns, killing 28 people. Lt. Paul Vance of Connecticut State Police
actually said
that his officers "arrived instantaneously, immediately entered the school, searched it completely and found Lanza dead," meaning that whoever carried out this operation had very little time indeed.
about that rifle being found in the back of the car...well here's the video evidence.
Ok so follow along now folks. This one boy has now fired hundreds of rounds of ammo all with two pistols, OR he managed to do it with his Rifle and then ran back out to put it into his trunk, ran back inside, and offed himself. Of course that ignores the fact that the medical examiner is reporting that all the bullet wounds were from a rifle
The gunman who killed 20 first-graders and six adults at a Connecticut elementary school, shooting many multiple times, used a military-style rifle rigged to quickly reload, the state's chief medical examiner said Saturday.

Dr. H. Wayne Carver II, the medical examiner, said the victims at Sandy Hook Elementary School in Newtown died Friday morning from "a very devastating set of injuries."

Carver said of the seven autopsies he personally performed, the victims had "three to 11 wounds apiece" and were shot in the head, extremities and torso -- two of them at close range.

"I believe everybody was hit more than once," he said.

Carver said the shooter was able to reload so quickly because he had taped two magazines together.

[...]

Two handguns -- a Glock and a Sig Sauer -- were found inside the school, and a .223-caliber rifle was also recovered, according to news reports. Only the rifle was used on the victims, authorities said.
http://www.newsday.c...-seen-1.4336199
That's right folks, the article contradicts itself.
......but who's asking questions.
So it turned out that this school has locked doors that require you to press a button and subsequently be buzzed in by the staff.
I'm sure they would just buzz in this kid wearing body armor and bullet proof vests and a ski mask.
Remember that story of how an open intercom during the murder of the principal alerted the students that something was wrong.....
An open intercom broadcast the murder of school principal Dawn Hochsprung, 47, to terrified students at Sandy Hook Elementary School providing teachers and students with vital time to run and hide.
It's not clear whether the intercom had been turned on deliberately to alert the school's staff to the shooter or if it had been left on for morning announcements.
Either way, it caught the chilling moments when Adam Lanza gunned down the school's principal and provided teachers with valuable moments to lock their doors and try to hide their children in closets and under desks.
http://www.dailymail...l-intercom.html
well we're going to have to change that story as well...
because we need to explain what happened and how they got into the school to begin with....so TODAY it's reported that
"shot [their] way into Sandy Hook Elementary School with a volley of rifle shots to a glass door before making a beeline for the classrooms of the youngest pupils."
http://www.thetimes....icle3632863.ece
But wait...I thought he went into the principals office and.......ohh nevermind.
SOOOOO let's change gears a little bit.
Just an interesting Tidbit. Guess what the "Department of Emergency Services & Public Protections" under Emergency Management and Homeland Security, ran on September 22nd?
The HSEEP Training Course

The HSEEP Training Course incorporates exercise guidance and best practices from the HSEEP Volumes. Throughout the course, participants will learn about exercise-related topics including program management, design and development, conduct, evaluation, and improvement planning.

The HSEEP Training Course is an interactive course that allows participants to share personal lessons learned and best practices while gaining practical experience. In addition to the instructor-led course presentations, the course includes small group activities, videos, and group discussions. The course also provides overviews of HSEEP-related initiatives such as technology (e.g., the HSEEP Toolkit) and capabilities-based planning (e.g., Target Capabilities List [TCL]). This blended approach will give participants hands-on experience that readily translates to real-world exercise skills. Activities include creating exercise documentation, conducting exercise planning conferences and briefings, and practicing exercise evaluation.

The course has been developed by the U.S. Department of Homeland Security (DHS) using input from Federal partners, subject matter experts (SMEs), and State and local representatives. HSEEP is a capabilities-based exercise program that includes a cycle, mix, and range of exercise activities of varying degrees of complexity and interaction. The purpose of HSEEP is to build self-sustaining exercise programs and provide a standardized methodology for designing, developing, conducting, and evaluating all exercises.

Participant Preparation

Participants need a basic knowledge of exercise design and HSEEP terminology. Therefore, participants are required to complete Independent Study (IS)-120.A, An Introduction to Exercises, before attending the HSEEP Training Course. The IS course takes approximately 3 to 5 hours to complete. To complete this requirement, follow these steps:
Go to training.fema.gov/EMIWeb/IS/IS120A.asp and select "Interactive Web-based Course".
After completing the modules, select "Take Final Exam".
Obtain proof of completion of the course.

Additionally, the HSEEP Training Course will briefly cover other DHS initiatives. As such, it is recommended that participants complete the following IS courses:
IS-130, Exercise Evaluation and Improvement Planning
IS-139, Exercise Design
IS-700, NIMS, An Introduction
IS-800.B, National Response Framework, An Introduction

The course will be held at the Sandy Hook Fire Department, address below.
Location: 18 Riverside Road, Sandy Hook CT
This event is 37 miles from you (06106).

8 AM - 5 PM

Contact: Tom Romano
Email: thomas.romano@ct.gov
Phone: 860 256 0844
http://www.ct.gov/de...7CBCBCC83CDC9CC
Notice that location?? Pretty sweet huh. I'm sure that I don't need to tell you what HSEEP is an anagram for.
Some random anonymous poster at GLP made this interesting thread with some really cool information. Of course it might not mean anything, but regardless....here it is.
First, look here:

[link to news.yahoo.com]

See "Richard Novia" in the above article. Then read on here:

Richard Novia CPP
Novia Investigations and Security Consulting [link to www.noviainvestigations.com]
Greater Nashville Area | Security and Investigations
Current:
Tennessee Owner/Licensee (30 years documented experience) at Novia Investigations and Security Consulting (Self-employed)
Past:
Director of Security at Newtown Board of Education, Owner, State Licensee of Professional Services at Active Endeavors Security & Investigati...
Summary:
Reputable industry expert with more than 20 years of documented Investigations and security "management" experience. Results-oriented professiona...

[link to www.linkedin.com]

Richard Novia -- the very same -- was head of secuirty at Newtown, Connecticut schools until 2008 and was a bit of a 'mentor' to Adam Lanza -- the alleged shooter in the Sandy Hook Elementary School.

[link to www.breitbart.com]

Note this:

"PRLog (Press Release) - Sep. 20, 2010 - Based in Woodbury, Connecticut for the past 19 years, The Best Solution, Inc. (www.thebestsolution.com), Microsoft Certified Partners, has moved to 450 Heritage Road in Southbury. Providers of financial support and solutions for companies throughout the United States, co-owners Kara Hermes and Richard Novia, Microsoft Certified Partners, collectively bring more than 50 years of combined extensive experience in sales, operations management, software and hardware solutions. "We help companies improve their operations," stated Novia, "and get the most from every dollar they earn by offering controllership-level services." Those services include financial and accounting system audits, training, technical and professional assistance with financial software products for mid to large-sized companies in the $5 to $100M in annual gross earnings."

[link to www.prlog.org]

You see, Richard Novia, the security guy at the school and mentor to Adam Lanza was also provider of "services" that include "financial and accounting system audits, training, technical and professional assistance with financial software products for mid-to-large-sized companies in the $5 to $100M in annual gross earnings."

Now, Peter Lanza, Adam's father, was a partner in Ernst and Young Accounting/Tax business. In fact, he was a VP in this company as well as GE Financial Services... still is, for that matter.

Just what kind of "professional assistance" did Richard Novia provide Peter Lanza, anyway? Was there some accounting software system audits that found some irregularities? Ernst and Young were the tax accounts for ENRON and Lehman Brothers in the past. Hello? Are you seeing this?

Can you say software back door? Can you say "Promise Software?" Can you say CIA?

??

[link to www.gig-werks.com]

Note here: Richard Novia was SUSPENDED FROM BEING THE SECURITY DIRECTOR AT NEWTOWN HIGH SCHOOL:

[link to newtownbee.com]

"While the Board of Education met behind closed doors, a large group was forming in the hallway outside of the Reed Intermediate School library in support of Richard Novia. The Newtown High School security chief has been placed on administrative leave following a March 12 incident involving a student at the school. The details of that incident have not been released by the school district."

Apparently Novia pushed a student...

""I never would have learned any of the skills I have today without Mr Novia, without the Tech Club," said John Russell, a former student and Newtown resident."

This is the same "Tech Club" that Adam Lanza was in.

So, then, the former head of security of schools in Newtown, CT, is dismissed -- and then, some 4 years later, 26 children and teachers are massacred in Newtown, CT.

And, Mr. Novia is a big wheeler dealer in financial auditing and software tools now... and Peter Lanza is a big deal in GE Finance and Ernst and Young Tax Accounting (he's a partner there). So, the Tax Accountant's ex-wife is murdered and his disable son is dead... and the former head of security at the school system who is now a financial auditing software tools big shot... was a mentor-buddy to the Tax Accountant's disable son...

Hmm?

What dealings did/do Peter Lanza and Richard Novia have in common, eh? When do records indicate they last had contact, eh?


Richard John Novia

Age:54

Location:Spring Hill, TN, Newtown, CT, Bridgeport, CT, Sandy Hook, CT

Possible Relatives:Jennifer Novia, Mary E Novia, Mike Novia

Possible Relatives:

Jennifer Novia
Mary Novia
Samantha Novia
Judith Novia
Mike Novia

Look here:

"Adam Lanza belonged to a technology club at Newtown High School that held "LAN parties" — short for local area network — in which students would gather at a member's home, hook up their computers into a small network and play games.

Gloria Milas, whose son Joshua was in the club with Lanza, said Nancy Lanza hosted one of the parties.

She recalled a school meeting in 2008 organized by the gunman's mother to try to save the job of the club's adviser. At the meeting, Milas said, Adam Lanza's brother Ryan said a few words in support of the adviser, who he said had taken his brother under his wing."

[link to www.telegram.com]

Interesting... the "advisor" of the "Tech club" was Richard Novia.

HELLO?

So, Novia was in the Lanza home. Moreover, Nancy Lanza was the woman who organized a school meeting to try to save Richard Novia's job at Newtown High School.

Anybody fuging anybody they shouldn't?

Nancy was just coming up on a divorce from Peter Lanza in 2009.

Did Peter get busted by Richard's accounting software?
Did Richard get busted fuging Peter's wife?
What's the relationship of Peter and Richard -- any blackmail going on?
Gigantic alimony payments to Nancy Lanza come to an end now...
Maybe the 'boys' figured Nancy was a ***** and Adam was a bother?
Did Peter get whacked (dead ex and dead son) to make him STFU about LIBOR by Richard who was a CIA asset?
Just LOOK at Richard Novia's Linkedin

[link to www.linkedin.com]

Groups and Associations:
....
....
Worldwide Covert Surveillance Network

Honors and Awards:
Four (4) Emmy Awards for Technical Achievement

Also, LOOK at Richard Novia's company "Novia Investigations"

[link to www.noviainvestigations.com]

Services:
Campus Security
Corporate Security
Investigations
Surveillance Expert
....
Disaster Control

Personal and corporate investigations. workplace violence investigations and training, missing persons, technical surveillance,counter-measures, anti-fraud, protection of intellectual property, protection of trade secrets,i nsurance claim investigations


Something smells REAL fishy with this guy. Especially if he was Adam's "mentor", and possibly Nancy Lanza's fling.
http://www.godlikepr...47/pg1#35080974