Our craft pick this year hasn't been decided yet, but it looks as though we will be picking around the middle of the pack, so I have us at the 15
th
spot.
For our first pick, we trade back with a team that sees a player they can't afford to miss. Perhaps the Colts with the 25
th
pick? We gain their 2
nd
Rounder.
Round 1- (Pick #25) -Sheldon Richardson - Missouri -DT 6'3" 295 lbs
It's obvious that DT is our biggest need. We finally have the DT to go with Dwan Edwards to give our defensive line the edge we need.
Round 2- (Pick # 47)
Matt Elam - Florida - Safety - 5'10" 202 lbs
An instant upgrade over Haruki Nakamura and a day one starter, Matt Elam will instantly upgrade our secondary.
Round 2-(Pick # 62) (from trade) Justin Hunter - Tennessee - WR - 6'4" 200 lbs
Due to a poor combine showing due to his knee not being fully healed, Justin Hunter falls to us in the second round and we can't pass him up. He may be the steal WR of the 2013 draft, although he won't reach his full potential coming off the injury in 2013, he will be an instant Number 2/3 receiver and eventually replace Steve Smith at number 1 in later years.
Round 4
-
Gabe Jackson - Mississippi State - OG- 6'4" 320 lb
We need a Guard. Gabe is the best available on the board in Round 4. With Jordan Gross, Amini, Kalil, Gabe Jackson and Byron Bell as starters, our O-line looks a lot better heading into 2013.
Round 5 - Tyrann Mathieu - LSU - CB - 5'9" 178 lbs
Yes, he's had problems, no, Carolina doesn't like taking players with troubled history, but with a new GM, who knows? Bottom line is the Honey badger may very well be available in Round 5 and he's worth the chance.
We were able to trade Deangelo Williams in the offseason for a fifth rounder. Yes, his contract is large, but some team out there is willing to take it on to grab a proven running back. We trade with the Lions, who need him badly
.
Round 5-Tanner Hawkinson - Kansas - OT - 6'5" 300 lbs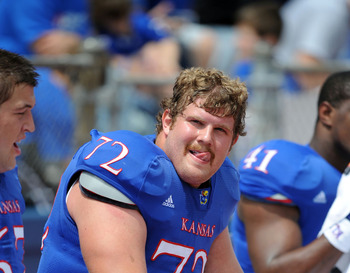 Tanner is a developmental prospect for RT. Best prospect still on the board. Could be a future starter.
Round 6- Caleb Sturgis - Florida - Kicker- 5'10" 185 lbs



I'm not big on drafting Kickers, but I don't think Gano will be the answer we are looking for. I'd rather draft the best kicker available, and keep him for years to come. Strong leg, good accuracy, he's our guy.





That wraps it up. Please feel free to leave feedback and let me know what you think.