This is the only one I'm going to do until after the Combine so here it goes....
General Manager:
Dave Gettleman
I would prefer Ross, but he seems to be the much hotter name, and I don't like how long this seems to be taking so I think we take Gettleman instead of bidding against other teams for Ross. However, Gettleman is still a significant upgrade over Hurney or Beane...
Head Coach:
Ron Rivera
Silence is a good thing for Ron Rivera's tenure in Charlotte. My thought is that Jerry tells Gettleman (or whoever the GM is) that Rivera is the coach in '13 and next offseason they have the power to make a change if they see fit.
Offensive Coordinator:
Norv Turner
This is the one move to the staff I see happening. Norv is an excellent offensive coordinator, and a great teacher for young quarterbacks. A match made in heaven in my opinion.
Defensive Coordinator:
Sean McDermott
McDermott has done nothing to lose his job, which is why I don't see him going anywhere.
Restructure Chris GambleRelease/Trade DeAngelo WilliamsFree Agency:
mostly bargin bin shopping here, but there are a few guys worth mentioning that could be brought in.
CB:
Sean Smith
This is a guy who I think makes a lot of sense if the money is right. He's a big, physical corner who would fit in nicely to this defense. He runs well, and plays well in run support. With bigger names like DRC and Grimes on the board Smith may not command enough money to put him out of our price range.
TE:
Delanie Walker
Again, another guy who makes a lot of sense for this team. Shouldn't command too much money with guys like Jared Cook and Dustin Keller on the open market, and doesn't need to be the primary TE to be effective. He's a solid route runner, and his blocking is vastly underrated.
DT:
Armond Armstead
I'll admit this is a bit of a homer pick, but he really intriques me. Former Trojan who played in the CFL last year. Armstead was forced away from football for a bit due to a heart condition, but in Toronto was able to play a full 23 game season, while leading his team in sacks and being selected to several CFL All Star teams. Could be a cheap bargin bin pickup that pays off big time for us.
Draft Picks
: I'm not going to project a DeAngelo trade, though I could certainly see that as a possibility. For now though, I'm just going to stick with the picks we know.
First Round
Offensive Tackle Eric Fisher: Central Michigan
The no brainer pick of the draft in my opinion. If Fisher is on the board we need to take him. If the most important position on a team is the quarterback, then the second most should be the guy who protects his blind side. At 6'5 and just over 300 pounds Fisher has the ideal size for an elite LT. He possesses above average athleticism for the position, and is a sound run blocker and pass protector. We solidify the left side of our line for the next 10-15 years with this pick, and keep Cam happy by keeping him upright. This pick also allows us to move Jordan Gross over to RT to extend his career, and slide Byron Bell to RG. Or if the front office chooses, move on from Gross all together.
Second Round
Defensive Tackle Sharrif Floyd: University of Florida
One of my favorite prospects in the upcoming draft, Floyd is a first round talent at defensive tackle. The Panthers benefit from a loaded defensive lineman class and strike gold with this pick. Floyd is a disruptive tackle, who is extremely quick off the snap. He possesses exceptional strength, and good to great pass rushing moves at the position. The Panthers are able to solidify the trenches with their first two picks, which will greatly impact their chances to win games going forward.
Fourth Round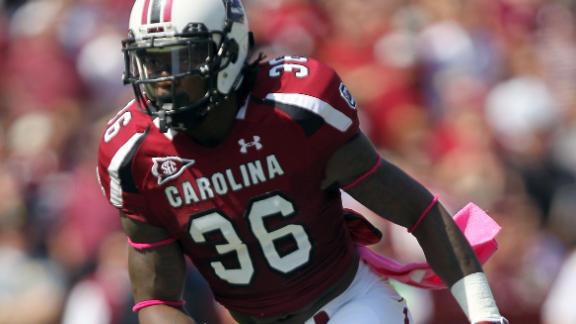 Free Safety D.J. Swearinger: University of South Carolina
Swearinger is a versatile safety who excels in coverage. He's a physical safety who isn't afraid to come up in run support, and has the ability to make open field tackles on a consistent basis. His coverage ability may be second to none in this draft, as shown by his ability to play corner in games against Clemson and Arkansas. Swearinger is a guy who would be able to play at a high level right away in this defense.
Fifth Round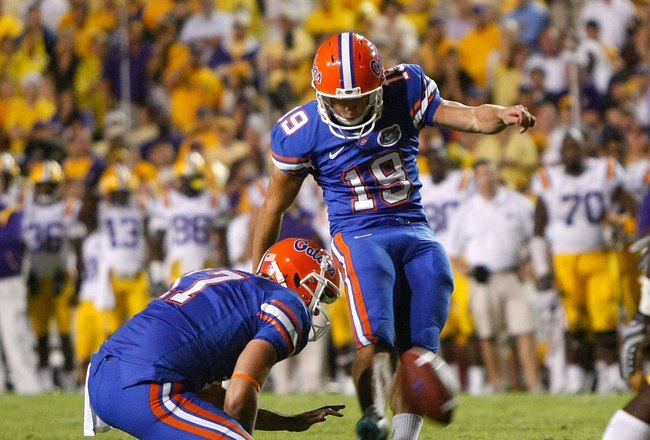 Kicker Caleb Sturgis: University of Florida
The Panthers haven't had consistency in the kicking game since Panther great John Kasay left town. We address that in 2013 by taking the best kicker in the draft, and a guy who will be consistent for us for years.
Sixth Round
Running Back Theo Riddick: Notre Dame
As much as it pains me as a USC fan to make this pick, there is a definite need for a shifty back with DeAngelo's departure. Riddick is just that. He's an ideal change of pace back with great speed, and exceptional hands. He would also be a versatile weapon in the passing game due to his experience at WR prior to this year.
Undrafted Free AgentsCornerback Corey Broomfield:
Mississippi State
Defensive End Wes Horton:
University of Southern California
Defensive Tackle Stacy McGee:
Oklahoma
Punter Jackson Rice:
University of Oregon
Quarterback Ryan Katz:
San Diego State
Wide Receiver Russell Shepard:
Louisiana State University
Wide Receiver Erik Highsmith:
University of North Carolina
Offensive Guard Travis Bond:
University of North Carolina
Notable Omissions: #1 Wide Receiver
Yes I know, no Smitty replacement in this mock. In an ideal situation I would love to have one, but the need at OT is just to big in my opinion to pass up Fisher for either Allen or Patterson. In the second, there could be valuable guys on the board like Rogers, and Woods, but I feel like Floyd will be the best defensive tackle from this draft outside of Star Lotulelei. Because of this, I'm passing on the second round wide receivers, and taking the guy who I think can solidify our defensive front for years.
There it is, I look forward to reading all of your comments and criticisms....