Today we all become Carolina Seahawk fans to watch them beat down the Falcons!! We need the Hawks to keep Matt Ryans playoff streak alive!! Russel Wilson has 2 PLAYOFF wins and Matt Ryan has 0
1 and done bitches!!
GO SEAHAWKS!!
Put on your ugliest green and blue today!!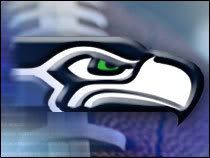 we are the 13th man!!
lol