Aloha Huddle! Here's to setting a better tone up in this forum, the Falcons NOT winning the SB, and the Spring coming fast.
*Note: this fake football draft is completely biased and based off of my lackluster non-expert fan oriented opinion and I'm going to have fun doing it. (photos and boobs added for visual effect and to make this seem better than it actually is)
Non-draft quickie with little to no research or cap knowledge: I think we'll need to focus on WR, OL, NT, OLB, and DB when Gettleman starts doing his sh*t.
Draft time....
(strategy: build from the lines out by not picking a lineman in the first)
I think Fisher, Warmack, Banks, & Milliner are gone. Its a tough choice remaining between the likes of Rhodes and all of the Wideouts
Round 1 Pick 14
DeAndre Hopkins
WR Clemson
Its hard for me to choose between Allen, Hopkins, Patterson, and Williams. I think any of them can contribute, but I really want that explosive deep threat more than anything in this draft. As proven in these playoffs and with Smitty plenty in the past, that type of player can help close games. This for me boils down to T-Will and Hopkins. DeAndre is more reliable and sure-handed imo.
Round 2
DJ Fluker
OT/G Alabama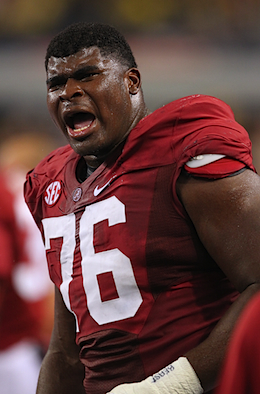 Stout offensive lineman who would help out all of the guys that make up our crazy running attack.
*Note: Potential landing spot for my draft crush
Quinton Patton
, but he's not in these fake plans of mine
Round 4
Kwame Geathers
DT Georgia
Big mamma jamma that came out early with a ton of potential. Definitely woud go for him if available here.
Round 5
Ricky Wagner
OT Wisconsin
Another OT for depth and from arguably the school that produces some of the best NFL linemen imo. He's a good one from a consistent system that creates damn good run blockers. If Wagner is not available, go with
Uzzi
of Georgia Tech at G.
Round 6
Terry Hawthorne
CB Illinois
I think he rises up some boards but you never know. Its near damn impossible to project this far
Round 6 (c. pick)
Cameron Lawrence
OLB Miss St.
Seems like a typical late round lb'r who has a lot of upside but is a hit or miss. Hard to judge but I think someone like him could be a good ST asset and decent for depth down the road. Late rounder so its a whatever type deal.
**Wrap-up
:
-Get a big play, deep threat for Cam and this offense
-Solidify the o-line and look to it's future
-
FAs
-- FS please for the one decent pick-up, a cheap RB, and make sure we re-sign D'wan
-
OC
-- Hue Jackson, Hugh Jackman, or Ken Whisenhunt