Note: People wanting linemen early will not like this
1:
Johnthan Banks
CB Mississippi St.
My guess at the moment is that Star, Joekel, Fisher, Warmack, Patterson, & Milliner will be gone. I'm not a fan of going DT in the first and believe we will cut Gamble. I understand its popular to build from the lines out in many scenarios but that doesn't necessarily mean you must at all costs draft a lineman in round 1. Go with who you think would best fit our team regardless of the position. We play Julio, Roddy, Marques, Mike Williams, Vinny Jack…f*ck a lot of damn good wideouts and need a strong corner even if the Josh crew has looked semi-formidable with a solid D-line. If Gamble is gone and Banks is sitting here, that's hard to pass up.
2:
Quinton Patton
WR Louisiana Tech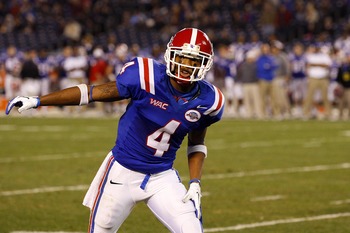 I've mentioned before how much I think this kid can succeed in the league and there are a plethora of indicators that he will. The General would be a rock solid 2
nd
rounder. I'd consider Wheaton but otherwise, I'm just not a fan of some of the other 2
nd
round targets that may be available. I also have the impression there will be a decent chunk of wideouts that will go between 14 & 36 (i.e. Austin, Williams, Hunter).
4 (or trade up):
Brandon Williams
DT Missouri Southern State
6'3 341...big Senior Bowl; This may be my one big reach but it's not out of the realm of possibilities. He seems to have really impressed scouts and coming from a smaller school could very well wind up here. I like what I see and it's obvious we need a big aggressive DT to shore up the defensive line.
5:
Hugh Thornton
OG Illinois
In a deep G class with fantastic talent at the top, I think this could be a great route if we don't manage to grab one in the first few rounds. I believe Gross will restructure and Rivera obviously likes Bell. This spot is totally fine to find a Hang'man replacement, which shouldn't be difficult at all.
I would have to think we also make a FA signing at G or T
.
6:
JJ Wilcox
SS
You may think FS would be the thing to do, but I believe having Godfrey back there could be good for the time being. DJ Campbell also looks solid so I think we could use help equally at either spot right now. I dunno. I feel every time I watch a safety prospect from this class, I find a way to dislike them and that's happened with most FSs minus Philip Thomas. I think either FS or SS is one of the other big FA moves, relatively speaking, so I'm open to either direction in the draft.