Posted 15 February 2013 - 12:55 PM
Our GSD "Jake"

---
Posted 15 February 2013 - 12:57 PM
Our Pitbull "Mya"

---
Posted 15 February 2013 - 01:04 PM
Our GSD "Jake"

HAHA..this picture is great...his face is saying "omg omg...watch the road!!! WHAT ARE YOU DOING?!??"
---
Posted 15 February 2013 - 01:44 PM
This is my boy Winston as a puppy the night I found him.




August 31st, 2010 I was in my car leaving the YMCA just before dark and out of the corner of my eye I spotted two dogs running around in the middle of the road. I drove over to where they were and got out. The puppy, Winston, ran right up to me wagging his tail. He didn't have a collar and was very dirty. I saw his blue eyes and knew I had to keep him. I put him in my car and went to get the other dog. The other was an older chow mix and didn't want to come close to me.

I took him home and got him all cleaned up. He wasn't eating too much at first. The next couple of days he got to where he wasn't eating anything except doggie treats and he wasn't drinking much water. He also started having very bad diarrhea and vomiting. He just looked so sad and you could tell he was really sick.

The third day I took him to the vet. They tested him and found he had Parvo as well as worms. For those that don't know, Parvo is a virus that is sure death if untreated. It's deadly even with treatment, which can cost in the thousands. When you buy a pup, one of the vaccines they get is for Parvo. After he tested positive for Parvo, the vet straight up told me either they need to put him down right then or I need to go to the emergency vet hospital, because Parvo is a slow and painful death for puppies.

My girlfriend was bawling at this point, but it never crossed my mind to put him down. We drove straight to the emergency vet hospital to see what needed to be done. Despite being incredibly sick, Winston was still playful and wagging his tail throughout everything. The vet at the emergency hospital ran some tests and gave him some fluids. She said we were lucky to catch the sickness this early and he would be able to be treated at home. She gave us the medicine he needed which required daily fluids and pills to take. Even with all this, it wasn't a sure thing he would live.

Long story kinda short, he is a survivor and has turned out to be one of the coolest dogs I have ever been around. I'm not too much in the "things happen for a reason" camp, but I feel like this was meant to be. He's such a great dog. Very very smart, full of energy. I love him to death.




He likes to sit like this:










Great story.
He found you tho, you didn't find him
---
Posted 16 February 2013 - 09:02 PM
---
Posted 16 February 2013 - 09:06 PM
Playing around

---
Posted 18 February 2013 - 10:13 AM
Izzy's first time in the snow yesterday morning...walking by our neighbors house she's sees this snowman and isn't too sure what to think of it...she's bouncing all over the place..barking at it...maybe it the fact that it had a piece of celery instead of a carrot for it's nose??
---
Posted 18 February 2013 - 11:52 AM
Here's Libbit: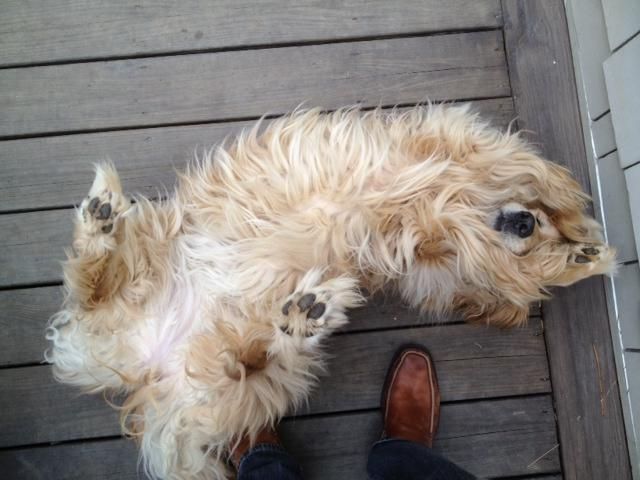 And here's Maverick trying to get every last bit of peanut butter out of a JIF container. Yes, his entire lower jaw is in there.
---
Posted 18 February 2013 - 12:02 PM
hahahaha that's funny

---
---
0 user(s) are reading this topic
0 members, 0 guests, 0 anonymous users