I have been working on this mock draft since the NFL combine, attempted to accurately project what players will be available when we pick according to experts and how that matches up with my own rankings. I do not always agree with the professionals and feel that they do not make enough in season adjustments to their player rankings. I'm not mocking any trades here, because I just don't like doing that. That said I am sure that we will have some trades.
Team needs going in
DT- Needs a compete overhaul, we have Dwan and.............
WR- one with #1 potential, not depth, we got that in the offseason.
OL-Could use a couple of good ones, big hole at RG
SS-Godfrey has a job at FS and we have backups
TE- I think we will use a lot more 2 TE sets this year, would be nice to pick up a good blocker
Round 1- Deandre Hopkins-WR-Clemson 6'1'' 200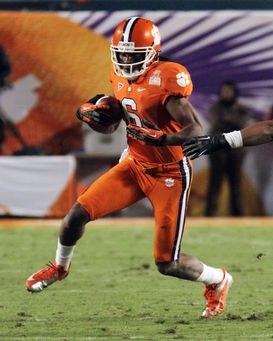 Hopkins is a real technician of the game. He runs better routes that any receiver in the draft and understands how to position his body to catch the ball even with a defender draped on him. Some of you guys may have others rated higher, but I don't. This guy was a productive receiver for three years in a major conference, can run all of the routes, is a great hands catcher and possesses 4.4-4.5 speed, a resume that clearly trumps most of the other receivers in the class. We have brought all of the top WR's in for a reason, we will be picking one early, I think this is the guy.
Round 2- Kawann Short-DT-Purdue 6'3" 300
Draftniks have DT's dropping into the bottom of the 2nd round now. I will say that I agree with most of the assessments including that of Jenkins and Hankins, but everyone now is dropping Short into the back half of round 2, I view him as draftable in late 1. Short has been limited in workouts the offseason, missing combine and pro day workouts because of a hammy, a possible culprit for his lack of love. Short is a monster, he has very large base and uses that to hold up well in the run game. His penetration sets him apart from others, Short's sack numbers over the past three years are 4.5, 6.5, and 7. His TFL numbers are 12.5, 17.5, and 15.5. No other DT in this class has shown the ability to penetrate the way that Short can. He has lined up at nose and 3 tech while at Purdue.
Round 4- Duke Williams-SS-Nevada 6' 0'' 190
Williams is a guy who is a big hitter, reminds me a lot of Chris Harris. Not much of a ball hawk, but does have the speed to run with WR. I feel like Rivera wants another safety opposite Charles Godfrey who can play close to the line to help the run D.
Round 5- Byron Jerideau-DT-South Carolina 6'0'' 335
Draft "experts" have this guy nowhere on their radar, likely because they are lazy bastards who only repeat what others say. I first noticed big Byron when I was watching cut ups of other SC prospects like Swearinger and Taylor. I figured that I had not heard much about him because he was not eligible for the draft. Turns out that he is a senior, JUCO transfer. Jerideau is stout as fug and does a great job at holding his ground against doubles, much better than other guys like Geathers and Barnes. Jerideau also shows good quickness and can be very disruptive in the backfield. If you don't like the pick, Youtube some highlights or something bitch and then get back to me as to why other guys are draftable but he is not. We need a true NT, he is the best available here.
Round 6- Travis Bond- OG -UNC-6'6'' 330
Another guy in Bond here who is not getting any hype from the draft guys. Bond is strong and has long arms. He uses those arms well to corral pass rushers and is a real mauler in the run game. I noticed Bond while looking through some Youtube vids for Cooper and Bond's right side mate Brennan Williams. After going back through some UNC games, he does a really great job in both the run game and pass game. There are some negatives here, Bond's knee bend is atrocious and makes his technique very poor, but he really gets the job done at RG. Bond also has some weight problems and has ballooned up a couple of times while at UNC.
I don't like that I did not address the huge need at OL with a big time talent here, but I do not like the mid round OL in this draft. I believe that will address the Oline through FA, by picking up a vet guard somewhere along the way.