I've been meaning to do this since Star fell into our laps on draft day and finally got around to it. I watched every snap Lotulelei was involved in that I could find online and took extensive notes for each game. So, without further ado, here is my lengthy scouting report on the 14th overall selection in the 2013 NFL Draft...Star Lotulelei.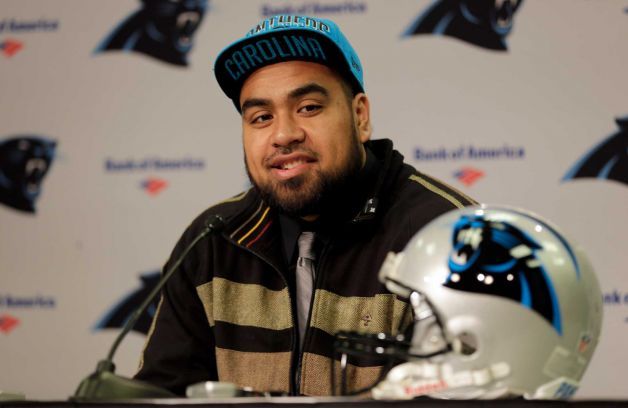 It should be noted that Star Lotulelei is a tremendous athlete for a man of his size. He possesses a unique blend of size, strength, and quickness that should aid him in his transition to the National Football League. Unlike many defensive tackles in their first year as a professional, Star is strong and quick enough now to make an impact week one and should thrive in our system out of the gait. He may not be the dominant player he was in college...but he will be a significant upgrade from anything we currently have on this roster and will instantly bolster our run defense and ability to collapse the pocket each time he is on the field.
Game 1: USC
Strengths: It becomes apparent that Star is usually the quickest man off the snap each and every time. The game against USC is no exception. Star's game is based on brute strength and an uncanny ability to explode off the line of scrimmage that begins with his stance. Compare his stance to the rest of the Utah defensive linemen. His back is straight and weight dispersed evenly. All of his power comes from his stance and the raw athleticism he possesses. Once the ball is snapped, he remains low and wins the leverage game against his opponent. In this particular game, Star was able to successfully diagnose run plays and manhandle his matchup in one on one situations. When doubled, Lotulelei holds his ground are rarely goes backward. He pursues runners downfield and is able to get out into the flats and flush runners to the outside away from their blockers. I noticed he takes great angles to the ball carrier when in space. When bull rushing, Star forces runners out of their running lanes and makes them change direction by driving blockers out and away from their assignments. Barkley often relied on check downs and quick throws to move the ball downfield.
Weaknesses: When stood up out of his stance, Star has trouble shedding and disengaging from blockers. In some instances, he seems to engage his blockers for too long and runners often scoot right by him while he still is pushing his man back.
Game 2: Arizona
Strengths: Consistently wins his one on one match ups yet again and gets up field and into the backfield in a hurry. When doubled, rarely went backward and held his ground. The opposing quarterback had trouble setting his feet, moving up in the pocket, and was forced outside of the pocket and away from Star. I noticed in this game in particular that he did not have much of a supporting cast on his defensive line and linebacking core. Thankfully, that will not be the case in Carolina.
Weaknesses: Early on the game failed to make much of an impact as Arizona seemed to game plan against him and take him out of the game by hurrying up the offense, making quick throws to the outside, and double teaming him frequently. Once again, Star seemed to run himself out of some plays and had trouble diagnosing runs and getting off blocks. Towards the end of the game, he seemed content to get in shoving matches with the offensive line after winning one on one rather than pursue plays all over the field (makes sense when you play 92% of the snaps in games).
Game 3: Washington
Strengths: Intelligent, heads-up football player who diagnosed a screen play early and blew it up. Star is just a menace early in games. He is the first man off the snap every time and that includes members of the offensive line who know the snap count. Star is often held by offensive linemen beat off the line but it is rarely called in his favor. Showed glimpses of nastiness this game and pursued the QB outside the pocket early and often. He has the ability to collapse the pocket up the middle of the field all by himself and tackles ball carriers with just one massive arm. Showed the ability to contain run plays and push runners wide once again where a teammate would make a stop.
Weaknesses: Star was called for an offsides penalty trying to jump the snap and continues to need work dissecting run plays and keeping his eyes in the backfield.
Game 4: BYU
Strengths: Star is able to handle the double teams in this game exceptionally well and he wins every one on one matchup by driving his opponent into the backfield using leverage and strength generated from his legs. Good pursuit downfield. Uses swim move effectively to beat his man. Lotulelei shows great awareness when he cannot get to the passer and was able to knock down and tip multiple passes in this game. He always seems to have an eye on the quarterback even when engaged with offensive linemen. Shows consistent effort and helps teammates to gang tackle anywhere on the field when possible. Shows good use of his hands and is able to literarily throw his opponent to the side and stuff the runner in the backfield. In this game in particular it was clear that BYU game planned against him. Run plays were often away from #92. Shows some good tackling technique and usually when he gets his hands on the runner they do not go anywhere. In one instance, the BYU back gets by him at the line of scrimmage but Star displays great effort and pursues the player downfield and forces a fumble from behind my swinging his massive club-like arms. Underrated motor...played to the whistle and never gave up on rushing the passer. Made a special team's play by blocking a last second field goal that would have tied the game and sent it to overtime.
Weaknesses: Mobile quarterback able to escape his pressure in the backfield. Star struggles to tackle in space which makes sense for a man his size. His momentum gets him going one direction and runners are able to escape him in the backfield.
Game 5: Colorado (2011)
Strengths: Once again displays an extremely quick first step and uses leverage to win his battles in the trenches. Star's massive and powerful legs drive offensive linemen into the backfield consistently and this doesn't stop all game long. Showed the ability and willingness to spin move around his man and it was rather quick for a man of his stature. Seems to love the bull rush and it is his most effective technique as a pass rusher. Once more, the Colorado quarterback was rarely able to move up in the pocket and set his feet.
Weaknesses: Needs polish as a pass rusher and has trouble changing directions and slowly his momentum.
Conclusion: New Carolina Panthers defensive tackle Star Lotulelei has all the physical and athletic ability to be a dominant player in this league. In every game I watched, he won the vast majority of his one on one match ups and did not give up ground when double teamed. His bull rush is a thing of beauty and almost always is successful. His first step off the line of scrimmage is one of the quickest I have seen. Almost every snap he beats not only his teammates off the ball, but opposing offensive linemen as well. Star was so explosive and a huge difference maker in the first half of games when he was fresh. A reduction in his snaps and solid rotation on the defensive line should bode well for this season and his productiveness. If he is rested...he can be a menace all game long. Despite struggling in diagnosing run plays and disengaging blockers, Star should benefit greatly by having one hell of a front seven around him. If he can continue to make runners change their lanes and dictate where offensive linemen go, Luke and the rest of our linebackers could have career years in terms of tackling production. Mobile quarterbacks seemed to give Star the biggest fits in college and their aren't too many in the NFL that can really escape the pocket and run around. This is especially true with Charles Johnson and Greg Hardy rushing on the outside. I believe teams will look to hurry up their offenses and get the ball out as quick as possible. Look for quarterbacks to use hard counts to try and make Star jump offsides. Look for offensive linemen to get called on holding penalties when Star gets a quick jump on them. Smaller quarterbacks will struggle to see when the pocket collapses in front of them because of Star and our corners need to make plays on the poorly placed passes that there should be many of. Slower, statue-like quarterbacks will face struggles of their own as the pocket collapses and will hopefully lead to mistakes. Star Lotulelei will be a good player for a long time folks.