Huddlers seemed to enjoy my first scouting report on Star Lotulelei and I got some requests to do the same thing for our second round draft pick Kawann Short. Tonight was a quiet Saturday for me with finals coming up this week and next so I decided to take some notes on five games I could find online. So, without further ado, here is my lengthy scouting report on the 44th overall selection in the 2013 NFL Draft...Kawann Short.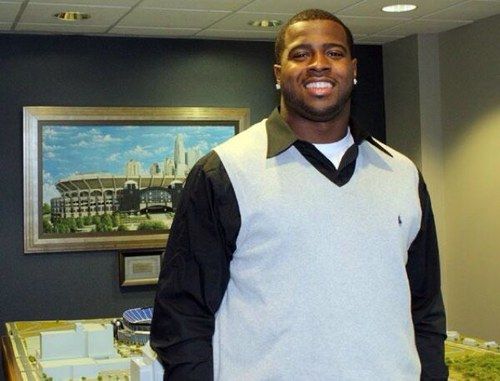 It should be noted that like Star, Kawann is good athlete for his size. He has a large base and a massive wingspan that should bode well when attempting to disengage from blockers and drive his opponent backwards off the snap. However, just by a simple eye test I can tell you that Kawann does not carry his weight as well as Star. Going forward, I think Short will need to consistently watch his weight and really work to get and stay in football shape. I think it would serve him well to really hit the weight and NFL training programs hard and make it point to get in the best shape of his life. Hoping he is dedicated and willing to make himself the best athlete and player he can possibly be during his time here in Charlotte. If Kawann can trim down while keeping his strength and gain some explosiveness/quickness, I see no reason why Short can't step in and make a positive impact on this defense early on.
Game 1: Wisconsin
Strengths: Kawann Short displayed his strong hands early and often in this game against a team that traditionally produces quality NFL talent on the offensive line. His violent hands coupled with a large lower body allows Short to essentially throw offensive linemen to the side. He was quick off the snap and seemed really agile and fluid while rushing the passer. Gets his hips working along with his hands to slide through double teams and makes it look easier than it should be. Short has a good first jump, is nimble, and agile when avoiding blockers in his path. Able to get penetration and find his way to the backfield and force runners to change their lanes. Instances of high effort on special teams where he tips a field goal and sends it wide. Short is able to move horizontally down the line of scrimmage and force runners to the outside where they can be tackled by his teammates.
Weaknesses: I noticed Short was particularly slow and sluggish in pursuit of Montee Ball in the open field. Misses an arm tackle in the open field and allows Montee Ball to pick up some extra yards after contact. In one on one situations he does not dominate like Star but is still impressive. He lacks the raw explosiveness and quickness off the snap that Star possesses. Multiple times in this game blockers lunged at his legs, chopping him down, and taking him out of the play. He needs to learn to avoid these types of blocks with quick hands and feet in an effort to shed them.
Game 2: Notre Dame
Strengths: Utilizes a quick swim move one on one against one of the best centers in the college game and gets upfield in a hurry and gets a sack on a mobile quarterback that can't escape Short barreling down on him. Recognizes a screen pass, tracks it down, and makes a tackle in the open field. Once again, shows good hands and uses another swim move and gets a tackle for loss in the backfield. In a goal line situation, Kawann gets off his block and tracks the runner to the outside and keeps the running back out of the end zone with help from his teammates. Shows the ability to diagnose run plays early on and makes a tackle while forcing a fumble. During one play, Short occupied two or three blockers and his teammate gets the sack. Once more, Kawann utilizes a quick sidestep and uses his hands to beat the guard and get another sack.
Weaknesses: Short struggles and needs to improve on his leverage and technique. He shows an above average ability to russ the passer but lacks consistency. Too often he gets stood up out of his stance but even then he does not lose ground and it is more of a standstill between Short and his man.
Game 3: Iowa
Strengths: Displays excellent use of his hands and consistently wins one on one battles using violent hands. Fights through blocks and makes an offensive linemen completely whiff and Kawann is able to get into the backfield and get a tackle for loss on a third and short. Shows the ability to knife through blocks without much contact by means of a quick first step and makes yet another tackle for loss. When unable to get off a block, looks to knock down passes and keeps his eye on the quarterback. When he gets going downhill, offensive linemen struggle to slow him down and he usually causes havoc in the backfield even when he can't get to the ball carrier or quarterback. In this game he beats a double team for a sack. Once more, shoots gap with a quick first step for another sack. Displays a good bull rush and gets into the backfield for a tackle for loss. He was simply too fast for the Iowa offensive line to handle this game. While occupying two blockers, forces running back wide for a minimal gain. Consistently collapses pocket from the middle.
Weaknesses: Sometimes Kawann seems to over pursue and gets going in one direction and is then washed out of plays completely.
Game 4: Ohio State (2011)
Strengths: Stands up his man to stuff running play in backfield early on. Makes a good effort play by tracking down another mobile quarterback for the tackle. Stays engaged with blocker, sticks with the play, and utilizes a quick spin move to get a sack on Braxton Miller. Shoots his gaps well. Once more shows the ability to dissect running plays and makes a stop in the backfield. Occupies both the center and guard on one play allowing his teammate to make a tackle for loss. Forces a holding penalty on the offense by beating his man with quick first step. Shows good patience and keeps with a play despite being blocked...quarterback is busy scrambling and at the perfect time Short tosses aside his man and gets another sack on Miller. Possesses violent hands to push aside blockers and force the quarterback to get on the run outside the pocket. In overtime, he gets good penetration up the middle which leads to a sack.
Weaknesses: Dropped into pass coverage one play and just barely misses knocking the ball down and the receiver makes the catch and runs for a touchdown. Kawann just needs to stay consistent and low when getting off the snap. If he can work and improve on his leverage he will be much improved. Seems to tire late in games but makes sense given the amount of snaps he played all game.
Game 5: Michigan (2011)
Strengths: Good awareness in run support. After shedding the guard, gets a sack on the mobile Denard Robinson. Once more beats his man on on one using his hands and a quick first step for a minimal gain. Displays a quick spin move to disengage opponent and makes tackle. Fights through a double time with noticeable agility to make tackle. In the redzone, Short blows up the guard one on one and puts a big hit on a scrambling quarterback for the sack. In one instance, Short holds his ground on a double team and makes a tackle for no gain. Shows good effort late in the game to track down the ball carrier and his efforts lead to a minimal gain on the ground.
Weaknesses: Gets driven outside by man and flushed away from the pocket and is a non-factor during one big Michigan completion. Bites on a misdirection running play as running back scoots by him unnoticed for a big gain to the outside. Trouble getting off block as Denard Robinson gashes up the middle for a big gain.
Conclusion: Kawann Short is an impressive pass rusher and has the stats to back that claim up. He displays great hands, a quick first step, and good hips to power his way through blocks or just outright avoid them. To be a great pro, Short needs to focus on his technique and really win the leverage battle on a consistent basis. If Short can keep his weight in check and get in better shape and lose some of the fat around his midsection, Kawann should be even quicker and more explosive for the Panthers. It should be beneficial to all of our defensive tackles and especially Kawann to have a rotation going all season long to keep our guys fresh. He seemed to get tired and gassed as the game progressed but a rotation should help with that as he played almost all defensive snaps just like Star because of what they meant to their respective defenses and teams. I noticed that even when Short does to make the play himself, something he did on the field directly led to his teammates making a good play. Kawann Short, like Star, will make all of those around him a better player. Thankfully for us as fans of the Panthers, the biggest issues with Kawann are technique related and he just needs to be coached up as all rookies do. Once he gets his body in peak condition and betters himself, he is going to be an impressive player and should prove crucial to our defenses success. I think he may struggle early on, but learning under Dwan Edwards should prove beneficial. By mid-season, I think both Star and Short could be coming into their own and helping this defense better itself from last year. We are in good hands with Short and Star assuming they take care of their bodies and steadily improve with help from the coaches. Both of them have the prototypical size and strength of interior NFL defensive linemen and should be impact players for the Carolina Panthers for years to come.