I was at the game this Sunday in Arizona. Want to know why Cam holds the ball so long and stares down his receivers (primarily Steve Smith)? I'll tell you why and it is pretty clear when watching the game live where you can scan the whole field and not just the camera's angle.
On nearly all of our short yardage situations when we chose to pass, virtually all of our pass-catchers were running routes 10-15 yards down the field and never even looked back at Cam to break off their routes in the event he is getting pressured. On a third and short, I witnessed Brandon LaFell doing a double move/stop-and-go 20 yards down the sideline while Cam was a second away from being sacked.
Cam Newton is holding the ball and staring down receivers waiting for the play to develop and is having to key in on our best target (Steve Smith) waiting for the exact moment he turns his head before he pulls the trigger. It's too bad he is usually 10 or 15 yards downfield and it's too late by then. Sure, he needs to learn to anticipate receivers getting open and hitting them in stride but the fact of the matter is our receivers aren't getting open or good enough separation and thus Cam continues to wait for Steve Smith to gain a step on his man when in fact, he has lost a few steps at the ripe age of 34. Furthermore, our backs were forced to remain inside to help block (albeit poorly) with our inept offensive line and thus he had no checkdowns in the flats or at the first down marker.
Oh well, at least I got to meet Star and about 20 others at the team hotel on Saturday!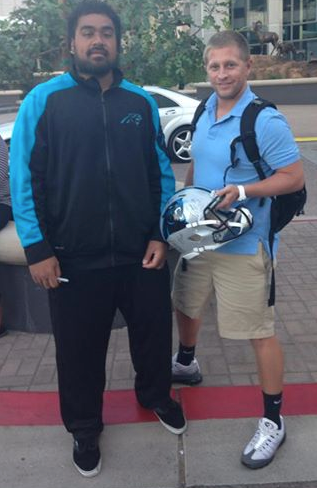 And the stadium is extremely nice.

Keep Pounding?