Sorry to start another one of these, but serious the other thread is getting way too convoluted to actually have this discussion (which honestly is due its own thread.) Basically Phil Robertson, in the same GQ interview where he compared gays to pig-fuckers and said that God will judge them with the terrorists, also said something very very underrated regarding his time growing up in segregated Louisiana:

"I never, with my eyes, saw the mistreatment of any black person. Not once. Where we lived was all farmers. The blacks worked for the farmers. I hoed cotton with them. I'm with the blacks, because we're white trash. We're going across the field.... They're singing and happy. I never heard one of them, one black person, say, 'I tell you what: These doggone white people'—not a word!... Pre-entitlement, pre-welfare, you say: Were they happy? They were godly; they were happy; no one was singing the blues."

Being a bigoted asshole is one thing and is sort of excusable because of the nature of religious belief and how related behavior is foisted upon the individual via the process of socialization and is nearly inescapable through individual agency, but this is literal ignorance in the hands of a very vocal, opinionated ignoramus. Of course the usual suspects are flocking to the defense, included noted annoying tool and blogger matt walsh who whines incessantly about how every time something happens to offend the delicate sensibilities of the liberals and their temporal, morals-du-jour ethical menu, everyone has to get all up in arms and bootstomp the freedom of the person who said it in the first place.

Naturally everyone rallies around this reasoning, bemoaning the fact that freedom has been stripped away by the Communists
(no, really, look what this one lady I know said)

Freedom...every man is entitled to his own opinion
Freedom Within Boundaries...Bully, defame and harass all people with opinions opposed to a specified agenda
Communism...harass and imprison all who oppose a specified agenda

Anyway I've tried to be the voice of reason by making statements like the following:

"I work as a bartender for a major national hotel corporation. If I am of the opinion that interracial marriage is ungodly and an abomination to God, that's my prerogative, and the company would be wrong to fire me simply for believing it, because I am free to believe whatever I want to believe. However, if I then, when I have people sitting at my bar, start telling them that I think God is going to torch their asses with the terrorists and the pig-f*ckers on judgement day, then the company has every right to exercise their freedom to fire me, because my freedom has suddenly impinged upon their ability to represent their image as they desire. Freedom of speech does not mean the freedom to say whatever you want without consequences."

...all to no avail, of course. Instead you have conversations like the following: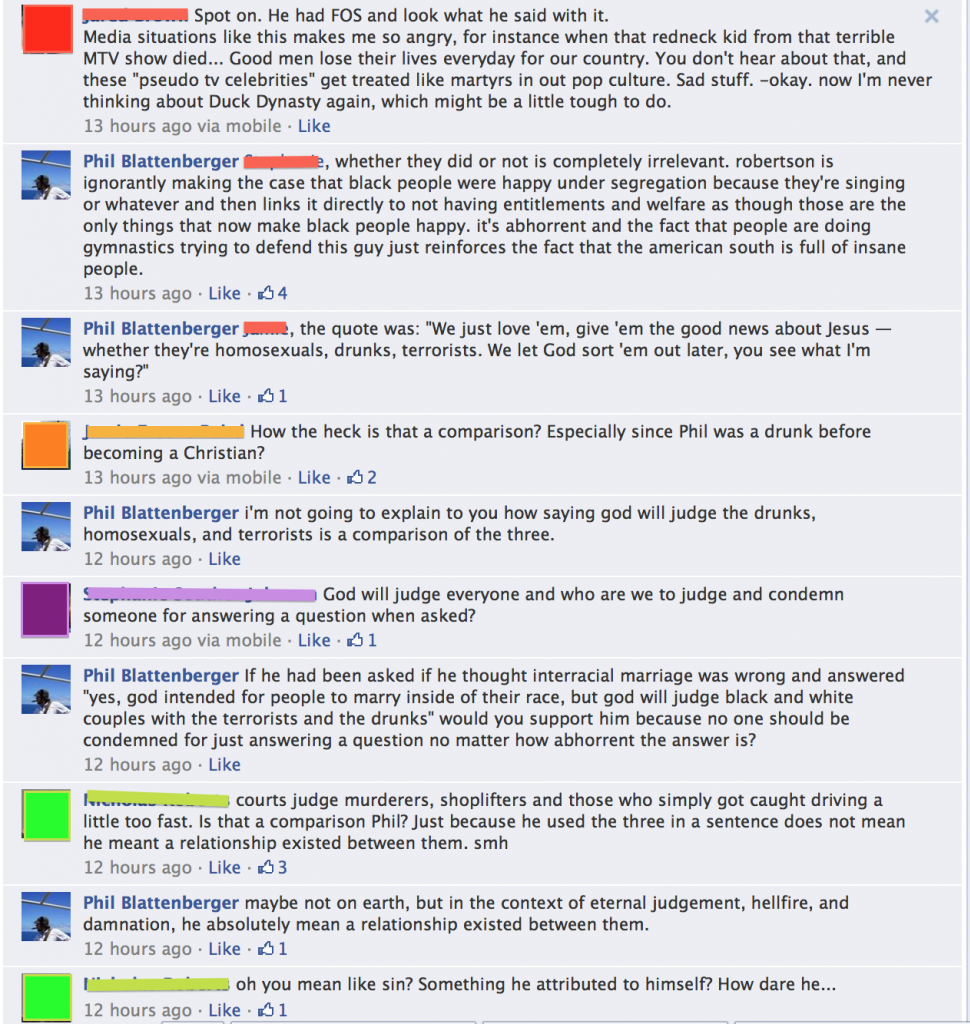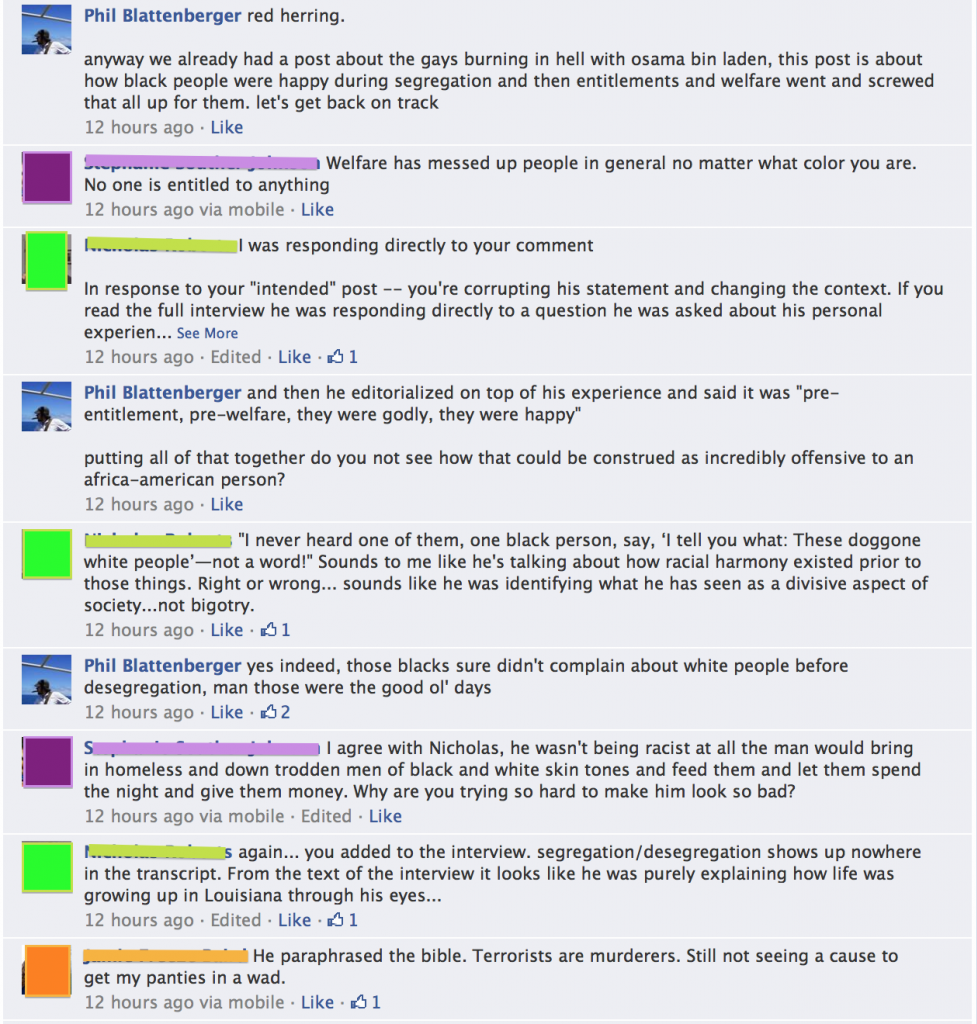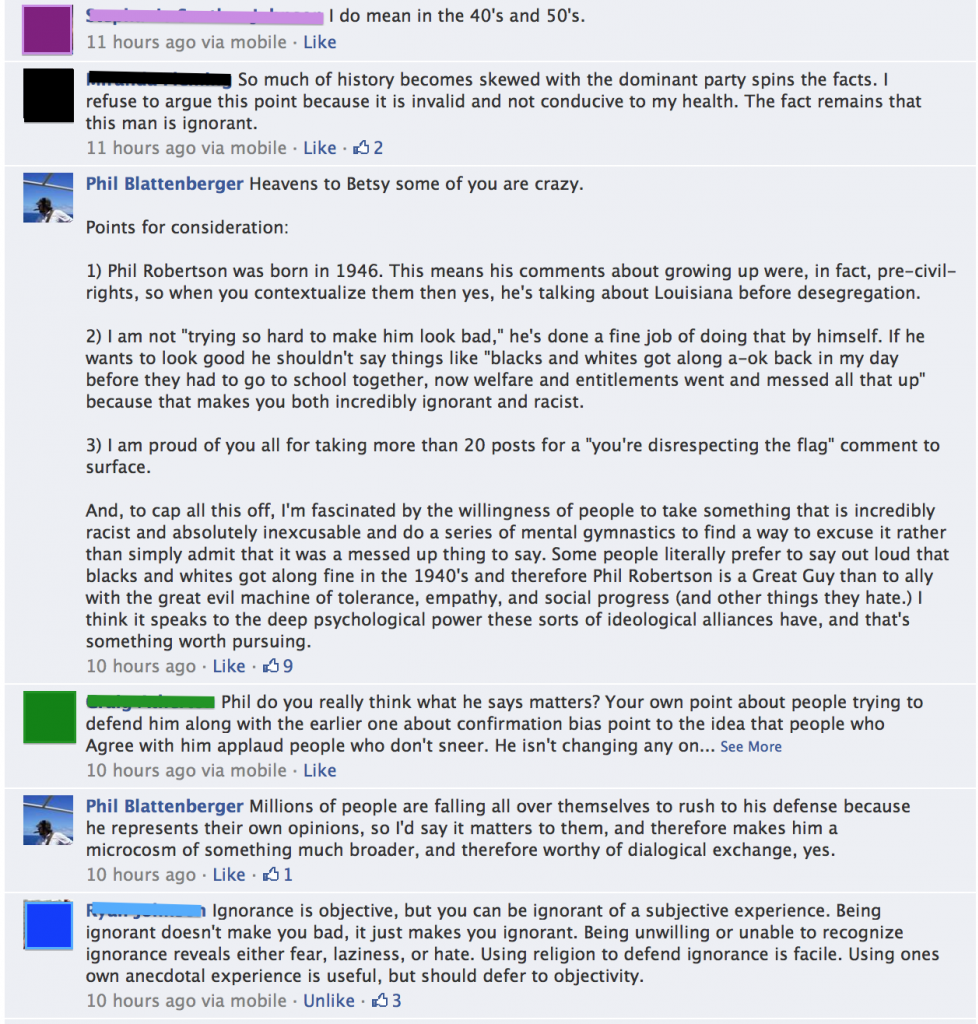 ------------------------------------------------------------------------------------



...aaaanyway, so the point of all that is to show that massive numbers of people would literally rather put themselves through the mental contortion of insisting that phil robertson DIDN'T SAY ANYTHING WRONG DAMMIT and actually make statements like "the blacks actually DID have it good back then" than admit that maybe phil robertson is an ignorant guy making incredibly douchey comments in a public setting. why is this so difficult? why do you think you have to surrender your entire belief system to call robertson out for being a racist asshole?

frankly i think it's incredibly enlightening to watch from a sociological perspective. it's like watching a social experiment play out before your eyes. people are so - innately, i think you could argue - psychologically attached to the nodes of their ideological expression that any attack on them is treated as an affront to the entire system, and thus phil robertson is defended with a vigor worthy of a response to an atheist's attack on christianity as a whole, as though the one cannot be separated from the other, as though phil robertson is in some way necessary to defend for the greater good of all christendom. it's absolutely fascinating to watch. much of it is psychological, and much of it is social, and a HUGE portion of it is political: smart people pulling strings from high places know the extent to which people can be shuffled into particular ideological chutes and funneled accordingly by making equivalencies like "if phil robertson can't speak his mind, then freedom is in jeopardy and so is america"

...or, as Mike Huckabee mentioned,

Phil Robertson of DD isn't the only one censored by the media thought police. When we put up an event page to show support for our pal Phil , FB blocked access to the page! What is happening to free speech for Christians? Have you seen the stuff FB allows when people attack me because of my faith? I allow the attacks on me on my own page. But when we try to show support for a Christian brother FB pulls the entire page! It's time to demand that 'tolerance' includes tolerance for Christians too!

can someone find me a kleenex


As a parting note, I would like to highlight the extent to which events like these serve as platforms for evangelicals to reenact the crucifixion of christ and flay themselves alive in front of a tear-drowned audience. the persecution complex is at an unbelievably high level, to such a high extent that you'd think phil robertson was snatched from his louisiana duck nest or whatever he lives in and dragged to the gallows and hung by gay nazi muslims from a rope woven from threads salvaged from the charred remains of the weekly U.N.-sponsored bible-burning. Otherwise normal people have failed to see why calling gay people pig-fuckers who will burn in hell with terrorists is considered an act of persecution and harassment, but as soon as they're told not to say things like "pig-fuckers will burn in hell with terrorists" they start screaming about how their rights are being violated and they're being persecuted for not being allowed to go persecute.

w
t
f