looking back at the mock i did last year, i took a guy who seems to be the rookie of the year, and a guy who went in the 1st, and started at C for the cowboys.
http://www.carolinah...dck-mock-draft/
now this year draft. several things i want to see done, which includes getting more talent at the skills position, and HOGMOLLIES. i like prospects from 3 areas in the US, the southeast, Texas, and Cali areas. but this is my mock draft, and here is what i would like to see.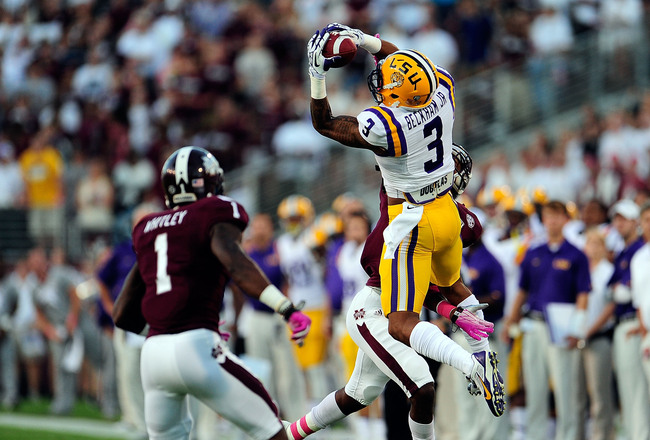 1st Round Odell Beckham Jr. 6'0 193
son of a track runner/ coach and LSU running back. this guy understands how to run routes, by setting DBs up with his stem. does not lose speed in and out of his breaks. he caught 62% of his balls at 10+ yards, and runs routes on every level. he also plays a lot larger then his listed size, has huge hands and long vine like arms. went over 2200 all purpose yards this past year, winning the Paul Hornung Award given to the most versatile player in the nation. can return punts and kick-off returns. also named to the all-american team as a returner. i like my WR prospects to have 20 or more TDs over their college career, but since he has scored in various ways, he gets a pass. (OBJ finished with 14) from New Orleans, LA. compares to Randall Cobb/ Cordarrelle Patterson.
i have a dream of him running that same option read where Cam flips it to the WR who motions into the backfield, but instead of filpping it to Lafell, it goes to Beckham.
2nd Round Bradley Roby 5'11 192
coming into this past season, he was looked at as the top returning CB. well he had a rocky summer, catching a charge, and getting suspended for a game. he then had a slow start to the season once returning to the field, getting abused by Jared Abbrederis and Cal. but by the end of the season, he got back into playing form. he tighten up his technique and looked like the top CB he was once projected as. this guy is BALLHAWK.finished with 36 PBUs, 8 INTs, and 3 TDs. has the footwork to explode out of his backpedal breaking back on the football. willing tackler, will help in run support. runs a legit 4.3 40, and he is ideal for the zone scheme the panthers run. i think he slides some because he finished his career at OSU hurt with a knee bruise, not as good tape in 2013, and off field issues. from Suwanee, Ga. compares to Janoris Jenkins on field.
3rd Round Ja'Wuan James 6'6 315
first hog of the draft. this guy has 49 straight starts at RT for the vols. moves really well, footwork is some of the best i have seen in this class. can reach the second level, and attack LBs. not really know as a mualer, but does have potential to play on the left side. he is a much better pass protector, and his hand placement is decent, so i can see that transition. i like his game 10x better then his all famous bookend Tiny Richardson. was having a decent senior bowl week until he suffered a sprain knee, and had to withdraw from the game. not worried about the injury because the guy started 49 straight games on a SEC team. from Suwanee, Ga. compares to Eugene Monroe.
4th Round Terrence Brooks 5'11 197
smaller safety prospect from Dunnellon, Fla. was recruited as a CB to FSU but has a knack to just be around the ball.has the ability to cover the slot, which is a plus since the scheme the panthers run sends the nickel on blitzes a lot. plus i imagine Mitchell coming back, and adding Brooks will allow him to play around the LOS more in running situations plus you can blitz him even more which is a plus. finished with 5 INTs, 15 PBUs, and 3 FFs. compares to Antrel Rolle.