With all the talk of increase of cap space and the Panthers possibly being 30+ million dollars under the cap once free agency starts, my imagination immediately began running away with me. Of course even though I'm highlighting a fantasy/wish list type of aspect with this mock, I hope it's realistic enough of having a chance to happen. Now, I let G-man handle all the boring stuff in opening up cap space. So I'll take over from there, and expect the big cat to give me my first paycheck!
Free Agency Period: (Let's say we will be 38 million dollars under the cap)
Trades-
Denver Broncos get- Greg Hardy
Carolina Panthers get- Denver's 1st and 2nd
Description: I find this to be a reasonable trade. The Broncos have all the offense in the world concerning the passing game, but their defense struggled without two legitimate pass rushers. They loss Elvis Dummervil to a technicality last year, so picking up Hardy will give them a scary double threat along with Von Miller. (Of course Foxy will be reunited with Hardy) Their 1st round pick and 2nd seems to be good compensation, due to their late nature in those rounds.
Houston Texans get- Carolina's 1st (Originally Denver's 1st)
Carolina Panthers get- Houston's 2nd and 4th round picks
Description: Ideally this trade will happen on draft day. If the Texans don't take a QB with their first pick, they may want to trade up to take a guy they fall in love with. Perhaps Derek Carr lol! I think the compensation is reasonable.
So the official amount of picks we would have is....
1st
2nd
2nd
2nd
3rd
4th
4th
5th
6th
7th
Re-Signings-
Mike Mitchell: 5 million a year deal
Captain Munnerlyn: 3 million a year
Description: If you're keeping track, this brings our cap down to 30 million.
Free Agent Signings-
Jared Velheer: 12 million a year deal
Jared Allen: 4 million dollars a year
Thomas DeCoud: 2 million one year deal
Charles Tillman: 4 million dollar a year
Sidney Rice: 1 million one year deal
Description: Gettleman has restructured some contracts to open things up in terms of cap. A lot of fans are saying this just pushes the money back, and years down the road we will be cap strapped again. I don't know if the restructures will cause us that kind of headache down the road. Hopefully not, especially concerning everything G-man has been stating concerning the cap. Yet there's nothing we can do about that now, the restructures have been made. Tonight we'll feast well, for tomorrow we die!
Obviously with Gross retiring, we need to make sure we have a guy who is going to protect our investment in Cam. Now, good LTs don't make it to free agency, but I believe the dumb Raiders may let their guy test the waters. If Veldheer hits the market, we need to pursue him wholeheartedly. Jared Allen is classic plug and play. I like DeCoud's ability. We should be able to get him fairly easy. Give him a one year deal and have the chance to stick it to the Falcons for letting him go. Tillman would be a solid guy to have at the corner position, and Mr. Rice can come home on a one year deal. Let's see what he has left in the tank. If my math is correct, that brings our cap to 7 million. With Godfrey's june 1st cut, that should have us around 12 million to spend on draft picks and other guys floating around.
NFL Draft:
1st Round Pick: Jordan Matthews
At the combine, he backed up what we saw on tape, and then some with his 40 time. He has solidified this pick for me, unless Greg Robinson or someone like that fell to our pick. Matthews can be molded into a top tier receiver at this level. Whatever route you ask him to run, he can do it.
2nd Round Pick (Trade with Houston): Donte Moncrief
A big speedy receiver with star quality. I'm taking the double dip approach here with receiver. Smith and Gross were the last two panthers apart of that superbowl run back in '03. With Gross gone, I won't be surprised if Smitty followed suit after this year. (I think he will come back this year for one last march to victory) So bringing in Matthews and Moncrief will give Cam two well rounded receivers, and this one can take the top off of a defense.
2nd Round Pick: Jack Mewhort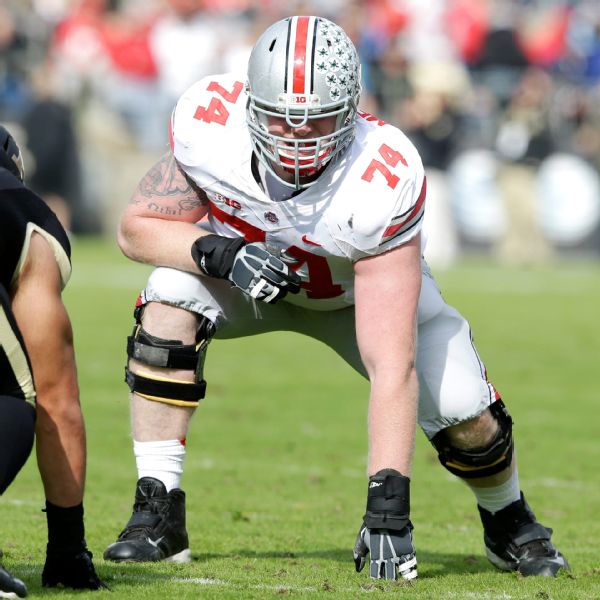 A solid prospect for the right tackle position. It's a toss up here between him and Antonio Richardson. I'll go with the guy who doesn't have any knee issues.
2nd Round Pick (trade with Denver): Jaylen Watkins
Watkins was one of those hidden gem corners that would be around in the 4th-5th round range. Yet after his combine performance, he boost his stock to the 3rd or earlier. With a little teaching, he could be a very fine starter in the league. I didn't know it until now, but he is the brother of standout receiver Sammy Watkins.
3rd Round Pick: James Hurst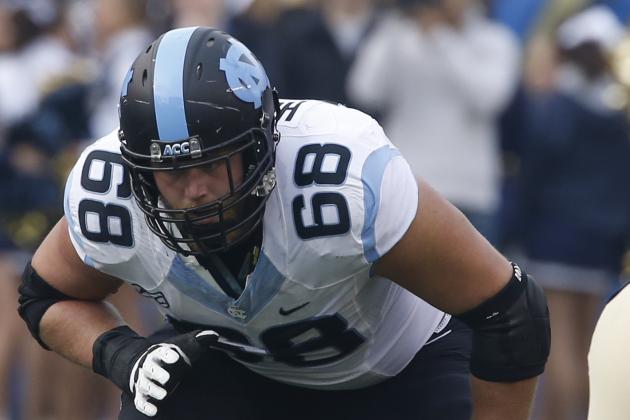 A value pick. Making sure this O-line is the best. Hurst is definitely my favorite tackle after the big names. Would have picked him earlier, but I feel he will slip enough to take him later.
4th Round Pick: Isaiah Lewis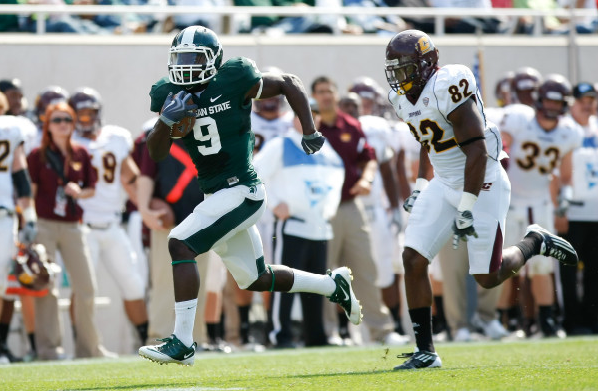 Great for depth behind Mike Mitchell and should be something of an assassin on special teams coverage with Colin Jones.
4th Round Pick (Trade with Denver): Crockett Gilmore
Someone to compete for the 2nd string position at TE. It's a plus to hear he likes to block.
5th Round Pick: Spencer Long
Dude just looks imposing! Again if anyone has been following my mocks this year, he's been in pretty much all of them. (I wouldn't be surprised if I mocked him last year to our team before he returned to school) An injury kept him out all year, but I've seen enough of his run blocking to know he will be a regular at the pro bowl. (Of course, hopefully all Panther probowlers will be playing the week after that game)
6th Round Pick: Storm Johnson
CBS and Walterfootball gives his range anywhere from 4th-6th round. Logically, I believe he will be gone by this point, in which case I would pick Silas Redd. Yet if he falls, we would be stupid not to draft him. He's guy that seems to be healthy year in year out. There's really a lot I like about him.
7th Round Pick (Trade with Giants): John Urschel
A compact-gritty blocker who knows his math. Would be great depth to have on the O-line, and is versatile to play both guard and center.
Roster Projection:
Offense-
QB: Cam Newton
RB: Jonathan Stewart
FB: Mike Tolbert
TE: Greg Olsen
WR: Steve Smith
WR: Jordan Matthews ®
LT: Jared Veldheer (FA)
LG: Amini Silatolu
C: Ryan Kalil
RG: Spencer Long ®
RT: Toss up, I like James Hurst to start here
Defense-
RE: Jared Allen (FA)
DT: Star Lotulelei
DT: Kawann Short
LE: Charles Johnson
OLB: Thomas Davis
MLB: Luke Kuechly
OLB: AJ Klein
CB: Melvin White
FS: Thomas DeCoud (FA)
SS: Mike Mitchell
CB: Charles Tillman (FA)
Special Teams:
K: Graham Gano
P: Brad Nortman
KR: Post June 1st free agent or undrafted rookie
PR: Post June 1st free agent or undrafted rookie