Proehl on his first visit with KB when scouting WR prospects:
"I was in awe to be honest with you."
"A guy his size and the way he just caught the ball ... just natural, just like a vacuum," Proehl said.
Proehl on KB at the rookie weekend camp:
"You look at him, if he can grow and develop into the receiver I think he can be, he's going to a huge asset for Cam," Proehl said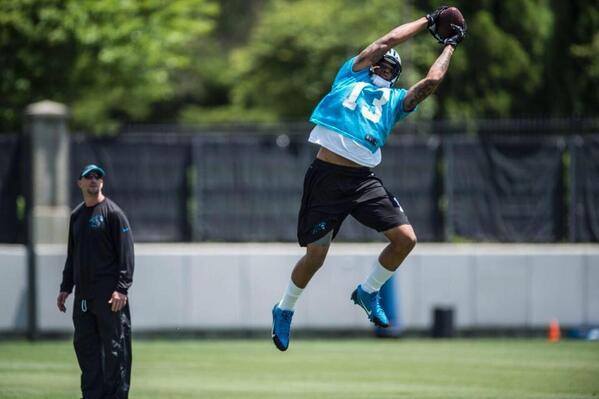 Proehl tweeted this pic and wrote: 'Young Buc has game'
Benjamin's leaping catch over the middle with two defenders all over him near the end of Saturday's rookie camp left everyone in awe.
"That's what he brings," Proehl said. "He can make great catches like that because of his size. A normal person is not going to make that catch. With his reach, he's probably 11 feet, 12 feet in the air making that catch.
"Other guys may not have an opportunity to touch the ball, let alone catch it."
ESPN beat writer for Panthers, Dave Newton:
"I believe Benjamin will be better than Smith was going to be at 35. If not, follow Proehl on Twitter before next year's draft as he seeks more talent.
...
All you had to do was follow the Twitter timeline of Carolina Panthers wide receivers coach Ricky Proehl if you wanted to know where the best receivers in the country were before the NFL draft" (shows list of dates and the WRs Proehl visited starting with Cooks, ending with KB, with Lee,
Latimer, Matthews, Adams, Beckham, Landry, Herron, etc in between)
http://m.espn.go.com...src=desktop