Round 1: 25th Overall
Jaelen Strong WR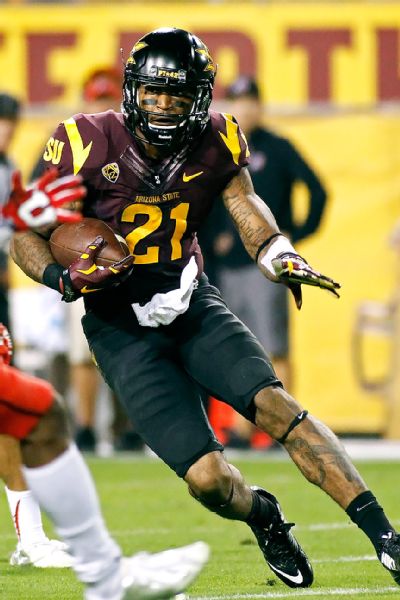 Analysis: First off, he isn't a perfect match with KB. A perfect match would be a guy that could take the top off the defense, Strong can do that but his strength relies in his fundamentals. What he gives us is a weapon for Cam that will contribute right away. Olsen, KB, and Strong- you can't double team all of them- one of them is going to be open on 3rd down every time. I'm assuming in this mock that Peat is off the board.
Round 2: 57th overall
Shaq Thompson SLB/Nickel LB
Analysis: A lot of people on this board and in the media love Shaq and for good reason, but mark my words he's going to be that one "guy" every draft pundit is stunned is still on the board. Shaq stated at the combine he is likely a LB at the next level, but would be an excellent player to cover Tight Ends/Wide Receivers on third down. Shaq is an absolute football player and I know Rivera/McDermott could find a good use for him on the field. Oh yea and Thomas Davis would be the best mentor the NFL has to offer for young Shaq. Perfect fit.
Round 3: 89th Overall
Duke Johnson RB
Analysis: I'll admit I'm a bit biased on this one after watching Duke Johnson dismantle ACC teams particularly my Tar Heels, but make no mistake this guy can ball. No reason to spend a first or second on a RB when you can find guys like Johnson as the draft goes on. Rivera and co. have made it clear a RB will be drafted- where and when is the question.
Round 4: 124th Overall
Eric Rowe CB
Analysis: The Panthers have drafted some great players from Utah in the past (Smitty, Gross, Star) and Rowe just might be the next great one. A tall player 6'1" he is projected as a corner/FS at the next level. I think the Panthers like what they have in Boston and will try Rowe at outside corner with Bene sliding back to nickel. This gives us insurance if we can't re-sign Norman as well.
Round 5- 7 BPA