As a lot of you might know, I believe the best thing for this franchise would be to trade Cam, unless of course if you could give me a new HC who's an offensive genius. (Or offensive genius at OC) Rivera and this crew see Cam as a running QB, or at least that is how they treat him in our offensive attack. I can't take this stuff no more. Cam is not going to run all over the league like he did in college. Guys are too fast, smart, and talented at this level. You have to dissect defenses with your arm. Use that extra athletic build as a trump card and limited change of pace. We will never win anything like this. Yeah, I know all about our O-line woes and limited talent at the receiver position, but as this past Sunday has shown us, Cam can throw it up to KB with him coming down with it. Use what works. Use more five receiver sets, and punish the defense for blitzing you. All of that stuff is basic mathematics, yet this staff is so inept. I truly believe they are blinded by Cam's athletic ability, to want to use that as a main weapon. So this is why I say the best thing is to trade Cam. Have a QB who uses his throws as his main weapon, so we can do things the right way on offense.
Another thing about this is for four years, we never got Cam any help. Of course this last year I would give Rivera some credit in picking up KB. However looking at this past offseason as a whole, they got rid of Smitty, they didn't try to replace Jordan Gross in fact they did worst by replacing him with Byron Bell a.k.a Byron "Drum", they started an undrafted DT to play RT, and they went out and signed aged possession receivers to play alongside KB. I would say all the "big" movements went again toward the defense. They got DeCoud, Harper, Cason, and of course they gave Hardy the franchise tag. Offense was the last thing on Rivera and crew minds. It has been for four years! This pretty much cement the idea they want Cam to be a one man show on offense, and I believe this may be the "athletic QB" effect. The idea you don't need to put a lot of guys around a QB who can run and make plays, and have the big arm to drive the ball down the field. Making plays on his brawn instead of his brain. Teams go out and put players around QBs who's specialty is in the passing game. Look at Luck for instance. His coach is a defensive guy from the Ravens squad. Yet ever since they drafted Luck, they put all kinds of offensive talent around him. They kept Reggie Wayne there when he was considering following Manning to Denver. They drafted Coby Fleener and Dwayne Allen with the next two picks they had after selecting Luck, and in the same draft, struck gold with TY Hilton. They even made an attempt to bring in a star running back for Luck with Trent Richardson, but that hasn't worked out. I'm willing to bet this year, they will draft either Todd Gurley or Melvin Gordon out of Wisconsin.
So ultimately, we will never get Cam that kind of help, nor will we ever run what I call a pro offense. The only perfect option in this case then would be, to trade him and get what we can. Multiply the amount of 1st round picks we will have in the first round in the next two years, and stock up on talent or have the ability to move up or down the draft boards at will. With the amount of talent we will get for Cam, he will win us a superbowl through his value. So here is how I see things shaping up...
I see us finishing the season in the bottom 10. Unless our defense return to 2013 form, I see us going 3-5 our next 8 games, and finishing with a record of 6-9-1. So our given first round pick next year, will be in the top 10. Now Oakland it seems will have the first overall pick. This is where we will trade Cam. Mariota and Winston are the top college QBs coming into the league. Cam can do everything they can, and he is a proven commodity at this level. The Raiders would be insane to pass on a sure thing vs the rookies. (See Derek Carr) So here's the trade....
Oakland get- Cam Newton
Panthers get- Oak's 1st, 2nd, and 1st next year
I know some of you would say Cam is worth more than that, I would agree. However, I would take that deal considering they have the first overall pick. So now we have the 1st overall pick in the upcoming draft, and a top 10 pick. The next thing I want to do is trade down to the third overall spot. I imagine a team right there on the cusp will want to draft either Mariota or Winston, so we trade out with them and pick up some more picks for this year and next.
Rams/Titans/Bills/etc. get- Panthers's 1st overall
Panthers get- 1st (3rd or 4th overall), 2nd, and next year's 1st
Again, another conservative deal compared to say what the Redskins gave up for RGIII. This will give us two top ten first round picks and three early second round picks in 2015, along with three first round picks in 2016. Considering we pick up gems with those three early 2nd round picks, this would give us 8 first round caliber players in two years. Or should another franchise QB come out in 2016, we could trade up to get him, giving us 5 first round caliber players and a franchise QB. The third thing we could do with the three first round picks in 2016 is move down and stock up for years to come. Have the power to move up or down, until we see those generational players coming into the league. This is what we can do by trading Cam in the offseason. All that said and done, let me move on with my free agent offseason and draft.
Free Agency- (I'm just going to say we have 30 million in cap space)
Jason Pierre-Paul
5 year contract
BJ Raji
1 year deal
Sign a vet G for a 1-2 year deal
I'll leave it there for now. Two big name defensive picks, so you know I'm going to go hard on the offensive side of the ball in my mock draft. We should let Hardy walk. His price tag may or may not come down, but it's time we turned over a new leaf. Hardy lives life a little bit on the edge, who's to say something else won't happen surrounding him. If JPP hits the open market, he would be a great long term replacement for Hardy. Plus I imagine G-man could put in a word to JPP's agent to get him to look our way. I imagine we won't resign Colin Cole. Raji is coming off an injury, but if he's good to go, he has probowl ability as a run stuffer. He also has enough power to get to the QB on occasion. On to the draft....
NFL Draft-
1st round pick (3rd overall)- Andrus Peat Position: LT
Height: 6'7"
Weight: 313
College: Stanford
You can tell from his size, he's just physically imposing. Peat is the best prospect this year at LT, and plays in a run heavy offense at Stanford. I've watched a few of his games, and I never seen anyone beat him one on one. A couple of times I've seen him block towards the inside while a free man on the blitz got into the backfield. Yet he's quick enough to handle the blitz. The main thing is his strength. Just look at his muscles, and that alone should intimidate the competition.
1st round pick (top ten)- Amari Cooper
Position: WR
Height: 6'1"
Weight: 203
College: Alabama
I said in another thread, if an NFL probowl receiver was allowed to come back to college and play a year, they would look a lot like Amari Cooper. Rarely have I seen a receiver that has as much control over his speed as I've seen in Cooper. It can look like he's jogging one moment, and then can turn on the jets in half a second. In the same breath, he could have the jets on, slow down to a brisk pace, and hit the nitro again. I'm pretty sure he's not a guy that can just run a fast 40 time in shorts, but he converts that 40 time into game speed. He is the best player in this draft by far in my estimation, and it's not even close. We would be extremely lucky to have him alongside KB. By the way, as for these first two picks, I'm not totally sure Peat is coming out for the 2015 draft. Guys that go to schools like Stanford tend to also stick around for education purposes. See Andrew Luck. Usually these guys come from better living situations, so they have that luxury of staying in school. Of course Cooper could also stay in school as well. If Peat doesn't come out, my first two picks would be Amari Cooper and Landon Collins.
2nd round pick (Oakland trade)- Ereck Flowers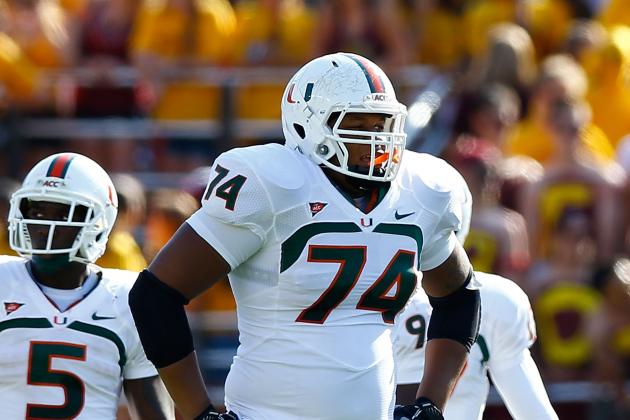 Position: LT
Height: 6'6"
Weight: 324
College: Miami
I think we're all in agreement here he is a great LT. With Peat likely playing LT for us, we would plug this guy in at RT. The Byron Bell era would officially be over! With that said, this guy may go in the first round. I wouldn't be surprised if his stock rose into the top 20, especially with a good combine workout. As it stands right now, many have him in the second round. Of course if he falls, we would be right there to grab him. His credentials include paving the way for Duke Johnson, who will probably be a second round pick himself. So we will have two rookie bookends, who look like grizzled veterans.
2nd round pick (Rams/Bill/Titans/etc. trade)- Sammie Coates
Position: WR
Height: 6'2"
Weight: 201
College: Auburn
That's right, I'm still picking up this guy. I believe his deep threat talent is too hard to pass up. Plus again, he's strong for a receiver. So we are looking at having KB, Cooper, and Coates. How do you like that for fire power at the receiver position. Luck's Colts can suck eggs! (I haven't even mentioned Olsen and Swole. Give me my 5 receiver sets Rivera)
2nd round pick- Kurtis Drummond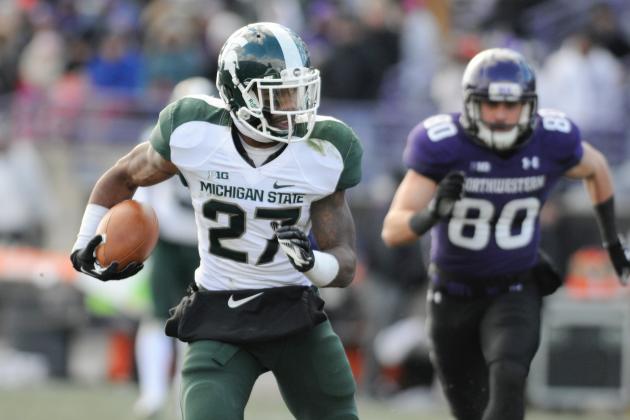 Position: FS/SS
Height: 6'1"
Weight: 201
College: Michigan St.
Probably the second best player from the secondary of Michigan St's "No fly zone" throughout the years. (Darqueze Dennard was the number one guy) He's having a good year, playing with another good talent in Trae Waynes. We all know by now that Harper is not a guy to have confidence in at SS, and the guys behind him don't look too promising either. Tre Boston is still young, but I don't want to roll with him long term just yet. Drummond has some ball skills, and he's a pretty good tackler. I would like to see the combination of him and DeCoud out there. I'll be paying attention to him in the following weeks.
3rd round pick: Eric Rowe Position: CB
Height: 6'1"
Weight: 205
College: Utah
Here's a prospect that's moving up my draft board. He has a huge match up going against Jaelen Strong this week. Hopefully I will get a chance to look at it, if not I'll try to look at the highlights. Rowe is one of the reasons why the Utes are having a good season.
4th round pick- Jake Ryan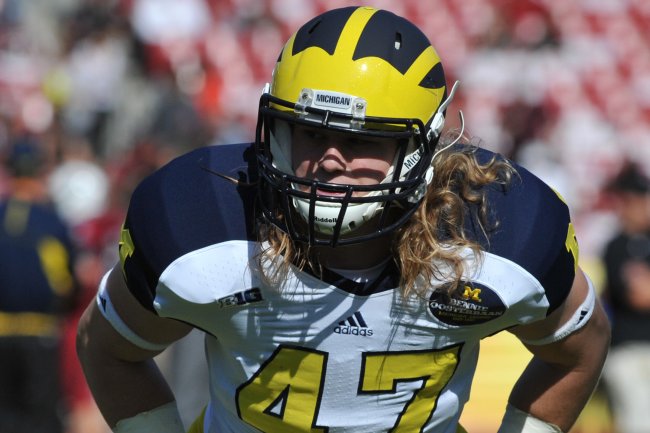 Position: OLB
Height: 6'3"
Weight: 236
College: Michigan
Provide some competition for AJ.
5th round pick- Kaelin Clay Position: WR
Height: 5'10
Weight: 193
College: Utah
Leads the FBS with 3 punt return touchdowns. He also has a kick return for a touchdown, so he has return specialist potential. He could be our PR man, and we could keep Bersin at KR.
6th round pick- Sean Mannion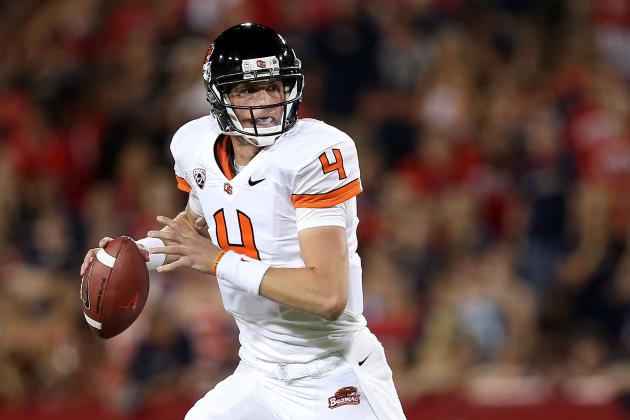 Position: QB
Height: 6'5"
Weight: 220
College: Oregon St.
Not much QB talent after Mariota and Winston. I'm confident in Derek Anderson in being our starter with this team built around him. Many of yall mention how bad Anderson was as a starter, but you have to remember that probowl season he put up not that long ago. I've seen enough of him to say he's capable of such a season again, and with this talent around him, I'm very confident in the team. As for the long term, we would have three first round picks the next draft (2016). If a good QB comes out that year, we could trade up to get him. (Or if one of our 1st rounders is early enough, we could take him there) If not, we can move down or whatever. In the meantime, we can develop Mannion, and see what he got.
7th round pick- Cedric Reed
Position: DE
Height: 6'5"
Weight: 272
College: Texas
Every time I watched him this season, I come away puzzled as to how he ever got 10 sacks last year. I see no burst at all coming from him at the snap of the ball. It seems like his whole game resembles the statement of taking plays off. He does show some strength in run defense, but nothing special. I didn't watch much of him last year, didn't pay much attention to Texas games. I wish I could find some significant highlights of him last year, to see how he played because there is no way he got 10 sacks playing like he's playing right now. Yet it's because of his year last year, that he could be a hidden gem. That's why I still have him on my draft boards late.
Projected Depth chart:
Offense
QB- Derek Anderson, Joe Webb, Sean Mannion ®
RB- Jonathan Stewart, DeAngelo Williams, Darrin Reaves
FB- Mike Tolbert
WR- Kelvin Benjamin, Sammie Coates ®, Kaelin Clay ®
WR- Amari Cooper ®, Brenton Bersin
TE- Greg Olsen, Brandon Williams
LT- Andrus Peat ®, David Foucault
LG- Andrew Norwell, Amini Silatolu
C- Ryan Kalil, David Wang ®
RG- Trai Turner, Fernando Velasco
RT- Ereck Flowers ®, Vet RT signing
Defense
DE- Jason Pierre-Paul (FA), Mario Addison
DT- BJ Raji (FA), Kawann Short
DT- Star Lotulelei, Dwan Edwards
DE- Charles Johnson, Kony Ealy
OLB- Thomas Davis, Jason Williams
MLB- Luke Kuechly, Chase Blackburn
OLB- AJ Klein, Jake Ryan ®
CB- Josh Norman, Eric Rowe ®
FS- Thomas DeCoud, Tre Boston, Colin Jones
SS- Kurtis Drummond ®, Roman Harper
CB- Antoine Cason, Bene Benwikere, James Dockery
Special teams
K- Graham Gano
P- Brad Nortman
PR- Kaelin Clay ®
KR- Brenton Bersin